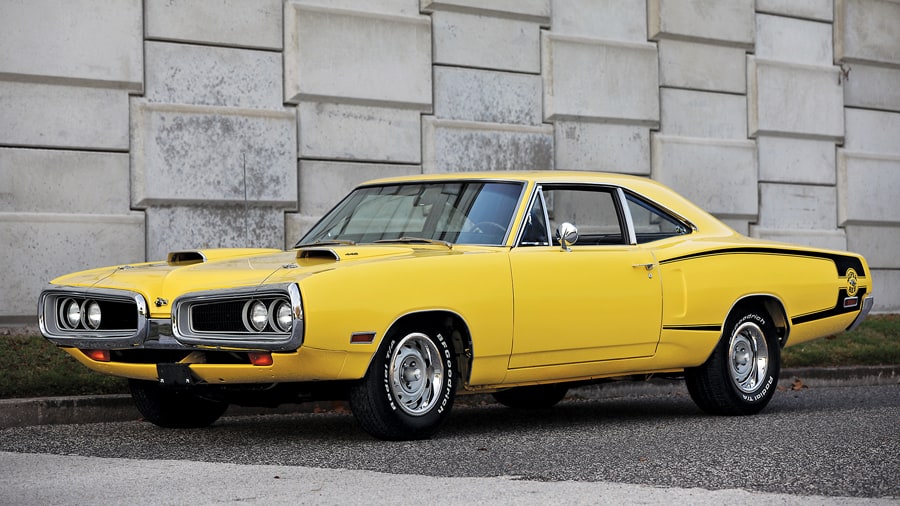 Muscle Car Specifications
Performance Model
1970 Dodge Super Bee 440 Six-Pack
Quarter Mile
13.8 sec @ 104.2 mph
The 1970 Coronet Super Bee featured a radical new nose design, an enticing new LOWER base price of $3074, and automatic membership in Dodge's Scat Pack of performance streetcars that included the Dodge Challenger and Charger. Also new for 1970, was the high impact paint colors such as Plum Crazy and Panther Pink. The Panther Pink ended up being the rarest color chosen for Super Bees with only 39 models ordered. Plum Crazy purple ended up being the most common 1970 Super Bee color, with 1926 cars painted the distinctive shade.  Even with these consumer choices, overall sales for 1970 Super Bees fell from the previous year.
Definitely, a subject of debate since its debut has been the distinctive hood and nose design of the 1970 Coronet. Many felt it was just 'too much' for the historically utilitarian design that the Coronet platform had come to symbolize.
Dodge was in a "new decade-time to clean house" mood and everything was getting a facelift. New and radical was the motto, and the design teams came up with cars called Swingers and Demons. The 'crazy new look' of the '70 Coronet fit right in with Dodge's vision, just not the public's, as overall sales fell by a third.  1971 saw a resurrection of the Super Bee name under a Dodge Charger badge. Some of the Six-Pack and Hemi 1971 Charger Super Bees were thunderous tire scorchers, but the glory days of street-ready showroom speed were fast declining.
The 1970 Super Bee was available as a pillared coupe or hardtop two-door. There was no 1970 Super Bee convertible made, but 296 Coronet R/T convertibles were built. There were 11,540 hardtop and 3,966 coupe Super Bees produced in 1970, with approximately 1,369 known to be exported out of the USA.
All Super Bees and Coronet R/Ts were built at Lynch Road, MI, St. Louis, MO, and Los Angeles, CA.
The Super Bee had 3 engine options, the base 383 Magnum, the 440 Six-Pack, or the 426 Hemi. The 1970 Coronet R/T was offered in a base 440 Magnum, a 440 Six-Pack, or 426 Hemi. Other interesting facts are that 1970 Super Bee has some of the lowest Hemi production numbers, with only about 42 examples know. The Coronet R/T Hemi numbers are even lower, with about 17 cars built.
Today muscle car enthusiasts appreciate Mopar's constant need to reinvent itself in order to stay competitive, and collectors are scrambling to preserve the remaining examples of these unique low production vehicles. The one-year design and out-of-the-box high performance of the 1970 Super Bee ensures its place in history as a classic Mopar Collector's Item.
John Dahlin from Rocket Restorations in Olympia, WA contributed this article. Be sure to check out their website, they do amazing work.
Engine Specifications
| Type | Size | Carb | Horse Power | Tourqe |
| --- | --- | --- | --- | --- |
| 383 Magnum | 383ci | 1x4bbl | 335 hp @ 5200 rpm | 425 lb-ft @ 3400 rpm |
| 426 Hemi | 426ci | 2x4bbl | 425 hp @ 5000 rpm | 490 lb-ft @ 4000 rpm |
| 440 Six Pack | 440ci | 3x2bbl | 390 hp @ 4700 rpm | 490 lb-ft @ 3200 rpm |
| 440 Six Pack | 440ci | 3x2bbl | 390 hp @ 4700 rpm | 390 lb-ft @ 3600 rpm |
Performance Statistics
| 0 to 60 mph | Quarter Mile | Engine | Source |
| --- | --- | --- | --- |
| 5.3 sec | 13.5 sec @ 105.0 mph | 426ci/425hp | Standard Catalog of Muscle Cars |
| 7.1 sec | 15.0 sec @ 96.0 mph | 383ci/335hp | Estimate |
a couple errors
good article but a couple of errors;
– A great many '70 Superbee's were built at Chrysler's St. Louis plant
– to attribute the drop in sales to the restyling of the 1970 Coronet is simplistic at best; there were a huge number of other factors, for eg.; the debut of the E body, changes in the marketplace, lifting of the 400 cu in. displacement ban at GM, etc. etc.
you were right about the no convertible thing though. 😉
1970 Superbee Convertible
Actually you are wrong about there not being any 1970 Super Bee Convertibles made….
There were 4 built of which 3 it is unknown where they are while the 4th is in the hands of a mopar fanatic that has a huge collection of Super Bees.
Very Undervalued Car
The hood scoops are functional Ramcharger scoops.
No 1970 super Bee ever had a 440 single 4 barrel carb. Only Coronet 500's and R/T's got those.
All that was available was a 383, a 440 six pack(3-2 bbl carbs), or a Hemi.
The production #s are wrong, there are even fewer of these cars.
Never seen a factory hood tach.
Trunk wing was an option.
The side stripe is referred to as a 'C stripe'.
This car is a highly undervalued rarity. It's design was much too contemporary for 1970, but looks incredible against today's tastes. Probably why so few were sold in 1970, and why they are so bloody RARE today!
_________________________________________________
MCF – Thanks for the review John. I have updated the statistics to correct some of the errors you pointed out. Great Catch.
One year wonder
I really like this car. Too bad it was just produced for one year. The design is fluid and very contemporary for the times. The only weakness in the design is the oddly shaped front grill. The two chrome rings are smaller in the center of the car and grow larger towards the corners. It is an acquired look. The fake scoops look a little tacky also. But, they were optional and weren't required.
Like I said, overall this was a very nice looking car. Performance was outstanding and as usual with Mopar performance machines there were a ton of performance upgrades available. Today engine parts are readily available. However, body parts and interior parts are difficult to obtain.