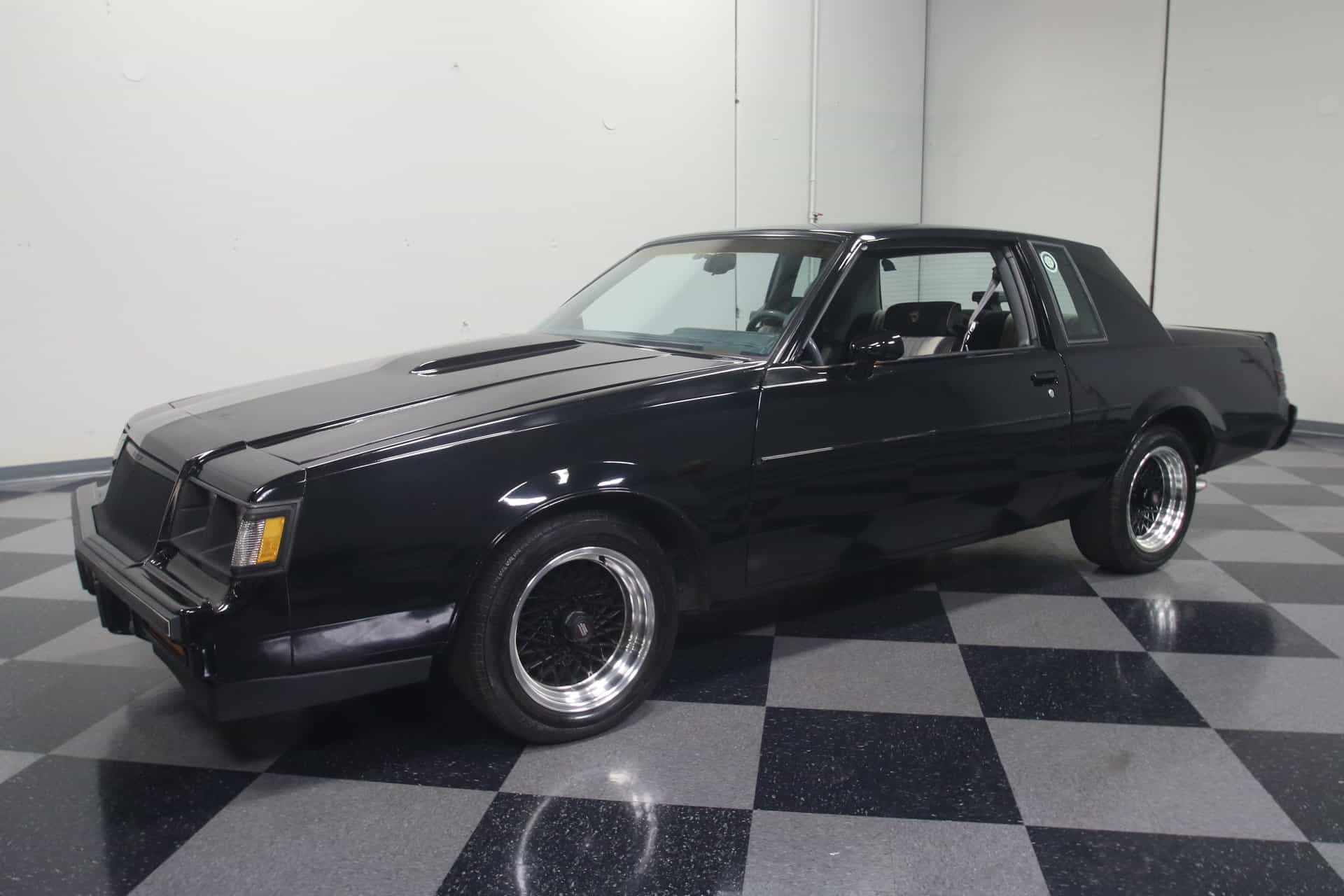 "This automobile is just plain mean, without being the least bit cantankerous. It is the ultimate, traditional, rear wheel drive street cruiser: dark, fat tired, and with an exhaust note that will rattle windows." Buick sales literature.
The new 3.8 liter V6 Turbo engine produced almost twice as much horsepower as the normally aspired engine.
The Grand National Package cost $558. The total cost for a Buick Grand National in 1986 was $14,349. Just for comparison, a 1986 Corvette cost $27,027 and a 1986 Camaro IROC-Z cost $12,561.
This was the most successful to date with more sold in 1986 (5,112) than were sold in both 1984 (2,000) and 1985 (2,102). Word was getting out that Buick was building a real muscle car.
Muscle Car Specifications
Performance Model
1986 Buick Grand National
People were beginning to take notice of the Grand National. The 1986 Buick Grand National was the third production year for the car and Buick made some significant upgrades to the 3.8 liter V6 Turbo engine. The Buick Turbo Engine Group developed an intercooler and a sequential port fuel injection system that noticeably increased both the horsepower and the torque of the Grand National. The 1984 and 1985 Grand National both produced 200 horsepower and 300 lbs-ft of torque. The upgraded engine produced 235 horsepower and 330 lbs-ft of torque.
These increases had a significant impact on performance. Quarter mile times were under fourteen seconds and zero to sixty times of less than five seconds were recorded. The Grand National was faster than the 1986 Corvette, 1986 Camaro, 1986 Firebird and the 1986 Mustang. The car was almost two seconds faster than its corporate cousin, Monte Carlo SS, in the quarter mile. It was the fastest production car made in America in 1986. Customers began to take notice and sales more than doubled to 5,512. More Grand Nationals were built in 1986 than were built in 1984 and 1985 combined.
Other than the engine upgrades, changes were relatively minor for 1986. The car was still all black with almost all of the chrome painted black. New chrome wheels were available and they provided a nice contrast for the otherwise stealth look of the car. A new mandatory high mounted third brake light was also added to the rear of the car. As usual blackout paint, a rear mounted spoiler and "Grand National" front fender tags differentiated the Grand National from the garden variety Buick Regal.
The interior was significantly sportier than the standard Regal. The upgrades for the 1986 Grand National included a sports steering wheel, upgraded instrument package with a tachometer and a boost gauge. For the 1986 model year the bucket seats were solid gray cloth.
The 1986 Grand National was a solid muscle car that could embarrass other performance cars at will. But even this meant nothing compared to the monster that Buick was about to release in 1987. The 1987 Grand National and in particular the 1987 Buick GNX were about to rewrite muscle car history.
Engine Specifications
| Type | Size | Carb | Horse Power | Tourqe |
| --- | --- | --- | --- | --- |
| V6 | 231ci | Turbo-Charged | 235 hp @ 4000 rpm | 330 lb-ft @ 2400 rpm |
Performance Statistics
| 0 to 60 mph | Quarter Mile | Engine | Source |
| --- | --- | --- | --- |
| 4.9 sec | 13.9 sec | 231ci/235hp | Estimate |
The Kid In You
I was at Publix at the time when I approached an old couple that were walking to their Grand National. They were friendly, mostly because they are passionate beyond belief about their awesome, fast, classic car. The mid to late 60s woman told me stories of how she punches the gas at red lights and how she can't believe how slow the ladies are that drive their Camrys like grandmas (technically they are grandmas though). When I asked them if they'd sell it, I got the answer they give "5 times a week." Sorry, I love it too much.
Are you kidding me? This isn't at the top of the l
I was shocked to see this car has no rating yet. Consider that it was such and amazing car, back in the second half of the 80's, that the executives over at GM pulled the plug on the whole line do to the fact that this car was spanking the Corvette at the drag strip on a regular basis. Let's not forget that the Corvette is the flagship car of GM's performance line of cars, so to have an other vehicle, much less a V-6 powered vehicle spanking it at the Drag Strip was just not acceptable. This car has it all. It is more perfect in a straight line for a short burst, I.E. Quarter mile, but it has class and comfort as well. You could easily put on a tux and show up at a Hollywood gathering and look fantastic stepping out of this car on to the red carpet. And for a Muscle Car, it is also very "green" as well, pulling about 25 MPG on the Highway. This has to be one of the all time greatest achievements to have rolled out of any of Detroit's muscle car building factories. It is like the most amazing super model you have ever seen that has brains, beauty, performance and class all in an one fabulous package. OK, so I own one, can you tell?