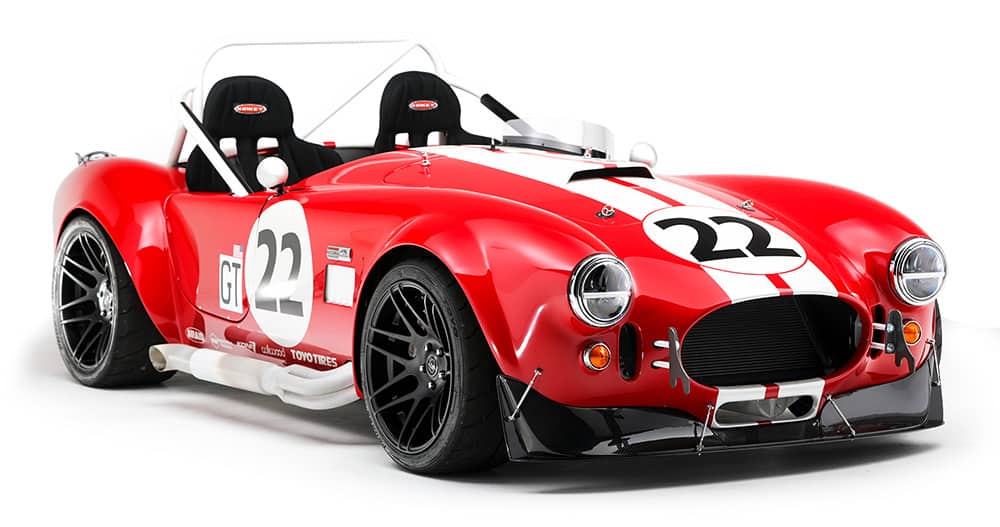 "The Factory Five Challenge kit is the foundation upon which hundreds of racers build their seasons." Factory Five Website
The Factory Five Challenge car is designed with one purpose in mind. Racing! The suspension and frame have been beefed up to increase both safety and performance.
Factory Five Racing sponsors the NASA-FFR Challenge, where spec-built challenge cars race each year towards regional and national titles. Factory Five is the only kit car company to sponsors a series.
In order to compete, all Challenge cars have to have a stock 5.0 liter engine from a Ford Mustang with the original EFI controls, harness and transmission. This levels the field and forces competitors to rely on their driving skills.
Kit Car Specifications
Performance 0-60
4.8 Seconds
Performance Quarter Mile
13.6 sec @ 99 mph
The Factor Five Challenge Car is the professional competition-racing version of the Factor Five Mk3 roadster. The car is designed single-mindedly for racing. If you are a weekend road racer, you probably already know about the Challenge car. Factory Five has been sponsoring the NASA-FFR Challenge for the last seven years. During the events, enthusiasts with spec-built challenge cars race each year towards regional and national titles.
The Challenge car has several safety upgrades over the standard street version. It has a safety cage and considerably more tubing to increase frame strength. In addition, it has several frame modifications to allow the mounting and shielding of the racing fuel cell, intrusion plates and racing seats.
Performance is predictably fast. According the Factory Five Racing, the FFR Challenge cars have won the Charlie Gibson 300 Enduro numerous times. Challenge cars have completed the grueling 25 hours of Thunderhill for the past four years, earning a third place in class and setting the fourth fastest lap time of all cars in 2004. A Factory Five Challenge car runs 1-2 seconds per lap faster than a 2005 Z06 Corvette at the Bondurant School Maricopa Track.
About Factory Five
Factory Five Racing was founded in 1995 David and Mark Smith. Since 1995, the business has grown from a start-up business in a small garage to become the world's largest manufacturer of component car kits. Factory Five Racing currently produces five kits: the Factory Five Mark 3 (Mk3), the Factory Five GTM, the Factory Five Type 65 Coupe, the Factor Five Challenge and the Factory Five '33 Ford.
Image Gallery
Factor Five Challenge Car
Are you a real racecar driver?
What a great idea – a spec. racer that is fast, powered by a reliable and easy to maintain small block Ford engine. For those that want to get out on the track, this is a dream car.