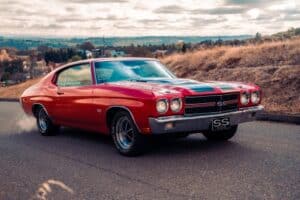 What is a muscle car?
There are many different definitions of what qualifies as a muscle car. The broadest definition is any car with a large and powerful engine and a beefed up suspension. Upgraded interiors, fancy paint schemes and nicer wheels and tires are also usually part of the package. Using this definition, huge cars like the 1970 Impala and even compacts like the 1964 Chevy Nova made the list. There is even room for pony cars like the Camaro and Mustang. The mighty Corvette qualifies as well.
Purists narrow that definition considerable and only include midsized cars as muscle cars. These cars include the Chevrolet Chevelle, the Dodge Charger, Plymouth Road Runner and the classic Pontiac GTO. Other performance oriented car categories include: pony cars and American sports cars. Pony cars include the Ford Mustang, Chevrolet Camaro and Dodge Challenger. American sports cars include the Chevrolet Corvette and the Dodge Viper.
Below is a list of the American performance cars broken down by category and years manufactured. Note that we used the "Muscle Cars" label for both the full sized, compact and, of course, midsized cars. For this list we have expanded the strictest definition a little. We have also included a list of pony cars and sport cars. Taken together, this lists represents the best performance oriented cars ever produce by American manufactures.
Complete List Of Muscle Cars
Missing
Agree with post, Pre-1974 for "Real" Muscle Cars. It does look like missing some from several manufactures, like the 64-65 Comet Cyclone. How was the data gathered or is it just opinion? Everyone has what they perceive as their favorite muscle cars. Some would classify the Tri-5 Chevys as Vintage muscle cars as well as the mid 50's Fords. Modern Mid-size or maybe full size the mid 90's Impala SS the Mercury Marauder. But its a good list to base off of
Missing
List says 1968-1976 Dodge Dart. Missing 1967 Dart. 1967 GTS Dart which is also rare.
The 24 Best Muscle cars of all time
You may want to try our list of 'The 24 Best Muscle cars of all time' - http://fastmusclecar.com/muscle-cars/the-best-muscle-cars-of-all-time/
Cars
A muscle car should be consider only if its under 1975. The new cars now in days are to flashy and to bling out. They dont make cars like they use to.. one of my all time favrite is a 1973 road runner..those are bad ass I saw one at http://musclecars365.com it was bad. The other fav is the 1972 pontiac firebird. love that car.
Muscles
and skylark? and rivieira ? and 300c ? and xb falcon ? and monaro ? and coronet ? and chevelle ? and toronado ? and rebel, and........... (a long list !) so.....complete list....euh....
69' Daytona
What about a 69' dodge daytona.
Question about '72 Nova photo
Does anyone have any info on the red,white,and blue '72 Nova in the "Nova photos" section at the bottom of the '72 Nova page ? I owned this vehiclefrom'74-'76 and am interested where this photo originated and what info accompaniescthe photo wherever it was lifted from. Thanks in advance for any assistance you can render. Today is the first time I actively sought info on thid car,I was amazed to find it so quickly...