The Buick Gran Sport or GS was a high-performance option package available on Buick's intermediates from 1965 until 1974.
Sale were never as large as some of the other traditional muscle cars like the chevelles, and Road Runners but performance was always impressive. Some of the bext performaing cars of the entire muscle car era sported a Gran Sport badge.
For example, GSX performance was equal to that of the 'Hemi' 'Cuda with a much more luxurious car. This was partly due to the light weight build of the 455 which weighed roughly 150 lbs less than the Chevrolet 454. Quarter mile times in the 13.30s were reported in numerous magazines in 1970.
1965 Gran Sport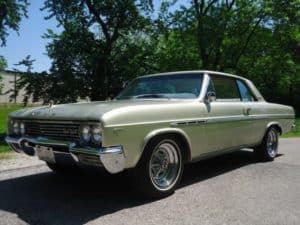 | Performance | Engine | 0 to 60 | Quarter Mile | Source |
| --- | --- | --- | --- | --- |
| Gran Sport | 401ci/330hp | 6.8 sec | 14.9 sec @ 95.1 mph | Car & Driver 1966 |
| Gran Sport | 401ci/330hp | 7.8 sec | 16.6 sec @ 86.0 mph | Motor Trend 5/65 |
1966 Gran Sport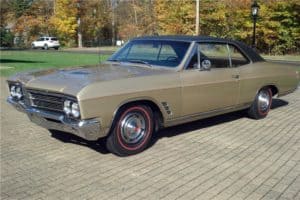 | Performance | Engine | 0 to 60 | Quarter Mile | Source |
| --- | --- | --- | --- | --- |
| Gran Sport | 401ci/325hp | 7.6 sec | 15.5 sec @ 90.5 mph | Motor Trend 12/67 |
| Skylark GS | 401ci/340hp | n/a | 14.9 sec @ 95.1 mph | Car & Driver |
1967 Gran Sport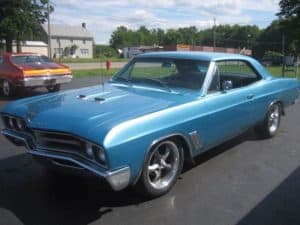 | Performance | Engine | 0 to 60 | Quarter Mile | Source |
| --- | --- | --- | --- | --- |
| Gran Sport | 400ci/340hp | 6.6 sec | 15.2 sec @ 95.0 mph | Motor Trend 4/67 |
1968 Gran Sport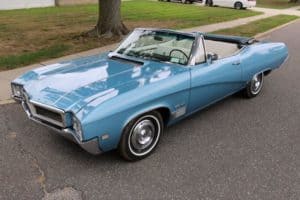 | Performance | Engine | 0 to 60 | Quarter Mile | Source |
| --- | --- | --- | --- | --- |
| Gran Sport | | 6.8 sec | 15.2 sec @ 92.0 mph | Internet |
| Skylark GS400 | 400ci/345hp | 6.1 sec | 14.4 sec @ 93.3 mph | Car Life |
1969 Gran Sport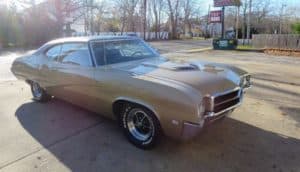 | Performance | Engine | 0 to 60 | Quarter Mile | Source |
| --- | --- | --- | --- | --- |
| Gran Sport GS400 Sta | 400ci/345hp | 5.8 sec | 14.4 sec @ 97.0 mph | Internet |
| Gran Sport | 400ci/340hp | 7.7 sec | 15.9 sec @ 89.0 mph | Motor Trend 1/69 |
1970 Gran Sport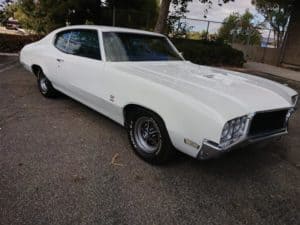 | Performance | Engine | 0 to 60 | Quarter Mile | Source |
| --- | --- | --- | --- | --- |
| Gran Sport GS455 Sta | 455ci/360hp | 6.5 sec | 13.8 sec @ 101.0 mph | Internet |
| Gran Sport Stage I | 455ci/360hp | 5.5 sec | 13.3 sec @ 105.5 mph | Motor Trend 1/70 |
| Gran Sport GSX | 455ci/360hp | 6.2 sec | 14.0 sec @ 103.0 mph | Hi PerfCars 10/70 |
| Gran Sport GSX | 455ci/360hp | n/a | 13.7 sec @ 100.2 mph | Car Craft 7/70 |
| Gran Sport GSX | 455ci/360hp | n/a | 14.0 sec @ 103.0 mph | Hi PerfCars 10/70 |
| Gran Sport Stage I | 455ci/360hp | n/a | 14.2 sec @ 95.26 mph | MCR 12/95 |
| Skylark GS | 455ci/360hp | 6.4 sec | 14.4 sec @ 96.0 mph | Hot Rod |
| Skylark GS | 455ci/360hp | n/a | 13.7 sec @ 105.0 mph | HC |
| Skylark GSX | 445ci/360hp | n/a | 14.3 sec @ 99.77 mph | Car Craft |
1971 Gran Sport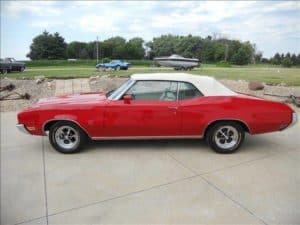 | Performance | Engine | 0 to 60 | Quarter Mile | Source |
| --- | --- | --- | --- | --- |
| GS | 455ci/315hp | 6.9 sec | 15.3 sec @ 96.0 mph | Internet |
1972 Gran Sport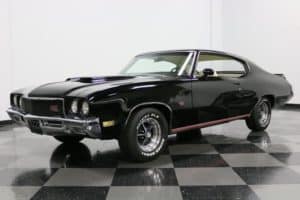 | Performance | Engine | 0 to 60 | Quarter Mile | Source |
| --- | --- | --- | --- | --- |
| Gran Sport Stage I | 455ci/270hp | 5.8 sec | 14.1 sec @ 97.0 mph | Motor Trend 6/72 |
1973 Gran Sport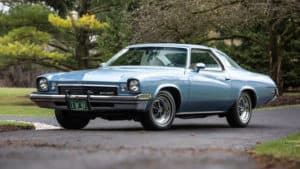 | Performance | Engine | 0 to 60 | Quarter Mile | Source |
| --- | --- | --- | --- | --- |
| Gran Sport Stage I | 455ci/270hp | 7.4 sec | 15.3 sec @ 90.0 mph | Motor Trend 7/73 |
1974 Gran Sport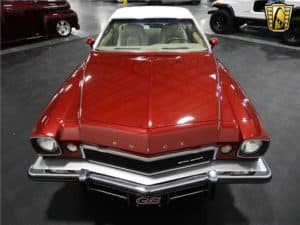 | Performance | Engine | 0 to 60 | Quarter Mile | Source |
| --- | --- | --- | --- | --- |
| Gran Sport | | 7.9 sec | 16.3 sec @ 90.0 mph | Estimate |