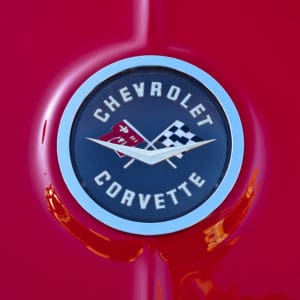 The Chevrolet Corvette is a sports car that has been manufactured by General Motors since 1953. Today it is built at a General Motors assembly plant in Bowling Green, Kentucky, but in the past it was built in Flint, Michigan and St. Louis, Missouri. The National Corvette Museum and annual National Corvette Homecoming are also located in Bowling Green, Kentucky.
The Corvette was Motor Trend magazine's Car of the Year for 1984 and 1998. It has also been on Car and Driver magazine's annual Ten Best list fourteen times: the C4 from 1985 through 1989, the C5 in 1998, 1999, and 2002 through 2004, and the C6 from 2005 through 2008. The C6 was also nominated for the North American Car of the Year award for 2005. The C6 Z06 was named "Most Coveted Vehicle" in the 2006 Canadian Car of the Year contest.
Automobile Magazine called the Sting Ray the "coolest car in history", and Sports Car International placed it at number 5 on their list of the Top Sports Cars of the 1960s.
The 1999 Corvette Convertible, along with the Mercedes-Benz S500, were named "Best Engineered Car of the 20th century" by the Society of Automotive Engineers publication Automotive Engineering International.
A Corvette has been selected as the pace car at the Indianapolis 500 ten times: 1978, 1986, 1995, 1998, 2002, 2004, 2005, 2006, 2007, 2008.
1953 Corvette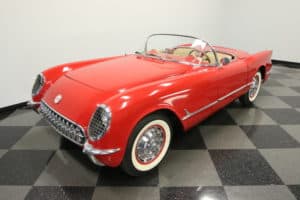 | Performance | Engine | 0 to 60 | Quarter Mile | Source |
| --- | --- | --- | --- | --- |
| Corvette | 235ci/150hp | 11.0 sec | 17.9 sec @ 76.0 mph | Estimate |
1954 Corvette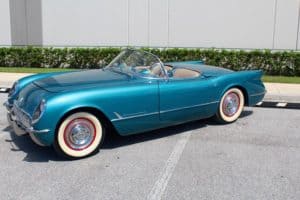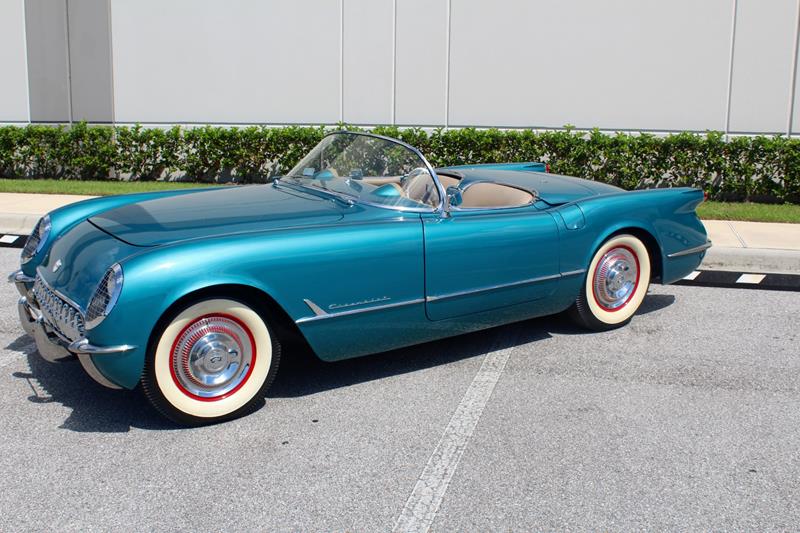 | Performance | Engine | 0 to 60 | Quarter Mile | Source |
| --- | --- | --- | --- | --- |
| Corvette | 235ci/150hp | 11.0 sec | 17.9 sec @ 76.0 mph | Road and Track Jun 54 |
1955 Corvette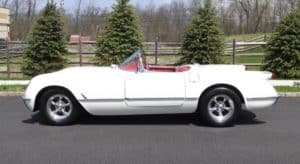 | Performance | Engine | 0 to 60 | Quarter Mile | Source |
| --- | --- | --- | --- | --- |
| Corvette | 265ci/195hp | 8.7 sec | 16.3 sec | Road and Track Jun 55 |
1956 Corvette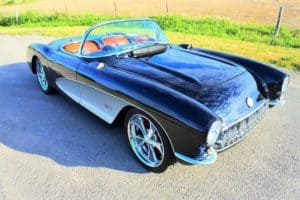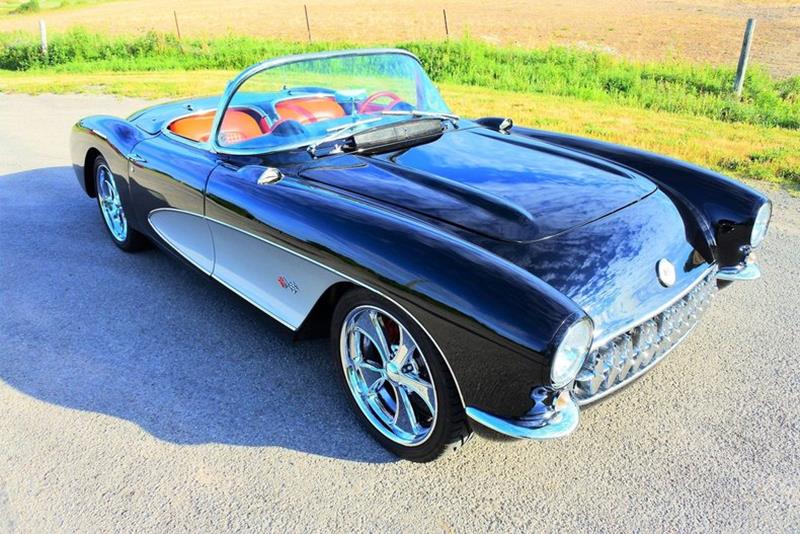 | Performance | Engine | 0 to 60 | Quarter Mile | Source |
| --- | --- | --- | --- | --- |
| Corvette | 265ci/225hp | 7.5 sec | 15.9 sec @ 91.0 mph | Sports Car Illustrated Jun 56 |
1957 Corvette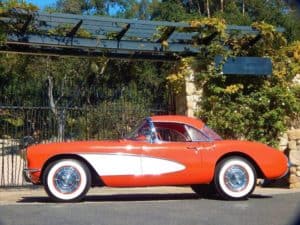 | Performance | Engine | 0 to 60 | Quarter Mile | Source |
| --- | --- | --- | --- | --- |
| Corvette | 283ci/283hp | 5.9 sec | 14.3 sec @ 100.0 mph | Internet |
| Corvette | 283ci/283hp | 6.0 sec | 14.9 sec @ 95.0 mph | Motor Trend Dec 56 |
1958 Corvette
| Performance | Engine | 0 to 60 | Quarter Mile | Source |
| --- | --- | --- | --- | --- |
| Corvette | 283ci/290hp | 6.9 sec | 15.6 sec @ 95.0 mph | Motor Trend Mar 58 |
| Corvette | 283ci/250hp | 7.6 sec | 15.7 sec @ 90.0 mph | SportsCar Illustrated Dec 57 |
| Corvette | 283ci/230hp | 9.2 sec | 17.4 sec @ 83.3 mph | Motor Trend Mar 58 |
1959 Corvette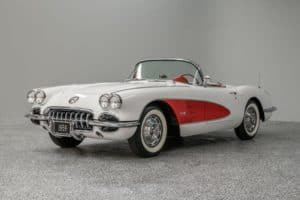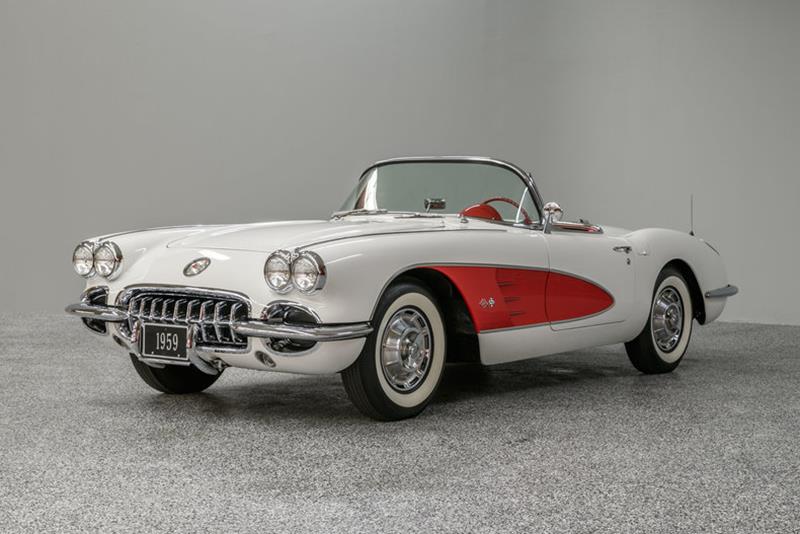 | Performance | Engine | 0 to 60 | Quarter Mile | Source |
| --- | --- | --- | --- | --- |
| Corvette | 283ci/270hp | 6.6 sec | 14.5 sec @ 95.0 mph | Road and Track Jan 59 |
| Corvette | 283ci/250hp | 7.8 sec | 15.7 sec @ 90.0 mph | Motor Trend Apr 59 |
| Corvette | 283ci/290hp | 6.8 sec | 14.9 sec @ 96.0 mph | Internet |
1960 Corvette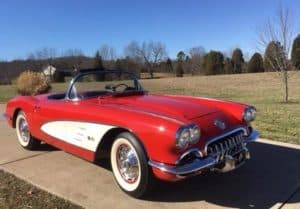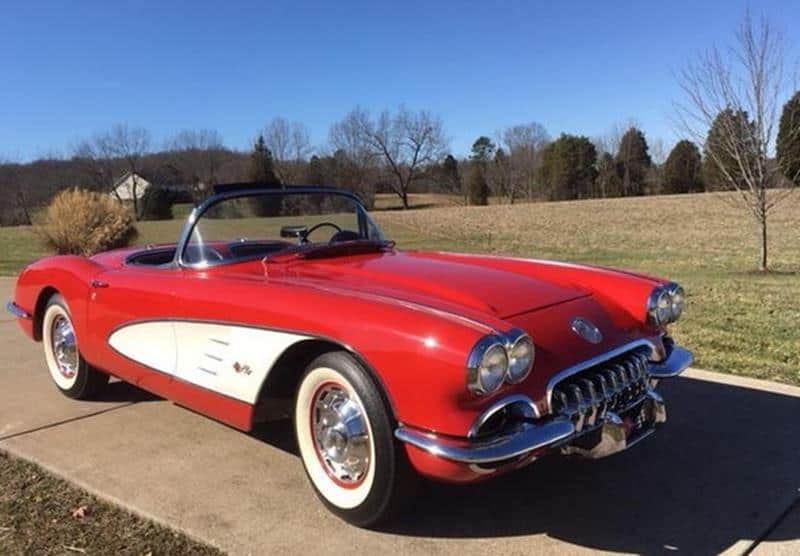 | Performance | Engine | 0 to 60 | Quarter Mile | Source |
| --- | --- | --- | --- | --- |
| Corvette | 283ci/230hp | 8.4 sec | 16.1 sec @ 89.0 mph | Motor Trand Jul 60 |
1961 Corvette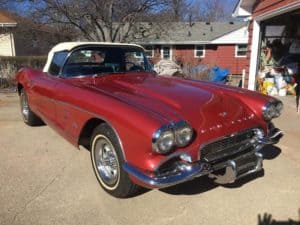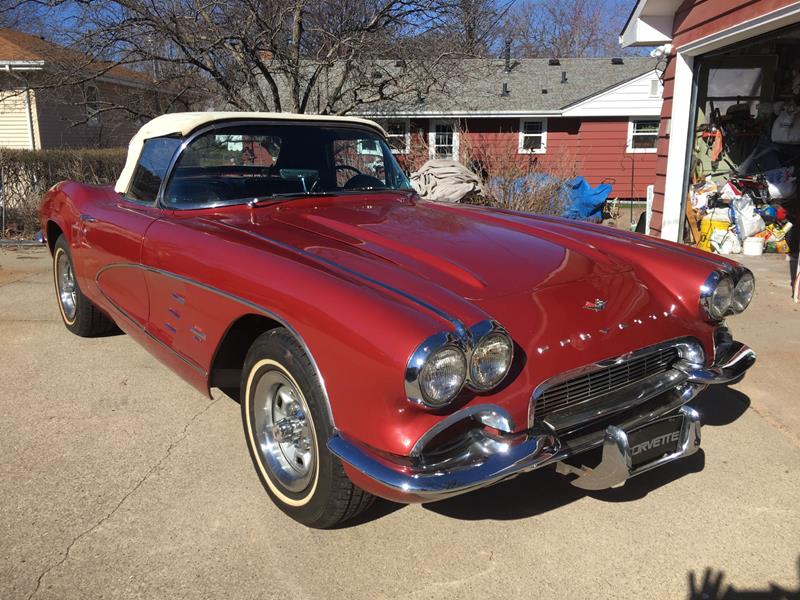 | Performance | Engine | 0 to 60 | Quarter Mile | Source |
| --- | --- | --- | --- | --- |
| Corvette | 283ci/315hp | 6.0 sec | 15.5 sec @ 106.0 mph | SportsCar Illustrated Dec 60 |
| Corvette | 283ci/315hp | 5.5 sec | 14.2 sec @ 99.0 mph | Car Life |
| Corvette | 283ci/230hp | 7.7 sec | 16.5 sec @ 83.0 mph | Car Life |
1962 Corvette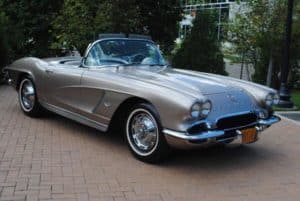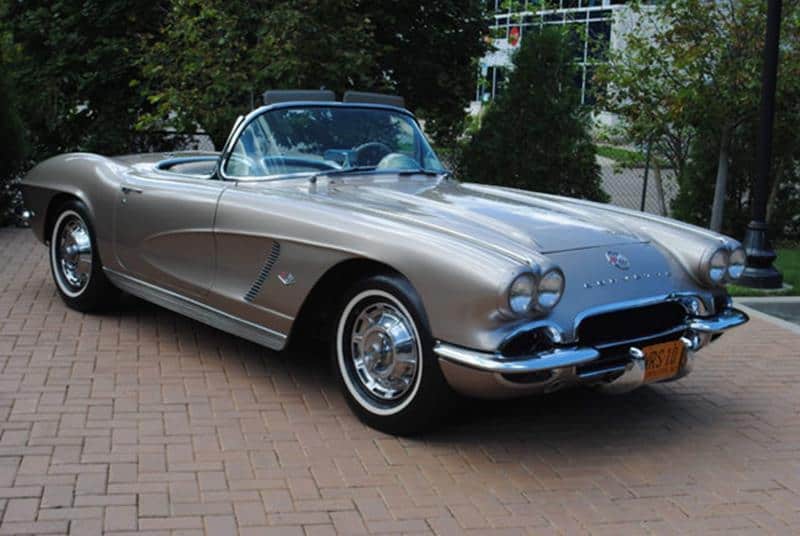 | Performance | Engine | 0 to 60 | Quarter Mile | Source |
| --- | --- | --- | --- | --- |
| Corvette | 327ci/360hp | 5.9 sec | 14.5 sec @ 104.0 mph | Sports Car Graphic Dec 61 |
| Corvette | 327ci/360hp | 5.9 sec | 14.2 sec @ 104.0 mph | Hot Rod |
1963 Corvette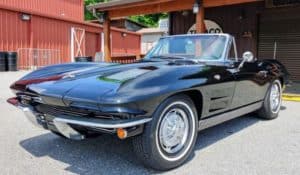 | Performance | Engine | 0 to 60 | Quarter Mile | Source |
| --- | --- | --- | --- | --- |
| Corvette | 327ci/360hp | 5.9 sec | 14.9 sec @ 95.0 mph | Road and Track Oct 62 |
| Corvette | 327ci/360hp | 6.2 sec | 14.6 sec | Motor Trend Dec 62 |
| Corvette | 327ci/300hp | 7.2 sec | 15.5 sec @ 86.0 mph | Car Life Dec 62 |
1964 Corvette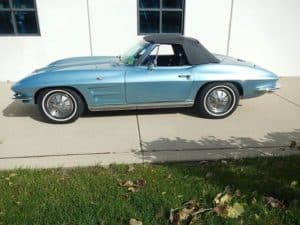 | Performance | Engine | 0 to 60 | Quarter Mile | Source |
| --- | --- | --- | --- | --- |
| Corvette | 327ci/250hp | 7.6 sec | 16.2 sec | Internet |
| Corvette | 327ci/375hp | 5.6 sec | 14.2 sec @ 100.0 mph | Motor Trend |
1965 Corvette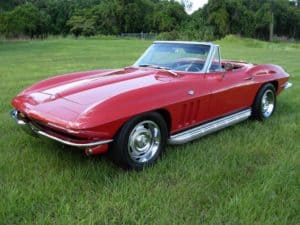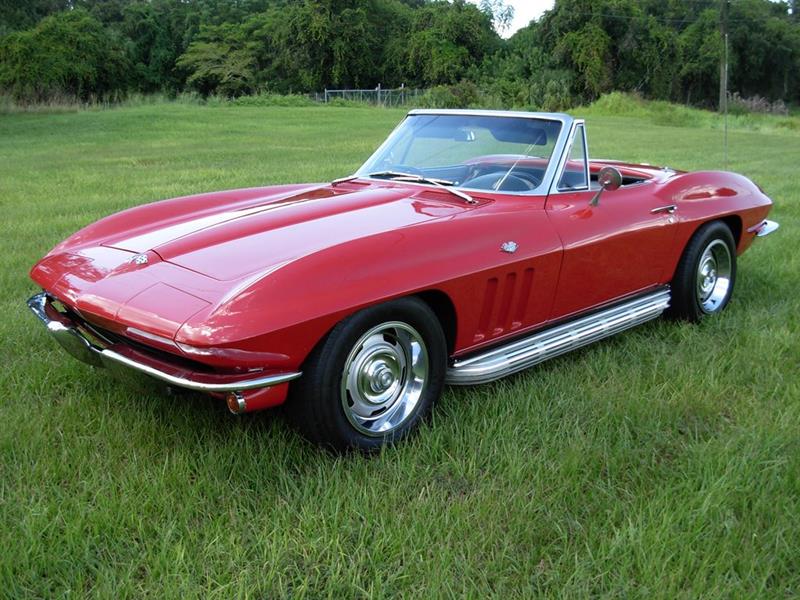 | Performance | Engine | 0 to 60 | Quarter Mile | Source |
| --- | --- | --- | --- | --- |
| Corvette | 396ci/425hp | 5.7 sec | 14.1 sec @ 103.0 mph | Road and Track Aug 65 |
| Corvette | 327ci/350hp | 6.2 sec | 14.9 sec @ 94.0 mph | Motor Trend Oct 64 |
| Corvette | 327ci/375hp | 6.3 sec | 14.4 sec @ 99.0 mph | Motor Trend Aug 65 |
| Corvette | 327ci/300hp | 7.5 sec | 15.8 sec @ 90.0 mph | Motor Trend Apr 65 |
| Corvette | 396ci/425hp | 6.0 sec | 14.1 sec @ 104.0 mph | Car Life |
1966 Corvette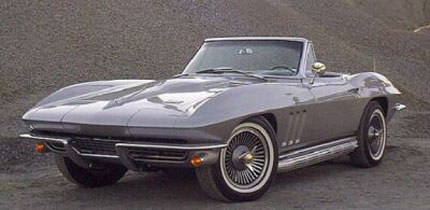 | Performance | Engine | 0 to 60 | Quarter Mile | Source |
| --- | --- | --- | --- | --- |
| Corvette | 427ci/425hp | 5.7 sec | 14.0 sec | Internet |
| Corvette | 427ci/425hp | n/a | 12.8 sec @ 112.0 mph | Car & Driver |
1967 Corvette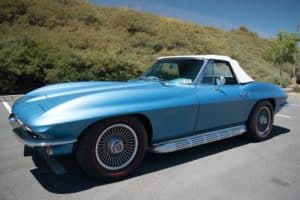 | Performance | Engine | 0 to 60 | Quarter Mile | Source |
| --- | --- | --- | --- | --- |
| Corvette | 427ci/435hp | 5.6 sec | 13.8 sec @ 110.5 mph | Motor Trend 4/97 |
| Corvette | 427ci/435hp | n/a | 13.9 sec @ 106.3 mph | PopularHot Rod |
| Corvette Convertible | 327ci/300hp | 7.8 sec | 16.0 sec @ 86.5 mph | Car & Driver |
1968 Corvette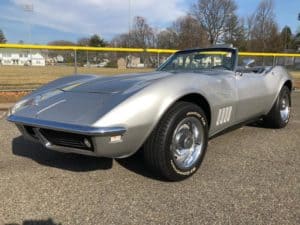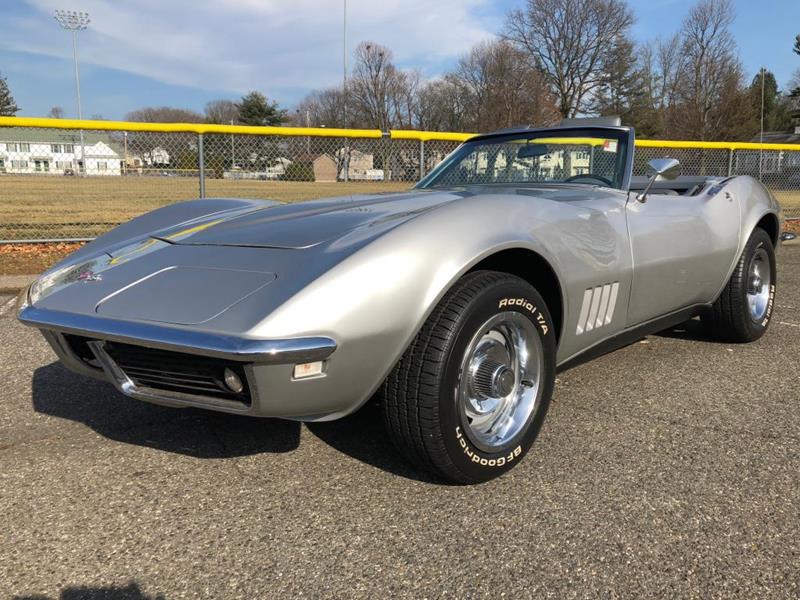 | Performance | Engine | 0 to 60 | Quarter Mile | Source |
| --- | --- | --- | --- | --- |
| Corvette | 427ci/435hp | 6.5 sec | 13.4 sec @ 109.5 mph | Car Life |
| Corvette | 327ci/350hp | 7.1 sec | 15.0 sec @ 92.0 mph | Car & Driver |
| Corvette | 427ci/435hp | n/a | 13.3 sec @ 108.0 mph | HC |
1969 Corvette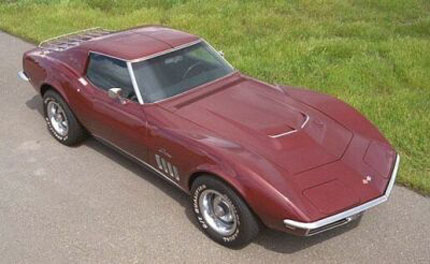 | Performance | Engine | 0 to 60 | Quarter Mile | Source |
| --- | --- | --- | --- | --- |
| Corvette ZL1 | 427ci/430hp | n/a | 12.1 sec @ 116.0 mph | Internet |
| Corvette | 427ci/435hp | 6.6 sec | 14.6 sec @ 98.6 mph | Car Life |
| Corvette L88 | 427ci/430hp | n/a | 13.6 sec @ 111.1 mph | Hot Rod |
| Corvette ZL-1 | 427ci/460hp | n/a | 10.9 sec @ 130.0 mph | Motor Trend |
1970 Corvette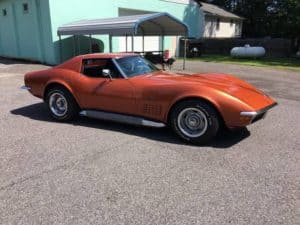 | Performance | Engine | 0 to 60 | Quarter Mile | Source |
| --- | --- | --- | --- | --- |
| Corvette LS5 | 427ci/390hp | 6.1 sec | 14.3 sec | Internet |
| Corvette | 350ci/370hp | 5.7 sec | 14.2 sec @ 102.2 mph | Car Life |
1971 Corvette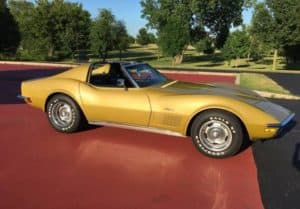 | Performance | Engine | 0 to 60 | Quarter Mile | Source |
| --- | --- | --- | --- | --- |
| Corvette LS6 | 454ci/425hp | 6.5 sec | 13.7 sec @ 102.0 mph | Car Craft 8/71 |
| Corvette | 454ci/365hp | n/a | 14.0 sec @ 95.64 mph | PopularHot Rod |
1972 Corvette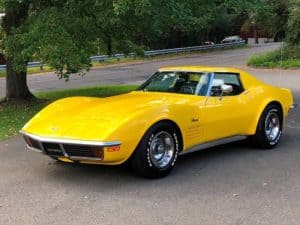 | Performance | Engine | 0 to 60 | Quarter Mile | Source |
| --- | --- | --- | --- | --- |
| Corvette | 350ci/255hp | 6.9 sec | 14.3 sec | Internet |
1973 Corvette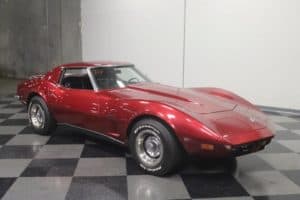 | Performance | Engine | 0 to 60 | Quarter Mile | Source |
| --- | --- | --- | --- | --- |
| Corvette | 350ci/250bhp | 7.2 sec | 15.5 sec @ 94 mph | Road and Track |
| Corvette | 350ci/250bhp | 6.7 sec | 15.1 sec @ 95.4 mph | Car & Driver |
1974 Corvette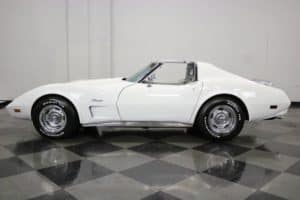 | Performance | Engine | 0 to 60 | Quarter Mile | Source |
| --- | --- | --- | --- | --- |
| Corvette | 350ci/250hp | 8.9 sec | 15.6 sec @ 92.3 mph | Road Test Feb 74 |
1975 Corvette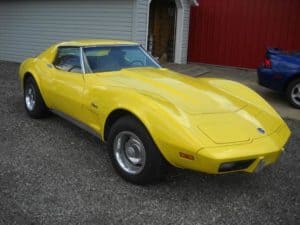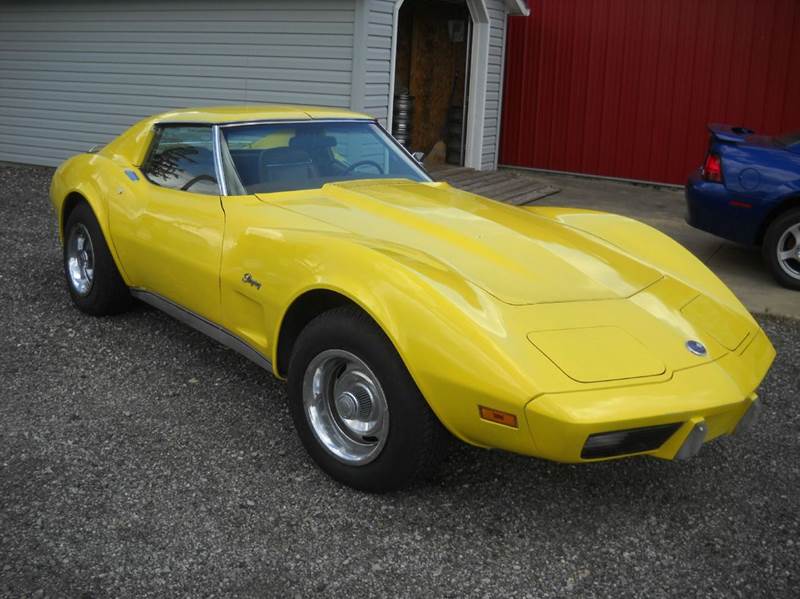 | Performance | Engine | 0 to 60 | Quarter Mile | Source |
| --- | --- | --- | --- | --- |
| Corvette | 350ci/205hp | 7.7 sec | 16.1 sec @ 87.4 mph | Car and Drive May 1975 |
| Corvette | 350ci/175hp | 9.6 sec | 16.4 sec | Internet |
1976 Corvette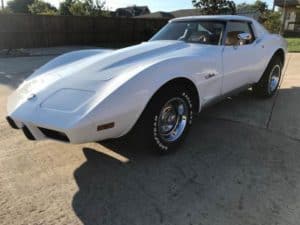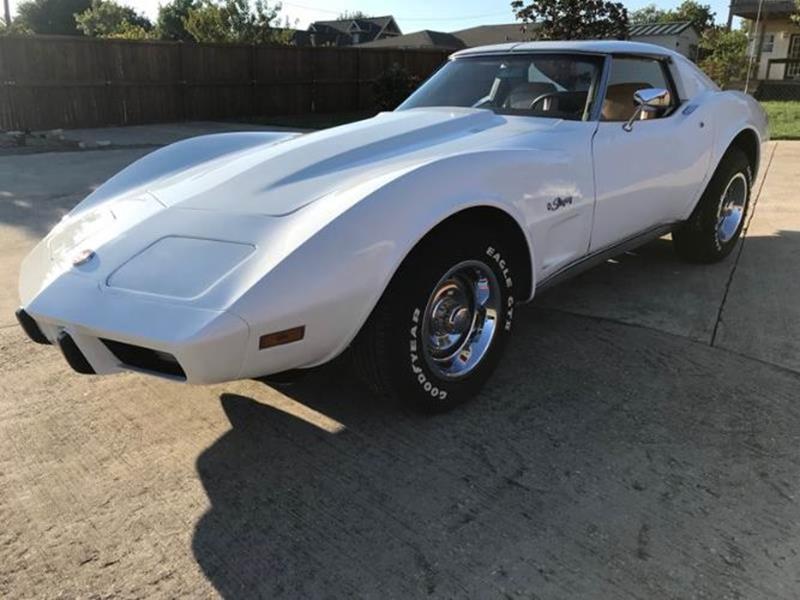 | Performance | Engine | 0 to 60 | Quarter Mile | Source |
| --- | --- | --- | --- | --- |
| Corvette | 350ci/210hp | 7.4 sec | 15.2 sec @ 92.4 mph | Road Test Jun 76 |
| Corvette | 350ci/210hp | 8.1 sec | 16.5 sec @ 87.0 mph | Road and Track Mar 76 |
1977 Corvette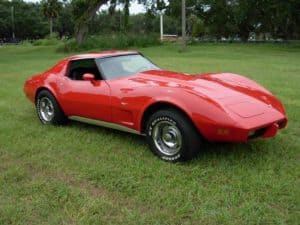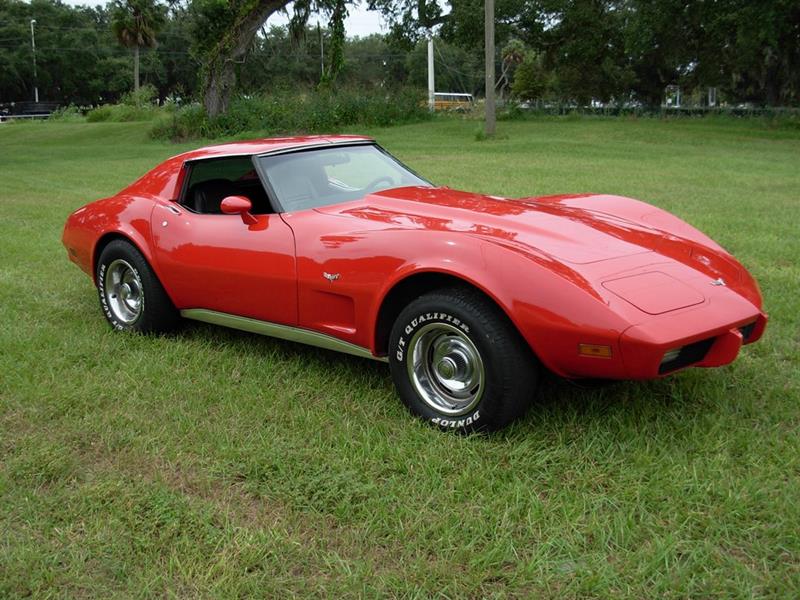 | Performance | Engine | 0 to 60 | Quarter Mile | Source |
| --- | --- | --- | --- | --- |
| Corvette | 350ci/210hp | 6.8 sec | 15.5 sec @ 92.5 mph | Road and Track Jun 77 |
| Corvette | 350ci/210hp | 8.8 sec | 16.6 sec @ 82.0 mph | Motor Trend Dec 76 |
1978 Corvette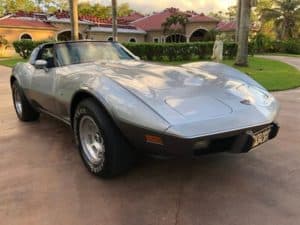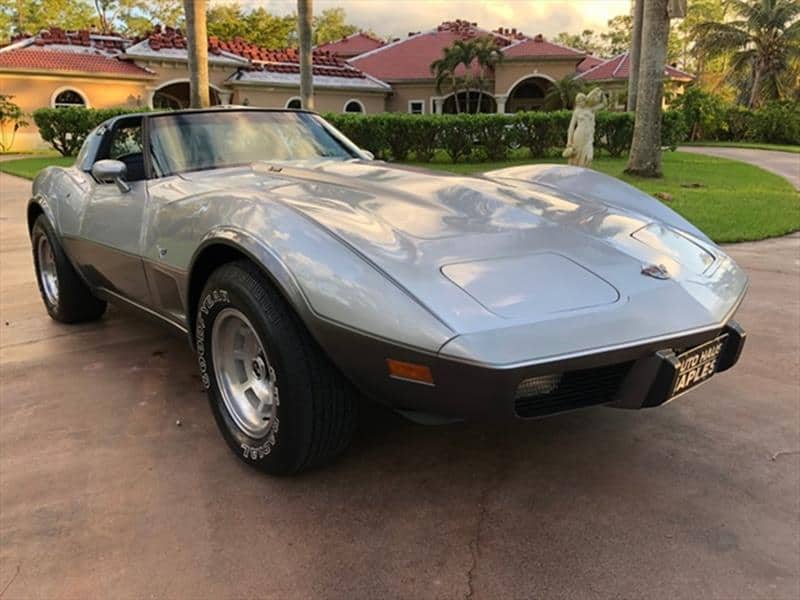 | Performance | Engine | 0 to 60 | Quarter Mile | Source |
| --- | --- | --- | --- | --- |
| Corvette | 350ci/220hp | 7.8 sec | 16.1 sec @ 88.1 mph | Car and Drive Oct 77 |
1979 Corvette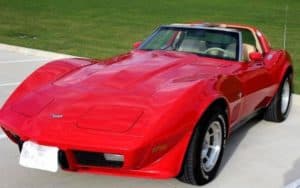 | Performance | Engine | 0 to 60 | Quarter Mile | Source |
| --- | --- | --- | --- | --- |
| Corvette | 350ci/230hp | 6.6 sec | 15.3 sec @ 95.0 mph | Road and Track Dec 78 |
| Corvette | 350ci/230hp | 7.3 sec | 15.7 sec | Internet |
1980 Corvette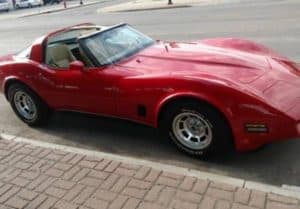 | Performance | Engine | 0 to 60 | Quarter Mile | Source |
| --- | --- | --- | --- | --- |
| Corvette | 350ci/230hp | 7.4 sec | 15.4 sec | Internet |
| Corvette | 350ci/190hp | 7.6 sec | 15.9 sec @ 88.0 mph | Car and Drive May 80 |
| Corvette | 350ci/190hp | 9.2 sec | 17.0 sec @ 82.0 mph | Road and Track 1980 |
1981 Corvette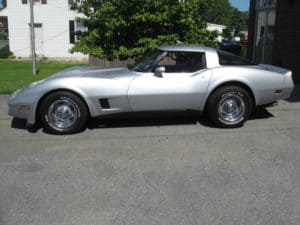 | Performance | Engine | 0 to 60 | Quarter Mile | Source |
| --- | --- | --- | --- | --- |
| Corvette | 350ci/200hp | 7.9 sec | 16.1 sec @ 84. 5 mph | Estimate |
1982 Corvette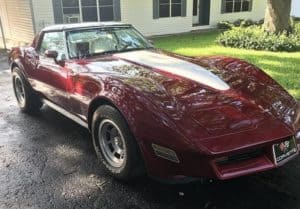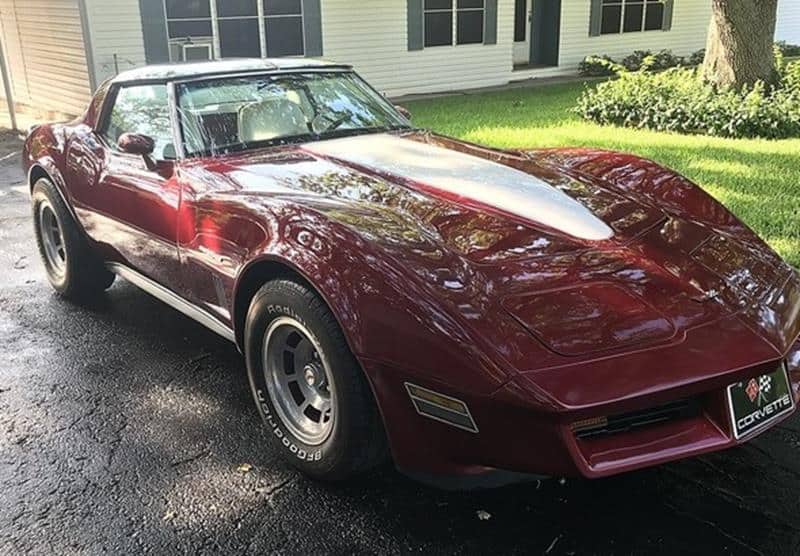 | Performance | Engine | 0 to 60 | Quarter Mile | Source |
| --- | --- | --- | --- | --- |
| Corvette | 350ci/200hp | 7.9 sec | 16.1 sec @ 84. 5 mph | Road and Track Nov 82 |
| Corvette | 350ci/200hp | 9.2 sec | 16.6 sec | Internet |
1984 Corvette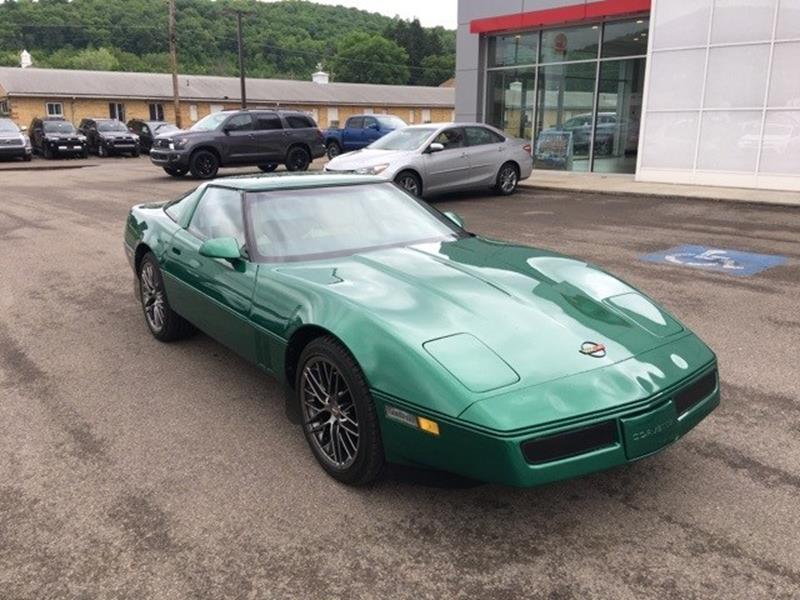 | Performance | Engine | 0 to 60 | Quarter Mile | Source |
| --- | --- | --- | --- | --- |
| Corvette | 350ci/230hp | 6.7 sec | 15.1 sec | Internet |
1985 Corvette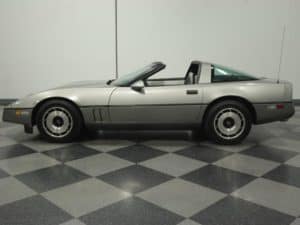 | Performance | Engine | 0 to 60 | Quarter Mile | Source |
| --- | --- | --- | --- | --- |
| Corvette 350/230 | | 5.7 sec | 14.1 sec | Internet |
1986 Corvette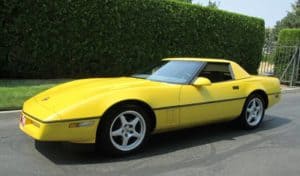 | Performance | Engine | 0 to 60 | Quarter Mile | Source |
| --- | --- | --- | --- | --- |
| Corvette 350/230 | 350ci/255hp | 5.8 sec | 14.4 sec @ 96.0 mph | Road and Track Feb 86 |
1987 Corvette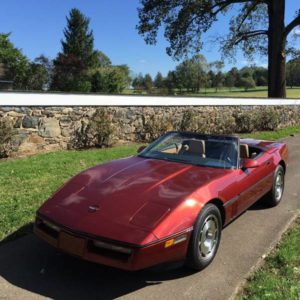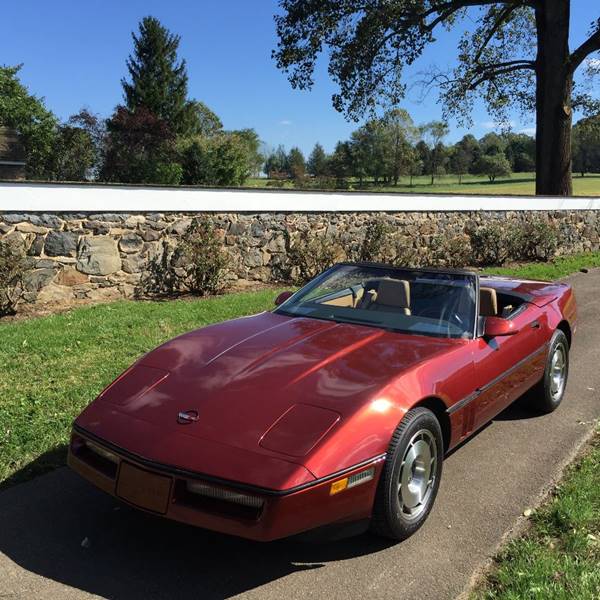 | Performance | Engine | 0 to 60 | Quarter Mile | Source |
| --- | --- | --- | --- | --- |
| Corvette | 350ci/240hp | 6.3 sec | 14.8 sec @ 95.0 mph | Road and Track Jun 87 |
| Corvette | 350ci/240hp | 6.7 sec | 15.3 sec @ 90.8 mph | Motor Trend Nov 89 |
1988 Corvette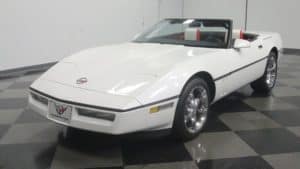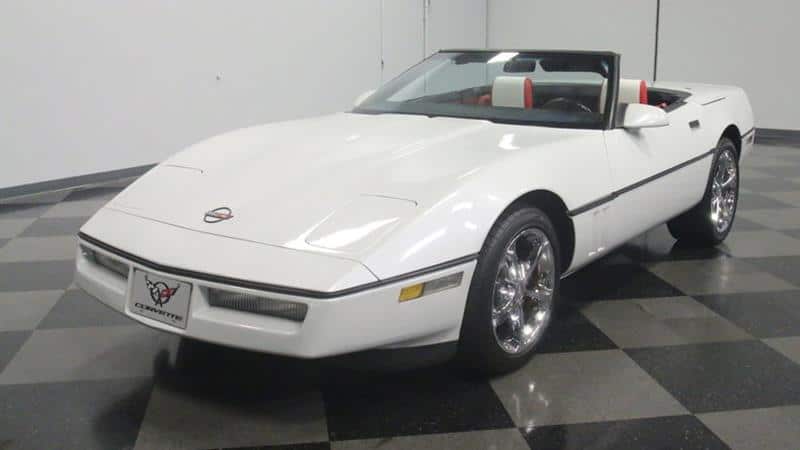 | Performance | Engine | 0 to 60 | Quarter Mile | Source |
| --- | --- | --- | --- | --- |
| Corvette | 350ci/245hp | 6.0 sec | 14.2 sec @ 98.0 mph | Car and Driver Sep 88 |
| Corvette | 350ci/245hp | 6.0 sec | 14.6 sec @ 95.5 mph | Road and Track Feb 88 |
| Corvette | 350ci/245hp | 6.5 sec | 15.0 sec @ 93.6 mph | Motor Trend 9/88 |
1989 Corvette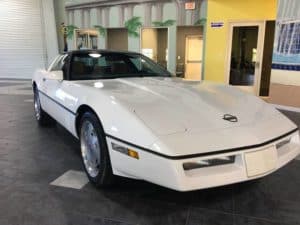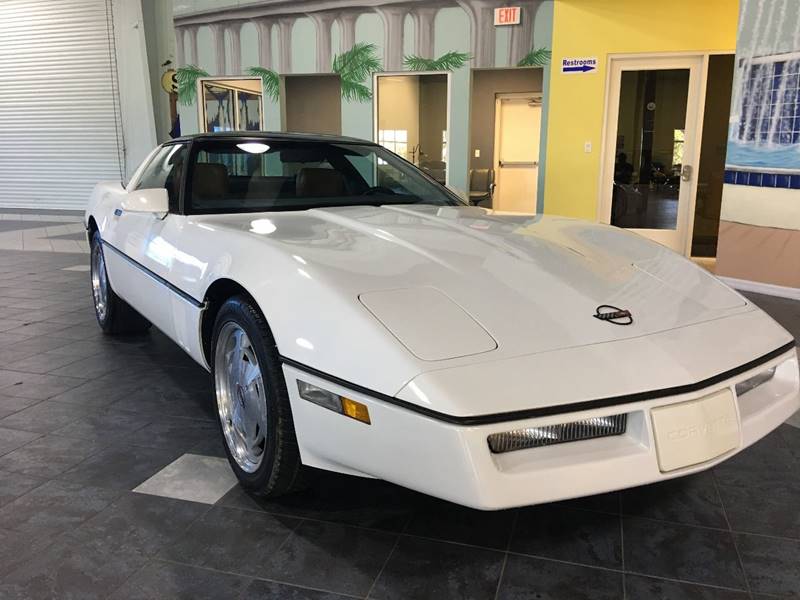 | Performance | Engine | 0 to 60 | Quarter Mile | Source |
| --- | --- | --- | --- | --- |
| Corvette Callaway TT | 350ci/382hp | 4.4 sec | 12.9 sec @ 111.0 mph | Car & Driver 5/89 |
| Corvette | 350ci/240hp | 5.6 sec | 14.5 sec @ 95.27 mph | Motor Trend 11/89 |
| Corvette | 350ci/245hp | 6.2 sec | 14.8 sec @ 97.0 mph | Road and Track 1989 |
| Corvette | 350ci/245hp | 6.4 sec | 15.0 sec @ 94.6 mph | Motor Trend 5/89 |
1990 Corvette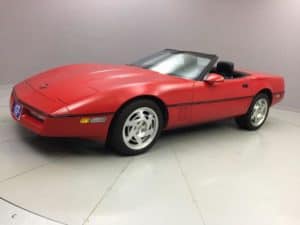 | Performance | Engine | 0 to 60 | Quarter Mile | Source |
| --- | --- | --- | --- | --- |
| Corvette ZR1 | 350ci/375hp | 4.7 sec | 13.1 sec @ 110.0 mph | Motor Trend Jun 89 |
| Corvette man | 350ci/250hp | 5.6 sec | 14.1 sec @ 101.5 mph | Motor Trend Apr 90 |
| Corvette auto | 350ci/250hp | 5.7 sec | 14.2 sec @ 99.1 mph | Motor Trend Apr 90 |
| Corvette Conv | 350ci/245hp | 6.3 sec | 14.8 sec @ 95.0 mph | Motor Trend Apr 90 |
1991 Corvette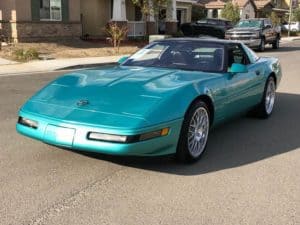 | Performance | Engine | 0 to 60 | Quarter Mile | Source |
| --- | --- | --- | --- | --- |
| Corvette | 350ci/245hp | 5.3 sec | 13.9 sec | Internet |
| Corvette Conv. | 350ci/245hp | 5.6 sec | 14.1 sec | Internet |
1992 Corvette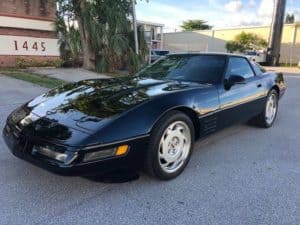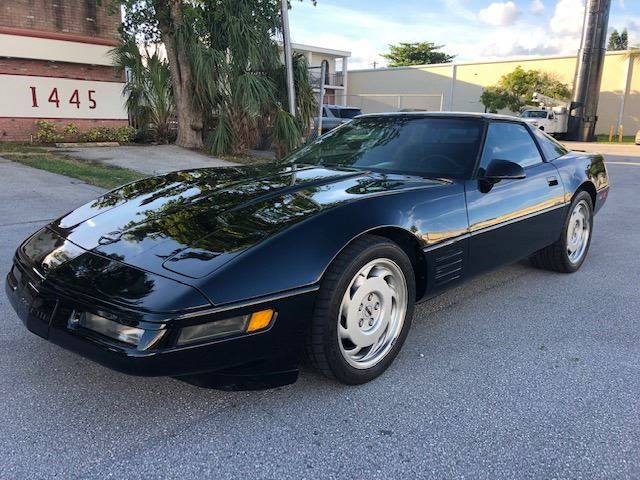 | Performance | Engine | 0 to 60 | Quarter Mile | Source |
| --- | --- | --- | --- | --- |
| Corvette | 350ci/300hp | 5.0 sec | 13.6 sec @ 104.0 mph | Car and Driver Dec 91 |
| Corvette | 350ci/300hp | 5.6 sec | 13.9 sec | Internet |
| Corvette | 350ci/300hp | 5.7 sec | 14.1 sec | Internet |
1993 Corvette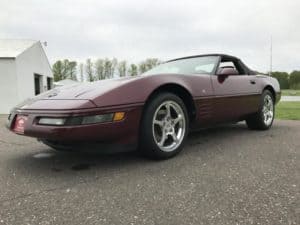 | Performance | Engine | 0 to 60 | Quarter Mile | Source |
| --- | --- | --- | --- | --- |
| Corvette ZR1 | 350ci/405hp | 4.9 sec | 13.4 sec @ 110.0 mph | Motor Trend 6/93 |
| Corvette ZR1 | 350ci/405hp | 5.2 sec | 13.6 sec | Internet |
| Corvette | 350ci/300hp | 5.3 sec | 13.9 sec @ 101.0 mph | Motor Trend 6/93 |
1994 Corvette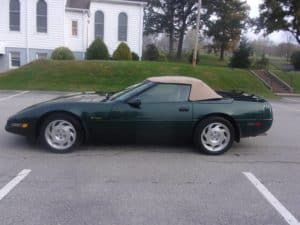 | Performance | Engine | 0 to 60 | Quarter Mile | Source |
| --- | --- | --- | --- | --- |
| Corvette ZR1 | 350ci/405hp | 4.7 sec | 13.1 sec | Internet |
| Corvette | 350ci/300hp | 5.5 sec | 14.1 sec | Internet |
1995 Corvette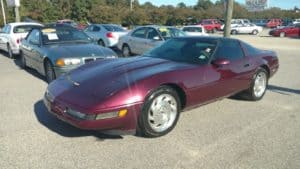 | Performance | Engine | 0 to 60 | Quarter Mile | Source |
| --- | --- | --- | --- | --- |
| Corvette Lingenfelte | 383ci/470hp | 3.9 sec | 12.0 sec @ 122.9 mph | Motor Trend 3/96 |
| Corvette Rippie DRM | 385ci/550hp | 4.4 sec | 12.7 sec @ 115.3 mph | Road & Track 6/95 |
| Corvette ZR1 | 350ci/405hp | 5.2 sec | 13.6 sec @ 105.7 mph | Road & Track 6/95 |
1996 Corvette
| Performance | Engine | 0 to 60 | Quarter Mile | Source |
| --- | --- | --- | --- | --- |
| Corvette GS | 350ci/330hp | 4.7 sec | 13.3 sec | Internet |
| Corvette GS | 350ci/330hp | 4.9 sec | 13.3 sec | Internet |
| Corvette GS | 350ci/330hp | 5.2 sec | 13.6 sec @ 103.8 mph | Car Craft 6/96 |
1997 Corvette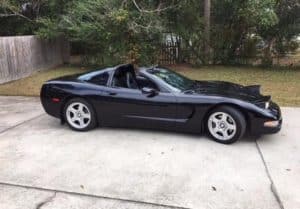 | Performance | Engine | 0 to 60 | Quarter Mile | Source |
| --- | --- | --- | --- | --- |
| Corvette | 346ci/345hp | 4.7 sec | 13.4 sec @ 109.4 mph | Car Craft 2/97 |
| Corvette | 346ci/345hp | 4.8 sec | 13.3 sec @ 108.9 mph | Road & Track Feb 97 |
| Corvette | 346ci/345hp | 4.8 sec | 13.2 sec @ 109.6 mph | Motor Trend Apr 97 |
| Corvette | 346ci/345hp | 4.9 sec | 13.4 sec @ 108.0 mph | Car and Driver Feb 97 |
1998 Corvette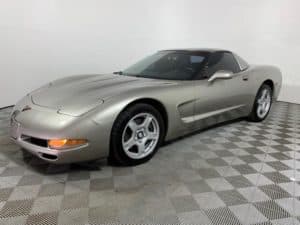 | Performance | Engine | 0 to 60 | Quarter Mile | Source |
| --- | --- | --- | --- | --- |
| Corvette Conv | 346ci/345hp | 5.1 sec | 13.5 sec @ 107.0 mph | Car & Driver Mar 98 |
| Corvette | 346ci/345hp | 5.3 sec | 13.8 sec @ 103.0 mph | Car & Driver Nov 97 |
| Corvette | 346ci/345hp | 5.2 sec | 13.8 sec @ 102.1 mih | Road and Track 1998 Sp> |
1999 Corvette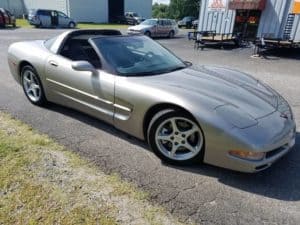 | Performance | Engine | 0 to 60 | Quarter Mile | Source |
| --- | --- | --- | --- | --- |
| Corvette | 346ci/345hp | 4.7 sec | 13.4 sec @ 109.4 mph | Corvette Quarterly Win 98 |
| Corvette | 346ci/345hp | 4.8 sec | 13.3 sec @ 108.6 mph | Motor Trend Sep 99 |
| Corvette | 346ci/345hp | 5.3 sec | 13.6 sec @ 107.3 mph | Road and Track Sep 98 |
2000 Corvette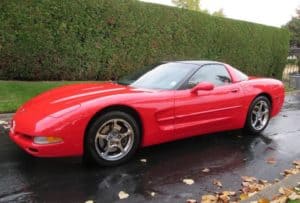 | Performance | Engine | 0 to 60 | Quarter Mile | Source |
| --- | --- | --- | --- | --- |
| Corvette | 346ci/345hp | 5.3 sec | 13.6 sec @ 108.0 mph | Internet |
2001 Corvette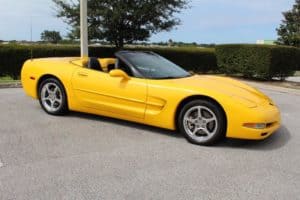 | Performance | Engine | 0 to 60 | Quarter Mile | Source |
| --- | --- | --- | --- | --- |
| Corvette | 346ci/345hp | 3.5 sec | 10.3 sec @ 109.3 mph | Motor Trend Mar 01 |
| Corvette Conv | 346ci/345hp | 4.5 sec | 13.1 sec @ 111.0 mph | Car and Driver Aug 01 |
| Corvette | 345ci/385hp | 4.6 sec | 13.0 sec @ 110.5 sec | Road and Track 2001 Sp> |
2002 Corvette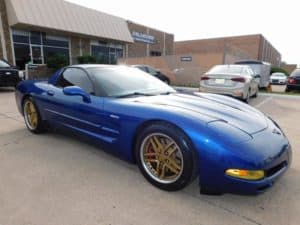 | Performance | Engine | 0 to 60 | Quarter Mile | Source |
| --- | --- | --- | --- | --- |
| Corvette Z06 | 5.7L/405hp | 4.7 sec | 13.1 sec @ 111.0 mph | Road and Track Mar 2002 |
| Corvette Z06 | 5.7L/405hp | 3.9 sec | 12.4 sec @ 116.0 mph | General Motors |
2003 Corvette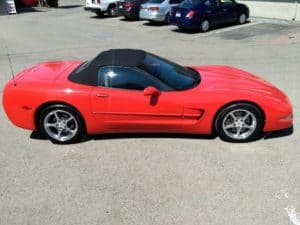 | Performance | Engine | 0 to 60 | Quarter Mile | Source |
| --- | --- | --- | --- | --- |
| Corvette | 345ci/350hp | 4.9 sec | 13.4 sec @ 101.1 mph | Road and Track Aug 02 |
2004 Corvette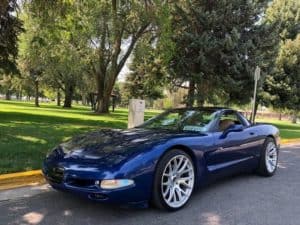 | Performance | Engine | 0 to 60 | Quarter Mile | Source |
| --- | --- | --- | --- | --- |
| Corvette | 6.0L/400hp | 4.2 sec | 12.7 sec @ 102.5 mph | Estimate |
2005 Corvette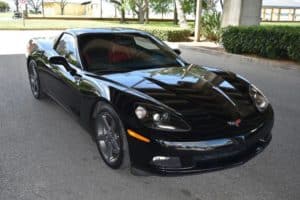 | Performance | Engine | 0 to 60 | Quarter Mile | Source |
| --- | --- | --- | --- | --- |
| Corvette | 6.0L/400hp | 4.2 sec | 12.5 sec | Edmunds 2005 |
2006 Corvette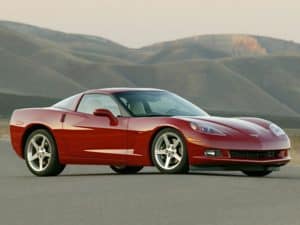 | Performance | Engine | 0 to 60 | Quarter Mile | Source |
| --- | --- | --- | --- | --- |
| Corvette | 427ci/500hp | 3.5 sec | 11.5 sec | Motor Trend Oct 05 |
| Corvette | 6.0L/400hp | 4.8 sec | 13.1 sec @ 108.9 | Road and Track Sep 2005 |
| Corvette | 7.0L/505hp | 4.4 sec | 11.9 sec @ 124 mph | Edmunds 2006 |
2007 Corvette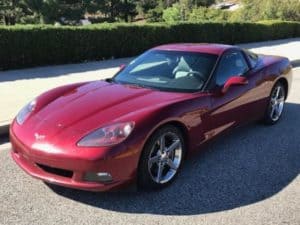 | Performance | Engine | 0 to 60 | Quarter Mile | Source |
| --- | --- | --- | --- | --- |
| Corvette | 6.0L/400hp | 4.8 sec | 13.1 sec @ 108.9 | Estimate |
2008 Corvette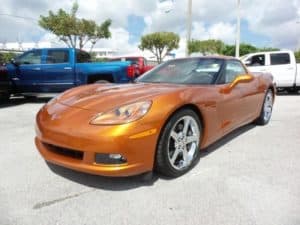 | Performance | Engine | 0 to 60 | Quarter Mile | Source |
| --- | --- | --- | --- | --- |
| Corvette | 6.0L/400hp | 4.8 sec | 13.1 sec @ 108.9 | Estimate |
2009 Corvette