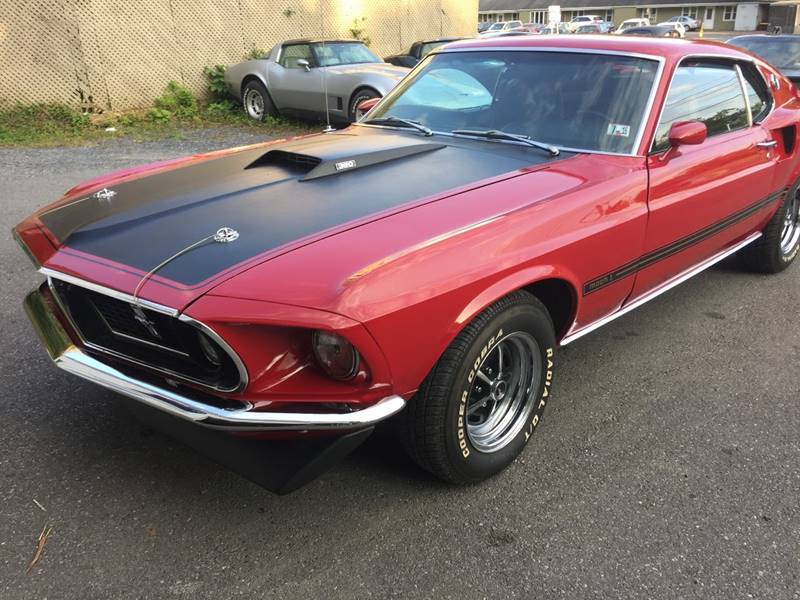 "Somebody finally built a better Mustang. Mustang SportsRoof…one of 5 all-new Mustangs." 1969 Mustang sales brochure
A 428 cubic inch V-8 engine provided the most powerful option yet for any Mustang.
Two new Mustang models were added, the Grande luxury line and the high-performance Mach I.
The 1969 Mustang was completely redesigned and featured a larger, more muscular look for the car.
Muscle Car Specifications
Performance Model
1969 Ford Mustang Boss 302
Quarter Mile
14.9 sec @ 96.2 mph
Responding to declining sales resulting from increased competition in the pony car genre, Ford completely restyled the Mustang for the 1969 year model. Though actually only four inches longer than the 1967 and '68 Mustangs at 187.4 inches, the redesign had the muscular look of being far larger than the previous models. Most prominent was a four headlight system, moving the main lights outside of the grille, with the inboard lights mounted inside the grille.
And for those participating in the late-1960s trend of wanting more powerful cars, the Mach I model was introduced as the most powerful Mustang ever. Available with the aforementioned 428 cubic inch V-8 called the Cobra Jet Ram-Air, capable of producing 360 horsepower, the car came with dual exhaust and high back bucket seats. Possibly in response to the muscle car trend, hood air scoops were added.
For the third consecutive year, Mustang production fell in 1969, though this year's drop of 5.62 percent over 1968 marked the lowest yearly decrease since 1967. Total production of 299,320 was helped by an increase over 1968 sales of the fastback model, now known as the SportsRoof, and the addition of two new Mustang models.
Two six-cylinder engines were still available as they had been since 1968, one a 200 cubic inch six producing 120 horsepower, or a 250 cubic inch six rated at 155 horsepower, available for $26 more. The traditional Mustang 289 V-8 was phased out completely for 1969, with the base V-8 being the 302 cubic inch engine producing 220 horsepower.
The next most powerful option was the also new 351 cubic inch V-8, producing either 250 or 290 horsepower depending on whether it was the 2-barrel or the 4-barrel version. The 390 cubic inch engine was still available, as it had been since 1967 to produce 320 horsepower. The 428 cubic inch V-8 came in two 4-barrel forms, the Cobra jet and the Super Cobra Jet, producing 335 and 360 horsepower, respectively.
True to the form of all Mustangs before, the 1969 Mustang was known for having nearly any option (including any of the engines) available for any model of the car. The GT Equipment Group package was offered, as it had been every year since 1965, and included a base 351 cubic inch engine, heftier shocks, pin-type lock hood and other GT trim ornamentation.
Hardtop
Like it had every year since the inception of the Mustang, the 2-Door Hardtop had the highest production run of any other models in 1969 with 127,954, though that number was down 48.7 percent from 1968.
Sports Roof
Renamed the SportsRoof, the fastback model was the only of the three original models to produce an increase in production over 1968, up a respectable 46.44 percent to 61,980 cars. In addition to the fact that the fastback body style highly complemented the redesign, this increase also could have been affected by the fact that for the first and only time, the fastback was priced exactly the same as the hardtop, with both model's base price standing at $2,635.
Convertible
For the second year in a row, the convertible model once again saw a production decrease of over 40 percent over the previous year, this time bringing total production down to 14,746.
Grande
The Mustang Grande, new for 1969, was basically a luxury package for the Mustang in the same way that the GT option was a sports package. Starting with a base price only $231 higher than the regular hardtop, the Grande featured wire-style wheel covers, racing style mirrors and a special interior with wood-grain trim and a center console storage space.
Mach I
While the Grande was designed for Mustang owners who wanted a little more luxury, the Mach I was specifically made for those who desired performance. The base engine was the 351 V-8 and included hood air scoops (simulated for all but the Cobra Jet engine), high-backed bucket seats and a special Mach I reflective stripe.
Pony Car Competition
The Mach I model came just in time to compete with new package options offered by the Mustangs two primary competitors, Camaro with its Z28 package and the Firebird Trans Am. The Camaro was still selling very strongly in 1969, with a total production run of 230,799. Firebird had a respectable production year at 87,708, and production numbers of the AMC Javelin and Plymouth Barracuda hovered in the 30,000 to 40,000 range.
Though 1970 would see the introduction of the Dodge Challenger, the last car considered a pony car, the trend was already beginning its decline, with every pony car model in 1969 showing a decrease in production from the 1968 model year. This trend would continue as the oncoming years brought about increased environmental, economic and fuel shortage concerns.
Engine Specifications
Type
Size
Carb
Horse Power
Tourqe
I-6
200ci
1x1bbl
120 hp
I6
250ci
1x1bbl
155 hp @ 4200 rpm
235 lb-ft @ 1600 rpm
Boss 302
302ci
1x4bbl
290 hp @ 5800 rpm
290 lb-ft @ 4300 rpm
V8
302ci
1x4bbl
220 hp @ 4400 rpm
304 lb-ft @ 2800 rpm
V8
302ci
1x2bbl
210 hp
V8
351ci
1x4bbl
290 hp
V8
351ci
1x2bbl
250 hp
V8
390ci
1x4bbl
320 hp
All Cobra Jets
428ci
1x4bbl
335 hp @ 5200 rpm
440 lb-ft @ 3400 rpm
Boss 429
429ci
1x4bbl
375 hp @ 5200 rpm
450 lb-ft @ 3400 rpm
Performance Statistics
| 0 to 60 mph | Quarter Mile | Engine | Source |
| --- | --- | --- | --- |
| n/a | 13.3 sec @ 107.0 mph | 429ci/375hp | Hi PerfCars 9/69 |
| n/a | 13.7 sec @ 103.4 mph | 428ci/335hp | PopularHot Rod |
| n/a | 13.9 sec @ 103.3 mph | 428ci/335hp | Car Life 3/69 |
| n/a | 13.7 sec @ 102.3 mph | 428ci/335hp | Car Craft 8/69 |
| n/a | 15.5 sec @ 90.4 mph | 428ci/335hp | Musclecars 5/95 |
| 5.5 sec | 13.9 sec @ 103.3 mph | 428ci/335hp | Car Life 3/69 |
| 5.7 sec | 13.9 sec @ 103.0 mph | 428ci/335hp | Estimate |
| 6 sec | 14.0 sec @ 102.0 mph | 428ci/335hp | Car & Driver |
| 6.9 sec | 14.9 sec @ 96.0 mph | 302ci/290hp | Road & Track 12/91 |
| 6.9 sec | 14.9 sec @ 96.2 mph | 302ci/290hp | Car Life |
| 7.1 sec | 14.1 sec @ 102.9 mph | 429ci/375hp | Car Life 7/69 |
| 8.0 sec | 15.6 sec @ 89.1 mph | 351ci/290hp | Car Life 2/69 |
My Favorite Mustang
Without a doubt the 69 and 70 Sport Roof Mustangs are the best looking Mustangs ever. Everything about them screams performance. Find a Mach 1 or if you are rich a Boss 302 and you will be the envy of all the gear heads in your area. The only car that looks better is the modern Dodge Challenger.
Verdict
Pro
Looks that still turn heads and performance to match
Con
Prices are high for the Sports Roof models