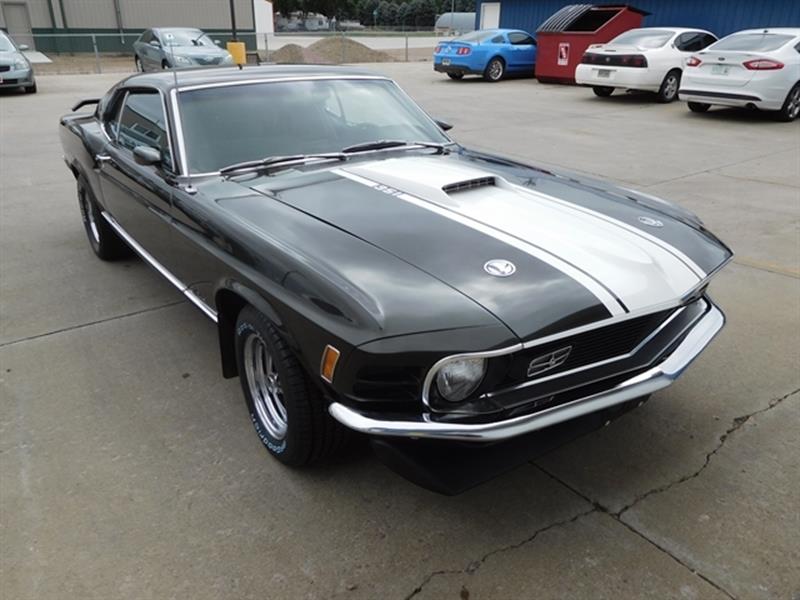 "MACH I…when you like it hot. GRANDE…when you like it rich. BOSS 302…when you like it quick." 1970 Ford sales brochure
The familiar "side-scoop" molding was eliminated from the 1970 model.
The 302 Boss 2-Door SportsRoof Hardtop model was added with a special Boss 302 cubic inch 4-barrel V-8.
Though the exterior styling remained almost exactly the same as the 1969 model, the redesigned front-end gave the '70 models a distinct look.
Muscle Car Specifications
Performance Model
1970 Ford Mustang Boss 302
Quarter Mile
14.9 sec @ 96.15 mph
Throughout the car industry, 1970 can probably be viewed as the pinnacle of performance. The next few years would see regulations requiring stricter emissions control, unleaded gas requirements and more safety regulations combined with higher insurance rates, a weakening economy and higher gas prices due to a fuel shortage. All of this added up to less interest in performance based vehicles than had been seen throughout the '60s by American drivers.
Still, though the indications of these coming events were already beginning to show, the Mustang changed very little in 1970. True to the form it had begun with the 1969 Mustang had something to offer every one. The perennially popular hardtop base model could be appreciated by anyone, the Grande line was for those who wanted a little more luxury from their Mustang, and there were two lines specifically geared at buyers who desired performance: the Mach I and the newly introduced Boss 302.
Two six-cylinder options were available in 1969—a 200 cubic inch version producing 120 horsepower and a 250 cubic inch motor rated at 155 horsepower. There were, however, quite a few changes in the V-8 options offered as compared to the previous year. Gone were any 390 cubic inch versions, and the base was a 302 cubic inch 2-barrel V-8. A 4-barrel version of the 302 was the Boss 302—available only on the Boss 302 Mustang. There was a 2-barrel and 4-barrel version of the 351 cubic inch V-8, producing 250 and 300 horsepower, respectively.
The Cobra Jet and the Super Cobra Jet Ram Air were both 428 cubic inch V-8's producing 335 horsepower or 360 horsepower, depending on which model was chosen. A limited edition (499 units produced) Boss 429 was available on select models and produced 375 horsepower. This version also had Ram Air hood scoops.
Hardtop
Still the best selling Mustang, as it had been since the initial 1964 1/2 Mustang, the hardtop production continued the decline it had been experiencing since 1967, producing 82,569 units, down 35 percent since the previous year.
Sports Roof
After 1969 saw an increase in production of the fastback version of the Mustang, production for the 1970 model slipped 25 percent from the previous year to 45,934 units. While the 1969 models had been priced exactly the same as the hardtop models, the base fastback model was $50 more expensive than the hardtop model in 1970, still making it the second least expensive Mustang.
Convertible
Since 1967, the convertible version of the Mustang had been showing dramatic decreases in production every year, and 1970 was no different. At a nearly 50 percent decrease from 1969, convertible production was down to 7,673.
Grande Hardtop
Effectively a luxury package for the Mustang, the Grande was available with any engine option but came with visual and comfort standard features like a vinyl Landau roof, high-back bucket seats and a wood-grain instrument panel.
Mach I Sports Roof
Much like the introductory 1969 Mach I, the 1970 version offered a sportier looking and performing Mustang. The 2-barrel 352 cubic inch V-8 was the base engine, and the exterior included a unique grille emblem, new cast wheel covers and a hood lock pins.
Boss 302
The Boss 302 was perhaps created in answer to Ford's dropping of the GT option package. Intended to be the sportiest looking Mustang with high-performance, the Boss 302 came standard with 4-speed manual transmission, rear deck spoiler, louvered rear windows, "Mag"-style wheels and 15-inch tires.
Pony Car Competition
Dodge entered the pony car class in 1970 with the Challenger, a sister car to the Plymouth Barracuda. Though Challenger production was relatively high in 1970, with 83,032 units produced, it would never again post numbers anywhere near this threshold before production was discontinued in 1974 (this is, of course, not counting the re-launch of the Challenger in 2008). The Barracuda, restyled with the introduction of the Challenger, was the only pony car to post increased production numbers relative to the previous year in 1970, though still only 55,499 were built.
The Chevy Camaro continued to hold the second spot in the pony car class behind Mustang with 117,604 cars produced, and its corporate cousin, the Pontiac Firebird's production was down to 48,739. The AMC Javelin produced the lowest numbers in the pony car class with 30,180 units produced in 1970.
This classic design would be replaced with big and bold 1971 Mustang.
Engine Specifications
Type
Size
Carb
Horse Power
Tourqe
I-6
200ci
1x1bbl
120 hp
I6
250ci
1x1bbl
155 hp @ 4200 rpm
235 lb-ft @ 1600 rpm
Boss 302
302ci
1x4bbl
290 hp @ 5800 rpm
290 lb-ft @ 4300 rpm
V8
302ci
1x2bbl
210 hp
V8
351ci
1x4bbl
300 hp
V8
351ci
1x2bbl
250 hp
Cobra Jet
428ci
1x4bbl
335 hp @ 5200 rpm
440 lb-ft @ 3400 rpm
Boss 429 Super Cobra
429ci
1x4bbl
375 hp @ 5200 rpm
450 lb-ft @ 3400 rpm
Cobra Jet
429ci
1x4bbl
370 hp
Performance Statistics
| 0 to 60 mph | Quarter Mile | Engine | Source |
| --- | --- | --- | --- |
| n/a | 14.5 sec @ 99.0 mph | 429ci/375hp | Autodriver 2/70 |
| n/a | 14.1 sec @ 102.9 mph | 429ci/375hp | Car Life 7/69 |
| n/a | 13.6 sec @ 104.7 mph | 429ci/375hp | SS |
| n/a | 13.6 sec @ 104.6 mph | 429ci/375hp | Super Stock 6/69 |
| n/a | 15.2 sec @ 94.33 mph | 351ci/300hp | Car Craft |
| n/a | 14.0 sec @ 98.89 mph | 428ci/335hp | PopularHot Rod |
| 5.3 sec | 12.3 sec @ 112.0 mph | 429ci/375hp | Motor Trend |
| 6.5 sec | 14.9 sec @ 96.15 mph | 302ci/290hp | Car Life 9/69 |
| 8.1 sec | 15.8 sec @ 90.0 mph | 302ci/290hp | Motor Trend 4/70 |
| 8.2 sec | 16.0 sec @ 86.2 mph | 351ci/300hp | Motor Trend |
The Iconic Pony Car
This is the one of most recognizable cars of the era. It along with the 1969 Camaro and the 1970 Challenger and 1970 cuda represent the zenith of the classic American Pony Car. A Mach 1 or a Boss was the ultimate expression of the Pony Car.