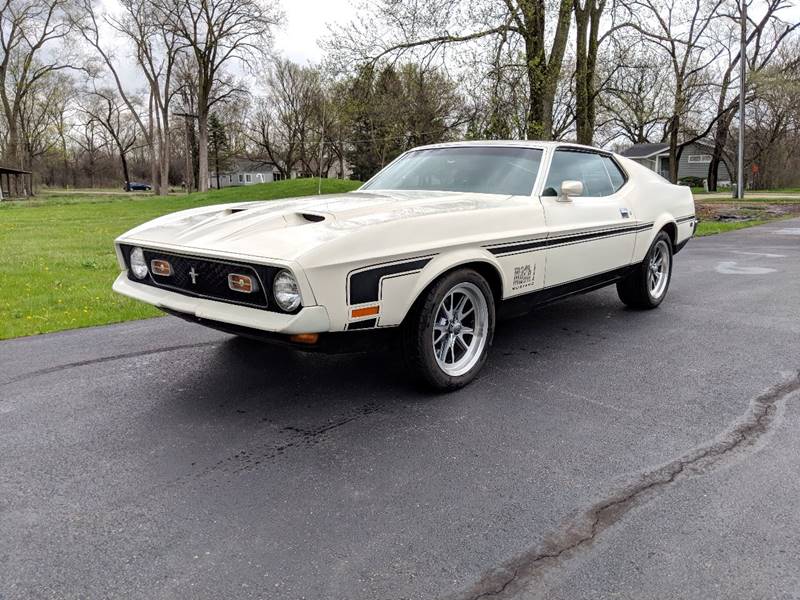 "Mustang excitement is meant to be personal, versatile, and affordable. For whoever you are. And whatever your driving style." 1971 Mustang sales brochure
Flush mounted door handles appeared for the first time
Previously the base model engine, the 200 cubic inch six-cylinder motor was no longer available on the Mustang
The 1971 Mustang was a completely redesigned, bigger car, with the length growing 2.5 inches and the width expanding by over 3 inches. The wheel base grew one inch to 109"–the first time the measurement had changed since the introduction of the Mustang
Muscle Car Specifications
Performance Model
1971 Ford Mustang Mach 1
Quarter Mile
14.6 sec @ 96.80 mph
While the redesign of the Mustang wasn't a complete departure from its predecessors, the new models were significantly heavier in addition to being dimensionally bigger. The hardtop model was nearly 200 pounds heavier than the 1970 Mustang. Especially when coupled with the larger engines, this produced a fuel inefficiency that was quickly going out of style.
As for engines, the base model was upped to a 250 cubic inch six-cylinder, which now produced 145 horsepower, as opposed to the 155 horsepower rating the same size had received in previous years. A 302 cubic inch 2-barrel engine was still the base V-8, though gone was last year's 4-barrel Boss version specific to the Boss 302 model, which was also discontinued for 1971. Three versions of the 351 cubic inch engine were available, including one specific to the new Boss 351 Mustang, and horsepower for these ranged from 240 to 330. Finally, just as they were in 1970, two 429 cubic inch V-8s were available, one producing 360 horsepower and the other, with Dual Ram Induction, producing 370.
Visually, the Mustang now came with concealed windshield wipers as well as additional chrome around the fenders. The inside came with a redesigned dashboard with larger gauges and standard high back seats.
Though Mustang was still the top seller of all the pony cars like it had been every year, it continued to follow the trend of declining sales seen by both pony cars and muscle cars in 1971. Mustang production totaled 149,628, down 24 percent from the previous year.
Hardtop
Of all the Mustang models, the hardtop saw the biggest increase in weight from the previous year. Production mirrored the entire Mustang line and was down 20 percent since 1970, with a total production of 65,696, still the most of any Mustang model.
Sports Roof
Due in part to the popularity of the Mach I SportsRoof, the base Mustang fastback model saw the sharpest decline in production of any Mustang model, down 47 percent to 23,956. The new fastback was more angled than it had been before, only pitched about 14 degrees, which created visibility problems.
Convertible
Bringing up the low end of the production numbers was the convertible model, which had a production run of 6,121 for 1971, down 20 percent from the 1970 model. The production of the convertible had seen declining numbers each year since 1966, but would finally see an increase (of about 300 cars) for the 1972 model year.
Grande
The Grande was the only Mustang to show an increase in production this year from 1970, with a jump of 28 percent to 17,406 cars. The 1971 offered the choice of all engine options and came standard with a full vinyl roof covering available in five colors and distinctive wheel colors. The Grande also offered options new to the 1971 line including power windows and a rear window defroster.
Mach I
Though a decrease from the 1970 model year, the Mach I still offered the second highest production numbers of all the Mustang models with 36,449. The 302 cubic inch V-8 was standard, as was the choice of a hood with or without scoops. A new honeycomb texture grille easily distinguished the Mach I from other Mustangs, as did the Mach I fender and rear decals.
Boss 351
Splitting the difference between the Boss 302 and Boss 429 available last year, but discontinued for 1971, was the Boss 351, standard (and only available) with a Boss 351 cubic inch V-8 producing 330 horsepower. Only 1,806 were produced, possibly reflecting its price tag that was the first Mustang model with a base price over $4,000.
Pony Car Competition
With the exception of the Pontiac Firebird, which had a slight increase in sales in 1971, all cars in the pony car category saw decreases in production that year. In fact, three competitors (AMC Javelin, Plymouth Barracuda and Dodge Charger) would no longer be produced by 1975. Though clearly the pony car trend was decreasing rapidly, as were muscle cars, it would take another two years before Ford responded to this new decreasing trend with a drastic redesign.
Engine Specifications
Type
Size
Carb
Horse Power
Tourqe
I-6
250ci
1x1bbl
145 hp @ 4200 rpm
230 lb-ft @ 1600 rpm
V8
302ci
1x2bbl
210 hp
Boss 351
351ci
1x4bbl
330 hp @ 5400 rpm
370 lb-ft @ 4000 rpm
V8
351ci
1x4bbl
285 hp
V8
351ci
1x4bbl
280 hp
V8
351ci
1x2bbl
240 hp
Super Cobra Jet
429ci
1x4bbl
375 hp
450 lb-ft
Cobra Jet
429ci
1x4bbl
370 hp
Performance Statistics
| 0 to 60 mph | Quarter Mile | Engine | Source |
| --- | --- | --- | --- |
| 5.8 sec | 14.1 sec @ 100.6 mph | 351ci/330hp | Car & Driver 2/71 |
| 5.8 sec | 13.8 sec @ 104.0 mph | 351ci/330hp | Car & Driver |
| 6.5 sec | 14.6 sec @ 96.80 mph | 429ci/370hp | Car & Driver |
Bigger, Badder, Better?
This is an interesting car. It grew in every proportion but performance remained very acceptable. This was one really big pony car compared to the Camaro and every time I see one I am reminded of an Army tank. I have no idea why but I can get the image out of my head.
Its Achilles heel was its dismal gas mileage. The timing was all wrong for this car and it was destined to fade away into something much smaller and much inferior – the Mustang II.