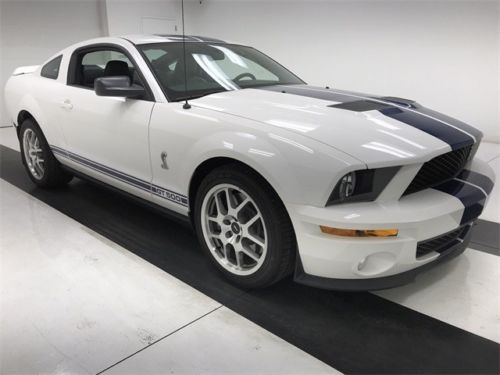 "Legendary performance matches legendary looks. Making Mustang the best-selling sports car in America." 2008 Mustang sales brochure
The Shelby GT500 was back in production for the second year in a row, and this year also offered the more powerful GT500KR. The KR stands for King of the Road.
Side airbags are now standard on all models.
A special trim package known as Warriors in Pink is introduced to celebrate the 25th anniversary of the Susan G. Komen breast cancer foundation.
Muscle Car Specifications
Performance Model
2008 Ford Mustang GT
Though the Mustang made no noticeable changes to the car since 2007 (nor had it really since the introduction of the fifth-generation in 2005), the differences for the year were mainly marked by changes in options available. In addition to the new Warriors in Pink trim, the Bullitt Mustang and California Special both went basically unchanged since their introduction in 2007, and there was also the option of a Shelby GT, which represented a middle power option between the regular GT and the GT500.
Ford reworked the 4.6 litre V8 engine and added some racing parts to squeeze an extra 19 horsepower out of the engine for the Shelby GT. Special to this model was a new Vista Blue exterior with silver stripe that was similar to the original Shelby Cobra blue. The car also had distinctive front end to distinguish it from the regular Mustang GTs.
The Shelby GT500 went further and upgraded the horsepower to 500 in a 5.4 litre V8, which was the same engine used in its introduction in 2007. The GT500KR added a racing power upgrade that increased horsepower to 540.
Otherwise, engine options stayed the same as they had since 2005. Base models included a 4.0 litre V6 that included 210 horsepower. GTs came standard with the unmodified 4.6 litre engine, which produced a still respectable 300 horsepower.
Total production fell substantially from 2007, down to 108,767 from 158,180. The following year, production would drop to below 50,000 for the first time in the Mustang's history, though this is partly attributed to the fact that 2009 was a short production year.
Coupe and Convertible
Other than the aforementioned new trim options and the newly standard side air bags, the 2008 Mustangs were fairly indistinguishable from their counterparts from the previous three years. Like 2007, there was no basic trim option, and buyers had to choose the Deluxe or Premium trim options, the latter of which came with an upgraded stereo and seats. New options included 18-inch wheels for the V6, a new V6 safety and security package and ambient lighting. Production of the coupe was down to 38,588, though this can in part be contributed to sales being spread out over the multitude of models available.
GT Coupe and Convertible
In addition to the standard GT options available, there was also the California Special and Bullitt models available, both of which were basically just upgraded trim packages. The coupe GT had a production run of 23,733, and the special models sold well. The California, Bullitt and Shelby GT models posted production numbers of 4,900, 5,773 and 2,600 respectively. The convertible GT didn't slouch either, with 10,538 produced.
Shelby GT500
The Shelby GT500 models also came in with relatively high sales, considering their price tag was at the top end of the Mustang price spectrum. The coupe model had a production run of 7,501, while the convertible's numbers totaled 2,066.
Pony Car Competition
While Mustang had basically stood alone in the pony car class since the Chevy Camaro and Pontiac Firebird were discontinued in 2002, in 2008 it saw competition creep back in. Probably at least partly inspired by the success of the fifth-generation Mustang's retro look, Dodge reintroduced the Challenger in 2008, which had been defunct since 1983 (it hadn't been recognizable as a pony car since 1974). Like the Mustang, the new design of the Challenger harkened back to the car's glory days, which for the Challenger was the early 1970s. Production was limited to one model, STR8, and around 6,400 cars. As all of them were pre-ordered, the cars sold out and production was expanded in 2009. Then, new models would be introduced and would offer power options similar to Mustang. 2010 also would mark the reintroduction of the Camaro.
Engine Specifications
| Type | Size | Carb | Horse Power | Tourqe |
| --- | --- | --- | --- | --- |
| V6 Deluxe Convertible | 4.0L V6 | Fuel Injection | 210 hp @ 5300 rpm | 240 lb-ft @ 3500 rpm |
| V6 Deluxe Coupe | 4.0L V6 | Fuel Injection | 210 hp @ 5300 rpm | 240 lb-ft @ 3500 rpm |
| V6 Premium Convertibe | 4.0L V6 | Fuel Injection | 210 hp @ 5300 rpm | 240 lb-ft @ 3500 rpm |
| V6 Premium Coupe | 4.0L V6 | Fuel Injection | 210 hp @ 5300 rpm | 240 lb-ft @ 3500 rpm |
| GT Deluxe Convertible | 4.6L V8 | Fuel Injection | 300 hp @ 5750 rpm | 320 lb-ft @ 4500 rpm |
| GT Deluxe Coupe | 4.6L V8 | Fuel Injection | 300 hp @ 5750 rpm | 320 lb-ft @ 4500 rpm |
| GT Premium Convertible | 4.6L V8 | Fuel Injection | 300 hp @ 5750 rpm | 320 lb-ft @ 4500 rpm |
| GT Premium Coupe | 4.6L V8 | Fuel Injection | 300 hp @ 5750 rpm | 320 lb-ft @ 4500 rpm |
Performance Statistics
| 0 to 60 mph | Quarter Mile | Engine | Source |
| --- | --- | --- | --- |
| 5.1 sec | 13.5 sec | 4.6L/300hp | Estimate |
A Very Good Pony Car – But Is It Great
2008 was the last year that Ford would have the pony car market to itself. Sure Dodge introduced the Challenger in 2008, but it was a very expensive SRT-8 with only 6,000 was produced. The Camaro was still a rumor at this point. So if you wanted an affordable performance car this was it. To Ford's credit, the lack of competition did not make them lazy. Performance was outstanding, the car was well engineered and it definitely looked like a muscle car. Overall this is a great automobile. I still favor the looks of the modern Challenger but I could be well satisfied in one of these Mustangs.