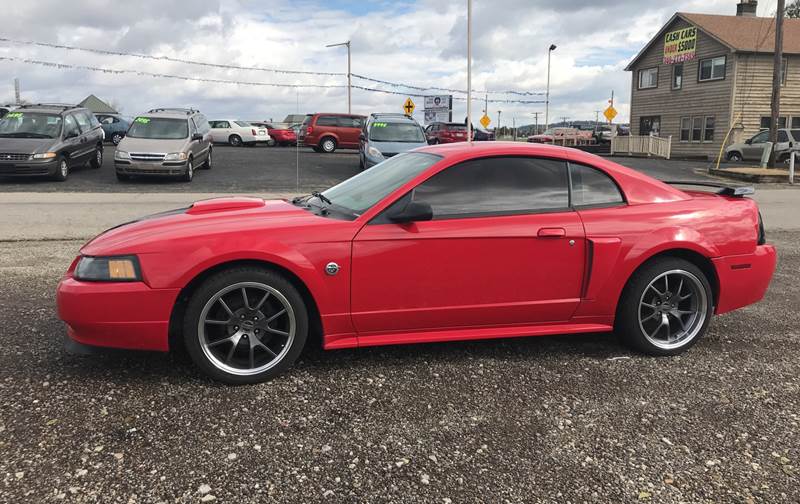 "Forty years and hotter than ever." 2004 Mustang sales brochure
2004 marked the 40th anniversary of the Mustang as it outlived every car originally labeled a pony car.
All Cobra Mustangs contained a 40th Anniversary badge on the fender.
Both the GT and the Mach 1 featured 17-inch cast aluminum wheels.
Muscle Car Specifications
Performance Model
2004 Ford Mustang GT
Quarter Mile
13.3 sec @ 108.1 mph
While there were almost no changes whatsoever to the Mustang line between 2003 and 2004, this was not necessarily a bad thing, as the new Mach 1 and reintroduced Cobras provided a slew of options. Additionally, 2004 would be the last year of the fourth generation Mustang and serve as a placeholder for the fifth-generation Mustangs that would be introduced in 2005.
Though total production dropped around 11,500 to 141,907, those in the industry considered the numbers to still be strong considering it was common knowledge that a new generation Mustang would probably be released the following year. The more powerful Cobras and the introduction of the stylish Mach 1 contributed to keeping sales numbers up this year.
Like the exterior and interior that stayed the same from 2002 to 2003, there were virtually no changes made in engine options in the same period. Base models still came with the swift 3.8 litre V6 producing 193 horsepower, while GTs came standard with a 4.6 litre V8 producing 260 horsepower. The Mach 1 engine was also a 4.6 litre, but added 45 horsepower to the standard V8 with ram air intakes and a dual overhead cam engine. Topping them all was the supercharged dual overhead cam Cobra V8, also a 4.6 litre engine that produced 390 horsepower.
Coupe and Convertible
The base models Mustang coupes were available with three different trim options: Deluxe, Premium and standard. Fortunately, by 2004 even the standard trim provided a comfortable and stylish driving experience, with air-conditioning, stereo with CD player and 16-inch wheels. Base coupes started out at $17,720, while convertibles, which had to choose either the Deluxe or Premium trim package, had a base price of $23,455.
GT Coupe and Convertible
Both the coupe and convertible had to choose either the Deluxe or the Premium trim package. The Deluxe package came standard with a rear spoiler and cruise control, as well as additional options like an upgraded stereo and anti-lock brakes. The Premium package contains all of the available options for the Deluxe package standard, as well as leather seats and an optional specialized rims. 2004 Mustang GTs started at $23,245
Mach 1
Although less popular than the previous introduction year, Mach 1s still sold well, with a production run of 7,182 in 2004. Mach 1s price tag was $28,820 that year.
Cobra Coupe and Convertible
While the 2003 reintroduction of the Cobra to American drivers had been a clear success, with over 13,000 Cobras produced, 2004 saw a significant drop in that number. There were 3,768 coupes produced and 1,896 convertibles. The Cobras were the highest priced Mustangs, with coupes and convertibles running $34,575 and $38,950, respectively.
Pony Car Competition
With the elimination of the Camaro and the Firebird in 2002, Mustang stood in a pony car class basically to itself, at least from a domestic stand point. There were other cars that provided high-performance in a car practical for everyday driving like Mustang, but these were not the best-selling cars in the country. The best-selling cars in America had been mid-sized sedans for most of the 90s, and this trend continued into the 2000s. 2004 was no different, as the Toyota Camry was the best-selling car in America. SUVs also had been increasing their market share year after year. This left Mustang and few others to fulfill the practical, yet sporty market share.
Engine Specifications
| Type | Size | Carb | Horse Power | Tourqe |
| --- | --- | --- | --- | --- |
| Deluxe Convertible | 3.8L V6 | Fuel Injection | 190 hp @ 5250 rpm | 220 lb-ft @ 2750 rpm |
| Deluxe Coupe | 3.8L V6 | Fuel Injection | 190 hp @ 5250 rpm | 220 lb-ft @ 2750 rpm |
| Premium Convertible | 3.8L V6 | Fuel Injection | 190 hp @ 5250 rpm | 220 lb-ft @ 2750 rpm |
| Premium Coupe | 3.8L V6 | Fuel Injection | 190 hp @ 5250 rpm | 220 lb-ft @ 2750 rpm |
| Standard Coupe | 3.8L V6 | Fuel Injection | 190 hp @ 5250 rpm | 220 lb-ft @ 2750 rpm |
| SVT Cobra Convertibl | 4.6L V8 | Fuel Injection | 390 hp @ 6000 rpm | 390 lb-ft @ 3500 rpm |
| SVT Cobra Coupe | 4.6L V8 | Fuel Injection | 390 hp @ 6000 rpm | 390 lb-ft @ 3500 rpm |
| Mach 1 | 4.6L V8 | Fuel Injection | 305 hp @ 5800 rpm | 320 lb-ft @ 4200 rpm |
| GT Deluxe Convertibl | 4.6L V8 | Fuel Injection | 260 hp @ 5250 rpm | 302 lb-ft @ 4000 rpm |
| GT Deluxe Coupe | 4.6L V8 | Fuel Injection | 260 hp @ 5250 rpm | 302 lb-ft @ 4000 rpm |
| GT Premium Convertib | 4.6L V8 | Fuel Injection | 260 hp @ 5250 rpm | 302 lb-ft @ 4000 rpm |
| GT Premium Coupe | 4.6L V8 | Fuel Injection | 260 hp @ 5250 rpm | 302 lb-ft @ 4000 rpm |
Performance Statistics
Estimate
Estimate
0 to 60 mph
Quarter Mile
Engine
Source
4.5 sec
12.9 sec
6.3 sec
14.8 sec