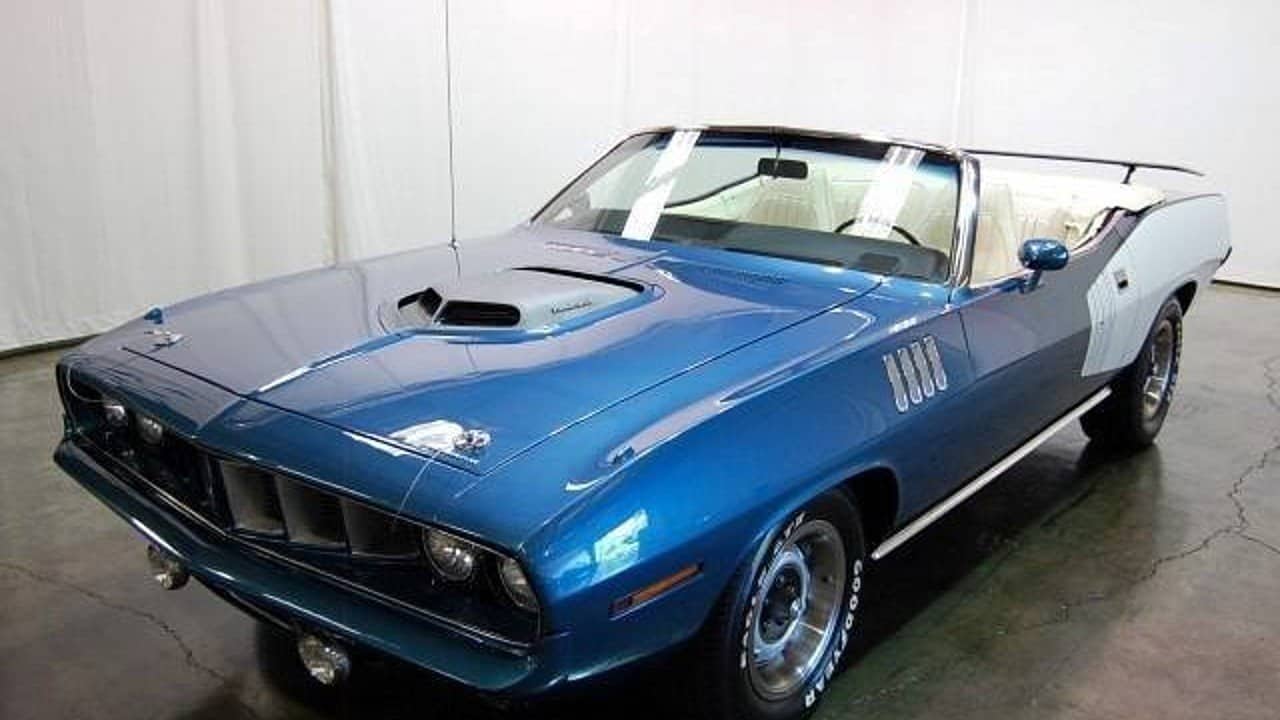 "The 1971 Barracuda is knocking the stuffing out of a few old-fashioned notions about sport cars. Notions like "feel of the road" means a bone-jarring, tooth-rattling ride." 1971 Barracuda sales brochure
An updated front-end included a revised grille that was meant to emulate Barracuda teeth.
An additional change for the front end was that it, like its cousin Challenger, included four headlights. This would be the only year the Barracuda would have four.
An entry-level option known simply as the Coupe was offered with a smaller six-cylinder than was available in previous years.
Muscle Car Specifications
Performance Model
1971 Plymouth Cuda 340
Quarter Mile
14.2 sec @ 100.3 mph
Though changes to the Barracuda were few after the previous year's overhaul, the redesigned front end gave the 1971 a very distinctive and somewhat aggressive look. While the Challenger would use the four-headlight setup for the entire four years of its first-generation, both the four-headlight setup and the "barracuda" grille would be eliminated from the Barracuda by 1972. Another unique feature to 1971 models that carried on this fish look were inset simulated chrome louvers that were meant to look like gills.
1971 also was the last year so many engine options would be offered in the Barracuda, as new government regulations the following year would require horsepower to be expressed as net instead of gross, and the largest engine available for the Barracuda was a 340 CID V8. In 1971, however, Barracuda buyers could choose from just about every engine Plymouth produced, just as they had been able to the year before.
In the aforementioned new base model coupe, a 198 CID slant six-cylinder was the base engine and produced 125 horsepower. Base in the regular Barracuda Hardtop was a 225 CID slant six producing 145 horsepower. The luxury model Gran Coupe came standard with a 318 CID V8 that produced 230 horsepower, while the sportier Cuda line came with a standard 383 4-barrel V8 producing 300 horsepower. From there, drivers could upgrade to the 426 Street-Hemi V8 that produced 425 horsepower.
After a spike in total production for the restyled 1970 models, sales plummeted in 1971. Total production was only 18,690, a decline of 66.32 percent from the year before. This is despite the fact that the base price for most models either held steady or dropped.
Coupe, Hardtop and Convertible
Since the Coupe was just a stripped down hardtop model, their production numbers are grouped together. While these were the best selling models of the 1971 Barracudas, their production was only at 9,459. The Coupe had a base price of $2,654, while the Hardtop started at $2,766. The convertible began at $3,023 and had a production run of 1,014.
Gran Coupe Hardtop
Unlike the previous year, a convertible model of the Gran Coupe was not available, likely due to poor sales in 1970. The Gran Coupe suffered the highest decrease in production, with numbers falling over 80 percent to 1,615. The base price for a Gran Coupe in 1971 was $3,029.
Cuda Hardtop and Convertible
The powerful and sporty Barracuda model had a production run of 6,228 during 1971, while 374 convertibles were produced. The base price for a hardtop Cuda was $3,155, while the convertible started at $3,412.
Pony Car Competition
With the exception of a slight increase by the Pontiac Firebird, sales of all pony cars were down during the 1971 model year. It appeared that by that point, many car-buyers interested in power were looking toward muscle cars, even as every model pony car continued to add more power options. The trend of adding more powerful options, however, would stop after 1971 to comply with government regulations. Additionally, rising insurance rates and the upcoming fuel crises would continue to dampen pony car sales. By 1975, most pony cars would be discontinued, while the Mustang was remade into a compact car. At that point, only the Camaro and Firebird would still be able to be called pony cars.
Engine Specifications
| Type | Size | Carb | Horse Power | Tourqe |
| --- | --- | --- | --- | --- |
| Base Slant Six | 198ci | 1x1bbl | 125 hp @ 4000 rpm | 180 lb-ft @ 2000 rpm |
| Optional Slant Six | 225ci | 1x1bbl | 145 hp @ 4000 rpm | 215 lb-ft @ 2400 rpm |
| Base V8 | 318ci | 1x2bbl | 230 hp @ 4400 rpm | 320 lb-ft @ 2000 rpm |
| 340 | 340ci | 1x4bbl | 275 hp @ 5000 rpm | 340 lb-ft @ 3200 rpm |
| 383 | 383ci | 1x4bbl | 300 hp @ 4800 rpm | 410 lb-ft @ 3400 rpm |
| 383 | 383ci | 1x2bbl | 275 hp @ 4400 rpm | 375 lb-ft @ 2800 rpm |
| 426 Hemi | 426ci | 2x4bbl | 425 hp @ 5000 rpm | 490 lb-ft @ 4000 rpm |
| 440 Six Pack | 440ci | 3x2bbl | 385 hp @ 4700 rpm | 490 lb-ft @ 3200 rpm |
Performance Statistics
| 0 to 60 mph | Quarter Mile | Engine | Source |
| --- | --- | --- | --- |
| n/a | 13.7 sec @ 106.0 mph | 440ci/390hp | SS |
| 6.4 sec | 14.2 sec @ 100.3 mph | 340ci/275hp | Hot Rod |
340
When I was a newborn baby (1973), my parent's car was a '71 340 'cuda, auto., black on black. My Dad would race it on weekends and eventually won his class (pure stock). My Mom says she remembers trying to start it in the winter with its manual choke and having to wake my Dad out of bed so she could go to the store to buy formula for the baby (me)!!
So this would have to be my dream car…
The best 70s car, period.
The 71 Cuda is one of the fastest, most sought after and well sexiest Cuda of them all. This car is so beautiful I would give the "looks" a 8-9 here. This car really impacted the shape of newer cars. This car had muscle written all over it, and the soft tops are even more sexy then the coupes. Not always the cast with a car like this.(case and point 93-02 Camaro/Firebirds look better with T-Tops)And are the most expensive muscle cars, if they have a hemi. This has personality, that says lets play.
Well play it can. The slant six is weak in any version, but people don't remember that. When some one says Corvette I think of Stingray, ZR1, Z06 and fuelies; not Crossfire and poor late 70s-80s Vettes. Well they were weak, but they were reliable. The entry 340 was decent, but not great, and the two 383 options are good enough. In fact the 383 Cuda' is one of the most underated muscle car. The claimed 300hp was more like 350 and was built to compete with Camaro/firebird/mustang. The 383 could obtain 60mph in 6seconds and a quarter of 14 flat. All with any brake and handling upgrade to really pull some g's. At 60mph it could acquire lat g of .83, the big blocks are at .8g. So if you wanted a road racer and not a drag car this was it.
The 440 was the real engine to watch. A 13.7 quarter was no fooling and a 0-60 of 5.8. Well I have heard the 4 speed running 13.4 in the quarter, but thats unoffical. This set up modified will run 11s with very modest changes; without the headaches of the hemi and reliablity issues that go with the hemi. The 440 with a 6pack makes 385hp. That what they say, but I will tell you it is honestly eclipsing 400.
The Hemi, the most sought after, over priced, over hyped engine of any. Yeah it contained the 425hp and 490 of torque like it had introduced in the mid 60s. The same high compression engine that caused more than a few monifold, timing, and head gasket problems. Although when it is running it will RUN! No other engine had such a well rounded band of power. Meaning at low rpm it gave lots of power then climed to peak power at mid high RPM then moved to around 5800RPM losing very little pull. Thats why it is so popular, and perfected for the quarter mile. This made a stock hemi Cuda run a quarter in 13sec flat and a 0-60 of 6.1secs. The standard tires couldn't really hold this thing. So… Imagin what a new set of G-Forces could do…
All it all the whole car was better, the interior is alittle dated but not bad. The 71s were heavier and the true performance guys like the 70 Cuda mote, but if you like a mean, aggressive style this is the Cuda for you.
So I will take my orange Cuda, but the most jaw dropping and my dream car is a Curious Yellow(lime green) big block conv 71 Cuda with a black interior. Oh man… I am drooling.
Classic
The Barracuda was a great car with the right looks and the right power. Sales dropped drastically in 1971 but that was a result of a crowded pony car market place and the anti-performance market that was developing than any particular problem with the car itself.