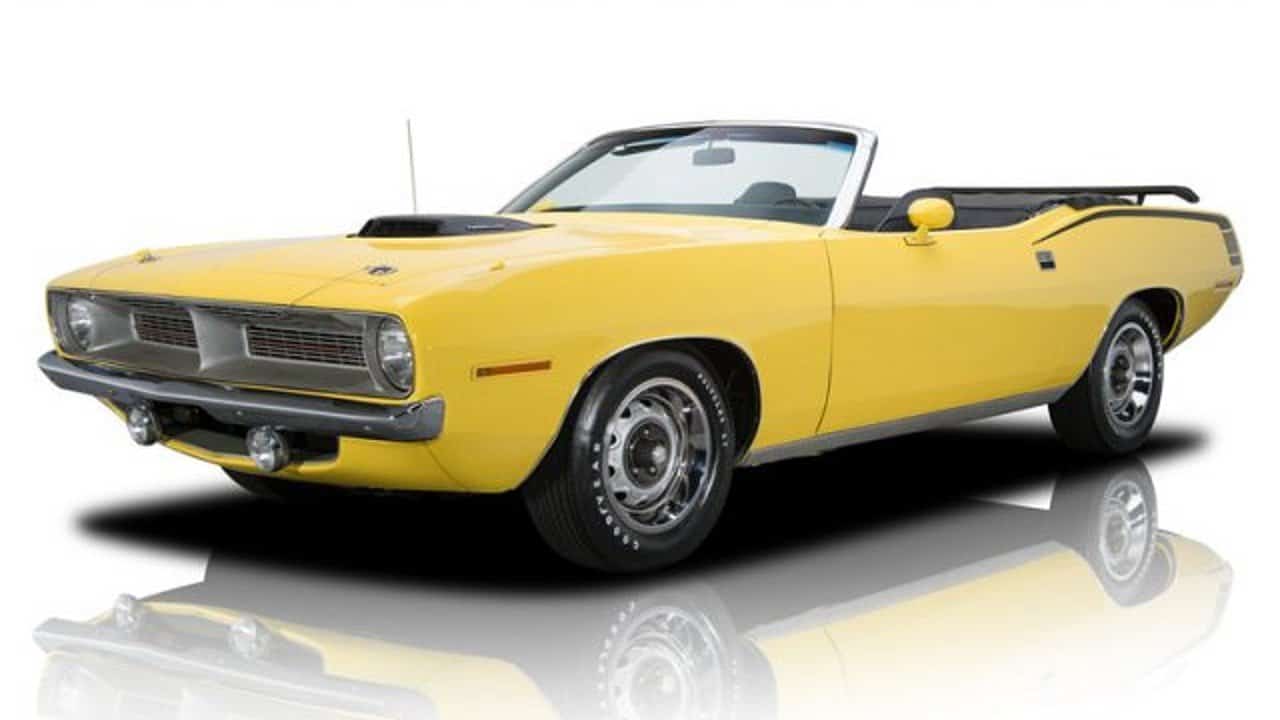 "The most changed car in America. Strong. Low (one of the lowest four-seaters in the industry). Wide (one of the widest tracks of any American-made sporty car). Maneuverable. Fun. And, above all, low-cost." 1970 Barracuda sales brochure
The beginning of the third-generation Barracudas, the 1970 models were completely restyled from the second-generation models.
The Barracuda was produced on the new Chrysler E platform for the first time – previously it had shared the A platform with the Variant.
Because of the bigger car, the Barracuda could fit just about any engine Plymouth made under its hood, and offered almost all of them as options, including a Hemi.
Muscle Car Specifications
Performance Model
1970 Plymouth Cuda 340
Quarter Mile
14.5 sec @ 96.0 mph
With two major restyles since its introduction in 1964, it seemed that Plymouth was willing to retool the Barracuda until it got it right. Low sales numbers probably contributed to this thought process. But on the second overhaul, it seemed Plymouth did in fact get it right. The question remains: was it too little too late?
The new 1970 Plymouth Barracuda was introduced along with the all-new Dodge Challenger. Both shared the new E platform, which stood for extended and, appropriately, was an extended version of Chrysler's K platform. An extremely similar look shared by the cars fittingly resulted in them being known as the Mopar Twins.
But the sleek new exterior that finally looked as good as all of the other pony car competitors wasn't the only new feature of the new Barracuda. The 'Cuda, introduced as a sporty option package the year before, was now a Barracuda model in its own right, and came in both a hardtop option and a convertible option. Another new model called the Gran Coupe served as the luxury model Barracuda, which followed a trend used by the other pony cars and treated buyers to an upgraded interior trim. This model also was available in a hardtop and a coupe. The fastback model was phased out in 1970, leaving only the hardtop and convertible options for each model.
Total production was up significantly with the new models to 55,499, an increase of 73.5 percent over the previous year. However, this was a spike that would fall sharply the following year. Though Plymouth had finally found a Barracuda that could compete on a visual and performance level with all the other pony cars, sales in the class were already beginning to dwindle as performance buffs turned their eyes toward muscle cars. In response to this, all the pony cars, Barracuda included, offered options that packed as much power as possible into the cars.
As stated before, the Barracuda offered just about every engine Plymouth produced as an option. In fact, the only engines you could not get in a Barracuda was the smallest six-cylinder engine that was reserved only for the Valiant and the 340 CID Commando V8. Standard in the Barracuda was a bigger 225 CID slant six-cylinder that produced 145 horsepower. After that, the buyer could choose from six other V8, starting with the 318 CID motor producing 230 horsepower and going up to the 426 CID Street-Hemi V8 that produced 425 horsepower. However, at an additional cost of $1,068, less than 1,000 Hemi Barracudas were produced in 1970. Cuda models came standard with a 383 CID Super Commando V8 that produced 335 horsepower.
Hardtop and Convertible
The hardtop was the best selling Barracuda model, and more than doubled its production from the previous year with a model year run of 25,651. An additional 1,554 convertible were sold, also up slightly from the previous year. The base hardtop model cost $2,764, while the convertible cost $3,034.
Gran Coupe Hardtop and Convertible
The new luxury model Barracuda sold relatively well, but still brought up the bottom of the three Barracuda models when it came to production numbers. With a base price of $2,934, the hardtop version had a production run of 8,183, while the convertible cost at least $3,160. There were 596 Gran Coupe convertibles produced in 1970.
Cuda Hardtop and Convertible
Considering they had the highest price of any base Barracuda, the Cuda performance models sold well in 1970. The hardtop had a production run of 18,880 while 635 convertibles were produced. Base price was $3,164 for the hardtop and $3,433 for the convertible.
Pony Car Competition
As mentioned before, even though the pony cars wars appeared to be in full swing in 1970, the signs of the end of buyer's interest in the class was beginning to show. By 1975, only the Chevy Camaro and Pontiac Firebird would continue to carry on the pony car torch, as the rest would be discontinued, except for the Mustang, which was converted to a compact car in 1974.
Until then, however, Plymouth had a powerful and good-looking Barracuda to offer car buyers through the middle of the decade. With the sales spike that came with the redesign, the Barracuda finally was out of last place in sales for the pony car class – that distinction now belonged to the AMC Javelin. Though, as mentioned before, the worst was yet to come.
Engine Specifications
| Type | Size | Carb | Horse Power | Tourqe |
| --- | --- | --- | --- | --- |
| Base Slant Six | 198ci | 1x1bbl | 125 hp @ 4000 rpm | 180 lb-ft @ 2000 rpm |
| Optional Slant Six | 225ci | 1x1bbl | 145 hp @ 4000 rpm | 215 lb-ft @ 2400 rpm |
| Base V8 | 318ci | 1x2bbl | 230 hp @ 4400 rpm | 320 lb-ft @ 2000 rpm |
| 340 Six Pack | 340ci | 3x2bbl | 290 hp @ 5000 rpm | 345 lb-ft @ 3400 rpm |
| 340 | 340ci | 1x4bbl | 275 hp @ 5000 rpm | 340 lb-ft @ 3200 rpm |
| 383 | 383ci | 1x4bbl | 330 hp @ 5000 rpm | 425 lb-ft @ 3200 rpm |
| 383 | 383ci | 1x2bbl | 290 hp @ 4400 rpm | 390 lb-ft @ 2800 rpm |
| 426 Hemi | 426ci | 2x4bbl | 425 hp @ 5000 rpm | 490 lb-ft @ 4000 rpm |
| 440 Six Pack | 440ci | 3x2bbl | 390 hp @ 4700 rpm | 490 lb-ft @ 3200 rpm |
| 440 | 440ci | 1x4bbl | 375 hp @ 4600 rpm | 480 lb-ft @ 3200 rpm |
Performance Statistics
| 0 to 60 mph | Quarter Mile | Engine | Source |
| --- | --- | --- | --- |
| n/a | 13.0 sec @ 105.7 mph | 440ci/390hp | MCR 12/97 |
| n/a | 14.5 sec @ 98.7 mph | 340ci/290hp | Car Life 7/70 |
| n/a | 13.1 sec @ 107.1 mph | 426ci/425hp | Car Craft 11/69 |
| n/a | 13.1 sec @ 107.0 mph | 426ci/425hp | Car Craft 1970 |
| n/a | 15.4 sec @ 94.0 mph | 340ci/275hp | Road & Track |
| n/a | 13.9 sec @ 104.0 mph | 440ci/390hp | PopularHot Rod |
| n/a | 14.5 sec @ 99.0 mph | 340ci/290hp | Car Life |
| n/a | 13.7 sec @ 105.6 mph | 426ci/425hp | Car Craft |
| 5.6 sec | 13.5 sec @ 105.0 mph | 426ci/425hp | High PerformanceCar |
| 5.8 sec | 14.3 sec @ 99.5 mph | 340ci/290hp | Car & Driver 7/70 |
| 5.9 sec | 14.0 sec @ 100.0 mph | 440ci/390hp | Motor Trend 5/70 |
| 6.4 sec | 14.5 sec @ 96.0 mph | 340ci/275hp | Motor Trend |
| 6.9 sec | 13.7 sec @ 101.2 mph | 426ci/425hp | Motor Trend 9/69 |
| 7.5 sec | 15.0 sec @ 94.0 mph | 340ci/275hp | Car Life |
Instant Classic Pony Car
The 1970 Barracuda was much improved over the 1969 'cuda. The car was bigger, faster and much better looking. It's hemi versions are some of the most valuable muscle cars ever and for good reason. In many ways they define the entire muscle car era.
The 'cuda in the corn field.
There was a 1970 AAR 'cuda that drove me crazy in my youth. It was a beautiful car but it was dieing a slow death. This monster of a muscle car was parked in a field not far from my house. What made this specific car so special was the fact that it was all original (even the tires were original) and it ran. Every so often a young man followed by an old woman would go to the then 17 year old car and start it up and drive it around the field for a few minutes. It was one sweet sounding car and it always managed to attract a crowd of young men to watch these brief exercise sessions. The car was a local legend. Every young man around wanted that car and nearly every one of us had approached the old lady trying to buy it. But she would not part with here 'cuda. It had belonged to her son and he had passed. This was her way of remembering her son.
All of us understood and respected that but this was a real AAR 'cuda and was slowly vanishing before our eyes. It spent its summers and winters in that field. The sun and rain were going to take it away from us. There was little any one could do. It was her car and that was that. So I resigned myself to the inevitable. Eventually I left home to make my way in the world.
Years later, I came back to visit and the car was still there looking worst that ever. The paint had faded horribly, the tires were flat and I could see rust from a distance. I couldn't take it any longer. That car had to be saved. I sent my wife to see the old lady hoping that the old lady would be more receptive to her. I gave very specific instructions to my wife – the sky is the limit. I must have that car and I am willing to give every last dollar we have for that car. My wife went to see the old lady and after a long visit which was nerve wrecking for me she came back empty handed. The car would stay in the field. My wife assured me she made a truly outrageous offer for the car. But I got the impression she didn't much like the car and didn't understand why I wanted it so bad. She wouldn't tell me what she offered for the car and I was afraid to press the issue. Anything less than everything would have been unacceptable to me. I gave up again.
Last year I went home for another visit and as I past the field I looked for the familiar 'cuda and it was gone. I smiled and kept driving. Somebody had finally won. The 'cuda would survive. I asked around and found out that a young teenager had offered the old woman $500 for the car and she had accepted. I couldn't believe it, after all this time she had sold it for almost nothing. Then I thought about how lucky that kid was. He could make some good money with that car. With a little work it could be a very valuable car. So I ask what the kid had done with the car. The guys I was talking to laughed and said he runs up and down the road just as fast as the car will go. Everyone is just waiting for him to get killed.
What a shame, I thought; this kid was wasting a very valuable and important car. I almost got mad. Then it hit me, over the last twenty-five or so years, hundreds of us had dreamed of that car and every last one of us would have done the same thing this kid was doing. I was strangely happy after that. We had won, a teenager was having the time of his life in our 'cuda from the field. Justice had prevailed. I just hope he survives the car.