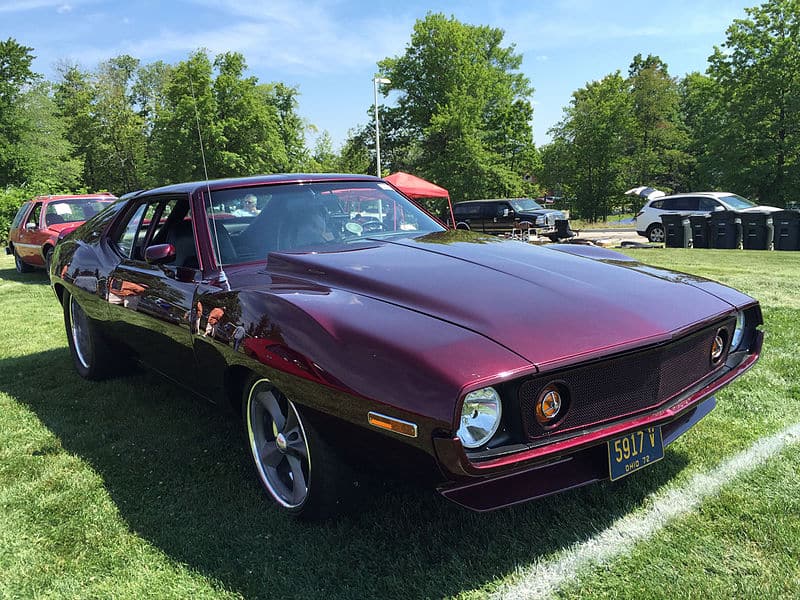 "Custom appointed and ready for action." 1972 Javelin sales brochure
After disappointing sales in previous years, the base model was eliminated, leaving only the SST and AMX models.
The "Go Package" was again offered which added a handling package, rally instruments, power disc brakes and upgraded exterior trim.
The grille was updated to an "egg-crate" design, distinguishing it from the 1971 models.
Muscle Car Specifications
Performance Model
1972 AMC Javelin AMX
While there were some slight differences in the 1972 models as compared to 1971 cars, which were the first of the second-generation Javelins, perhaps the biggest story was the new warranty plan, which was applied to all AMC cars. At a time when some car companies offered only a 90 day warranty, AMC offered the "Buyer Protection Plan," which covered everything but tires for 12 months or 12,000 miles. At least partly as a result, sales were up 5.5 percent for the company over total sales from the year before, though Javelin sales once again declined, as they had every year since they were introduced.
The new egg crate grille was mimicked on the rear of the car, where a similar chrome overlay was placed over the taillights that spanned the entire width of the rear of the car. AMX models, however, can be distinguished because they retained 1971's mesh-like grille.
Engine options remained exactly the same as they had been in 1971, though new government regulations requiring horsepower to be expressed as a net rating rather than gross appeared to strip the cars of power, when in reality, they had just about the same performance. Once again, two six-cylinder engines were available, the base 232 CID six, now rated at 100 horsepower, and the 258 CID six, which increased that horsepower rating by 10. There were four V8s to choose from, a 304 CID engine producing 150 horsepower and two 360 CID engines (a 2- and 4-barrel version) producing 175 and 195 horsepower. Finally, at the top was a 401 CID V8 that had been introduced the previous year and was now rated at 255 horsepower.
As mentioned before, total production was down from the previous year, just like it had been every year since the Javelin was introduced. This year, the drop was about 10 percent from the previous year, and production was at 26,184.
SST Hardtop
With the elimination of the base Javelin, the SST took on the bottom slot of the Javelin models, and remained the best selling model, as it had been since 1969. Total production was at 23,455, and the base price for these models was $2,807, which was 6.41 percent less expensive than the base model had been in 1971.
Standard features for the SST model included vinyl front bucket seats, front and rear arm rests, glove box lock and aluminized exhaust system.
AMX Hardtop
AMX models came standard with the 304 V8, and also added a three-spoke steering wheel, slotted wheels and white-letter tires. Total production for the model was 2,729 and the base price was $3,109.
Pony Car Competition
By 1972, it was pretty clear that the pony car class was quickly going out of fashion, and had been for quite some time. Government emission standards were quickly clamping down on engine power, and this trend would continue as car makers attempted to find new ways to milk power from their engines. Additionally, insurance rates were rising at an alarming rate. Though it was still a year away, the first oil crisis in 1973 would effectively be the final nail in the coffin of pony cars, though every pony car would have a final gasp and see sales increase slightly in 1973.
Still, many of the pony cars, Javelin included, were well-built, powerful and attractive cars in 1972. As usual, Mustang was the best seller (with over 125,000 produced), but the Javelin wasn't the worst selling pony car, thanks to the Plymouth Barracuda. Unfortunately, by 1975, all pony cars except the Chevy Camaro and Pontiac Firebird would be extinct (though the Mustang name lived on, it was converted to a sub compact in 1974).
Engine Specifications
| Type | Size | Carb | Horse Power | Tourqe |
| --- | --- | --- | --- | --- |
| Base | 304ci | 1x2bbl | 150 hp @ 4200 rpm | 245 lb-ft @ 2500 rpm |
| V8 | 360ci | 1x4bbl | 220 hp @ 4400 rpm | 315 lb-ft @ 3100 rpm |
| V8 | 360ci | 1x2bbl | 195 hp @ 4400 rpm | 295 lb-ft @ 2900 rpm |
| V8 | 401ci | 1x4bbl | 255 hp @ 4600 rpm | 345 lb-ft @ 3300 rpm |
Performance Statistics
| 0 to 60 mph | Quarter Mile | Engine | Source |
| --- | --- | --- | --- |
| 7.6 sec | 15.4 sec | 401ci/330hp | Estimate |
| 8.3 sec | 16.1 sec | 401ci/330hp | Estimate |
Javelin
A wonderful car which contrary to popular belief whooped around similar pony car on the road and track, which was only brought down by bad management.
Verdict
Pro
Best looking 70's pony car
Con
parts can be difficult to find
1972 Was Not The Best Year For Performance
The Pony Car Fad was dying a painful death in 1972. Performance was still good but sale dropped off a cliff. The market had changed overnight and caught all the manufactures by surprise. Overall the Javelin was still a very respectable pony car. But like the Mustang it had grown much larger over the years. The front fender flares were an acquired taste but otherwise it stayed true to the pony car form.