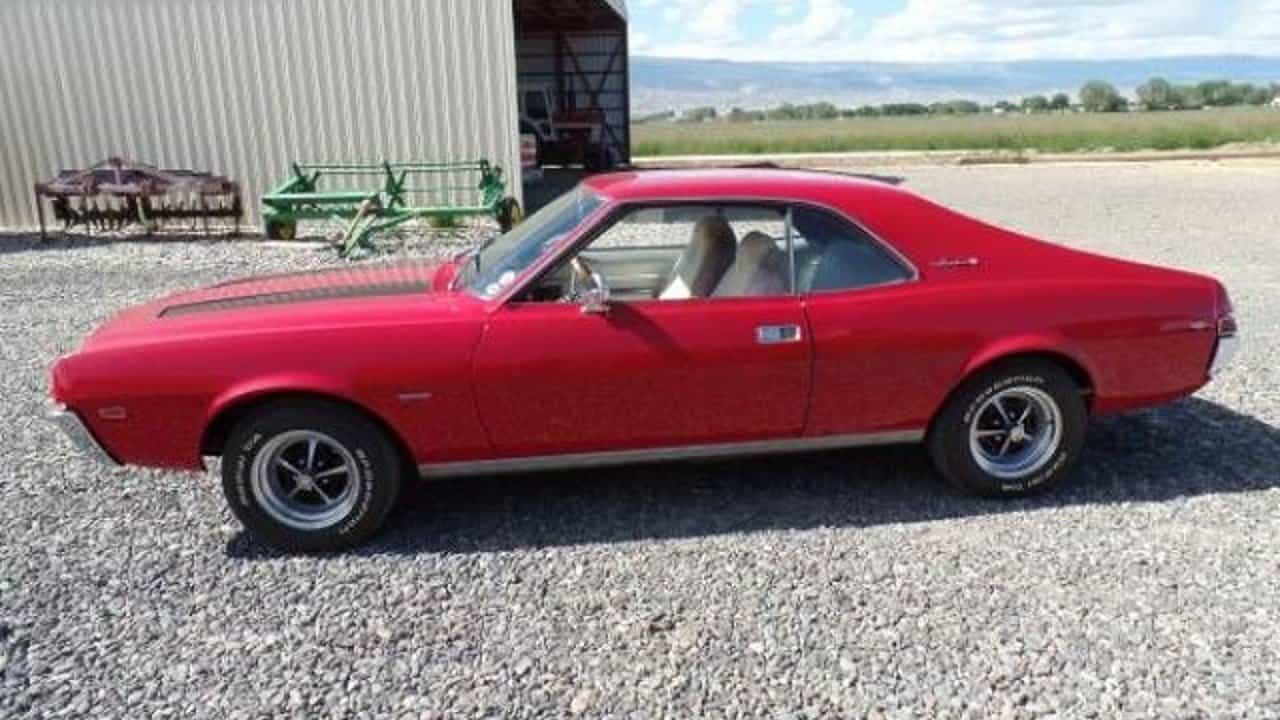 "Introduced in '68, it got popular fast. Despite all the other sporty cars in its category." 1969 Javelin sales brochure
Introduced mid-way through the model year, the "Mod Javelin" package added, among other things, an unusual roof mounted spoiler.
Changes were minimal from the 1968 model, though the grille was modified and featured a bull's eye emblem.
Three "Big Bad" colors became available for 1969: Neon Brilliant Blue, Orange and Green.
Muscle Car Specifications
Performance Model
1969 AMC Javelin SST
Quarter Mile
15.2 sec @ 91.9 mph
After a successful initial year in 1968, AMC changed very little on the 1969 Javelin. Minor trim changes and a slightly altered engine lineup were virtually all that distinguished the 1969 year models from the 1968 Javelin.
Standard options included vinyl front bucket seats, arm rests, full carpeting and interior lights, and this year the door panels were revised. Additionally, a new floor-mounted three-speed manual transmission would be introduced. Later in the model year, all four-speed manual models would come with a Hurst floor shifter. Outside, the side striping was revised and five-spoke Magnum 500 wheels became an option.
Those Magnum 500 wheels were standard on the "Go Package," available for the second year on all cars with a 343 CID or a 390 CID V8. That sports package included black fiberglass hood scoops, dual exhaust, power disc brakes and an upgraded handling package. In addition to the spoiler, the aforementioned "Mod Javelin" included blacked out, simulated air scoops and simulated exhaust trim.
The only difference to the engine lineup was the deletion of the two-barrel version of the 390 CID V8, which was not available in any AMC car in 1969. The base engine was a 232 CID six-cylinder engine that produced 145 horsepower. From there, buyers could upgrade to either a two-barrel or four-barrel version of a 290 CID V8 that produced 200 and 225 horsepower, respectively. There were also two versions of the 343 CID V8 (two- and four-barrel), which produced 230 and 280 horsepower, respectively. The top of line engine was the four-barrel 390 CID engine that was only available in SST models and produced 315 horsepower.
Total production for the 1969 Javelin fell 26.24 percent from the previous year, from 55,124 to 40,675. Consequently, both models of the Javelin models saw production totals fall as well. While it is likely a safe bet to say that AMC executives did not want to see a decrease in sales, they probably took comfort in the fact that every car in the pony car class saw production decreases during the 1969 model year, as well.
Hardtop
Unlike the previous year, the base model Javelin was outsold by the sportier SST model. Total production for the base model was 17,389, which represented a drop of over 40 percent from the year before. The base price for the base model was $2,512.
SST Hardtop
In addition to the standard features mentioned above, the 1969 Javelin SST added reclining front bucket seats, wood-grain steering wheel and door panel trim and wheel covers. With a total production of 23,286, the model only saw a 10.53 percent production drop from the previous year. The cars had a base price of $2,633.
Pony Car Competition
As was mentioned earlier, every car in the pony car class experienced a sales drop during the 1969 model year. Although there are numerous factors that affected this decrease, one was that interest in the entire class was already waning, as many car-buyers seeking performance had turned to the muscle car class.
As it had been since 1964, Mustang was still the best-selling pony car, with a production of almost 300,000 cars in 1969, though this still was a drop from the previous year. The 1969 Chevy Camaro, 1969 Mercury Cougar and 1969 Pontiac Firebird came in second, third and fourth, respectively, while the 1969 Plymouth Barracuda rounded out the bottom of pony car sales.
Unfortunately, this downward trend would continue for both the Javelin and the pony car class in general. In addition to the shift in attention toward the muscle cars, stricter emissions standards and rising insurance rates would slow sales even more in the coming years. By the time of the first oil crisis in 1973, the pony car class would be all but extinct.
Engine Specifications
| Type | Size | Carb | Horse Power | Tourqe |
| --- | --- | --- | --- | --- |
| Base | 290ci | 1x4bbl | 225 hp @ 4700 rpm | 300 lb-ft @ 3200 rpm |
| V8 | 290ci | 1x4bbl | 200 hp @ 4600 rpm | 285 lb-ft @ 2800 rpm |
| V8 | 343ci | 1x4bbl | 280 hp @ 4800 rpm | 365 lb-ft @ 3000 rpm |
| V8 | 343ci | 1x4bbl | 235 hp @ 4400 rpm | 345 lb-ft @ 2600 rpm |
| V8 | 390ci | 1x4bbl | 315 hp @ 4600 rpm | 425 lb-ft @ 3200 rpm |
Performance Statistics
| 0 to 60 mph | Quarter Mile | Engine | Source |
| --- | --- | --- | --- |
| 7.6 sec | 15.2 sec @ 91.9 mph | 390ci/315hp | Car & Driver 3/68 |
The Big Bad Javelin Screams Look At Me
The "Big Bad" Javelins had some of the coolest color combinations on the planet. American Motors and competitors Dodge and Plymouth pioneered the use of these neon color schemes but it was AMC that struck first. These were the cars that you wanted if you wanted to be seen. Sales were very good for little AMC but miniscule compared to the offerings from Ford and Chevrolet. Hence it is much more difficult to find Javelin survivors than other pony cars from the same era. Collectors take note.