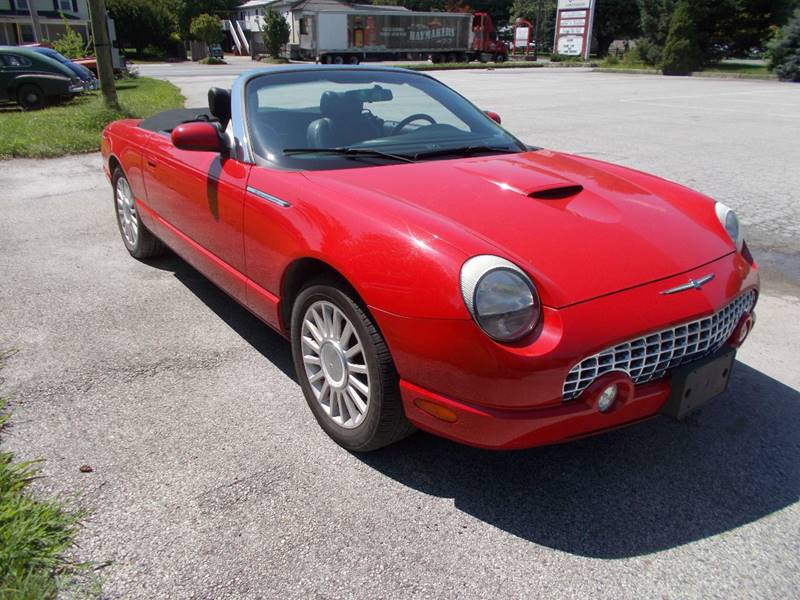 "Silky-smooth V8, cool retro styling, relaxed yet capable handling, available hardtop." "Pros" list of the 2005 Thunderbird by Edmunds.com
2005 marked the 50-year anniversary since the original Thunderbird was released – 2005 Thunderbirds were given 50th anniversary exterior badges.
Unfortunately, 2005 also marked the last year (to date) that the cars were produced.
Formerly available only in black, a silver version of the hardtop was introduced.
Muscle Car Specifications
Performance Model
2005 Ford Thunderbird
Original Base Price
$38,895
Quarter Mile
15.2 sec @ 92.6 mph
Lateral Acceleration
.83g
Gas Mileage Highway
23 mpg
After numerous some legendary and classic models, the story of the Thunderbird came to an end after 50 years on July 1, 2005, when the last Thunderbird rolled off the line. Like the first Thunderbirds produced in 1955, the 2005 Thunderbird was marketed as a personal luxury car, and not a sports car. Official Ford dealer information put it this way:
The 2005 Thunderbird continues to deliver a unique combination of classic American "relaxed sportiness," offering balanced performance with touring comfort. This blend of heritage styling and modern convenience continues to attract a new generation of buyers to Ford showrooms and provides dealers a powerful connection point with a very loyal group of customers.
The same material stated that the Thunderbird "has higher customer satisfaction than any other Ford vehicle." Unfortunately, this did not translate into sales, and production declined every year since the 11th-generation Thunderbird was introduced in 2002, dropping below 10,000 for the first time in 2005.
Some critics attribute these sales to the fact that Ford barely altered the car between the 2002 and 2005 models, and the 2005 was essentially a carbon copy of the models of the previous year. The most notable change from year to year were the different exterior color choices offered. Inca Gold and Bronze were the two new colors for 2005, and both were limited run colors.
As it had been in previous years, there was only one engine option available for the Thunderbird. The car was powered by a 3.9 litre V8 engine that produced 280 horsepower.
Inside, the Light Sand Appearance Package that had been introduced the year before was still available, and added cream-colored accents to the trim. New map pockets were added to the front seats, and the interior color choices were changed slightly.
2005 Thunderbird
As it had been since 2002, the Thunderbird was only available in one model, though it offered a multitude of options for customers that wanted upgrades. Standard features include anti-lock braking system, traction control, dual exhaust, Audiophile sound system and tachometer. Optional features included a convertible soft boot, a black accent package and supplemental parking lamps. The supplemental parking lamps did not add an extra cost to the car.
Competition
While the Thunderbird was far less expensive than many other two-seater roadsters, it also offered less performance than many of them. But because it avoided classification as a sports car it also was grouped in with many less expensive cars, as well. For example, the Mitsubishi Eclipse Spyder convertible and the similarly retro-styled PT Cruiser convertible had base prices at least $10,000 less than the Thunderbird.
When the original Thunderbirds were introduced in 1955, the only direct competition they had was with the Corvette, and at the time they outsold that car by such a margin that the Corvette was nearly discontinued. But in the car climate of 2005, the Thunderbird attempted to essentially stand in a class by itself, and sales numbers indicate this might not have been the best place for it.
Some critics have suggested that Ford perhaps could have saved the Thunderbird by giving it a more traditional backseat, but it seems Ford was content to let the Thunderbird live or die by its reintroduced styling. Unfortunately, in 2005, the model died.
Engine Specifications
| Type | Size | Carb | Horse Power | Tourqe |
| --- | --- | --- | --- | --- |
| DOHC | 240ci/3.9L | Sequential Fuel Injection | 280 hp @ 6000 rpm | 286 lb-ft @ 4000 rpm |
Performance Statistics
| 0 to 60 mph | Quarter Mile | Engine | Source |
| --- | --- | --- | --- |
| 6.5 sec | 16.7 sec | 240ci/3.9L | Estimate |
Thanks For The Memories
Like its grandfather, the classic 1955-1957 Thunderbirds, low sales doomed the modern Thunderbird. It was a great car with smooth and classic lines. Unfortunately, the high price and limited market for a two seat convertible did it in. The market of potential customers was just too small. I'm willing to bet Ford knew this going in. Any market analyst worth his salt should have seen this coming a mile away. I prefer to think that the engineers and design team fought an epic battle and won us another American classic. I just hope that Ford has another fit of fantasy in a few years and brings out another great Thunderbird. After all, the baby boomers are getting older and a nice well built two seat convertible is something a lot of them may be interested in. Ford, are you listening?