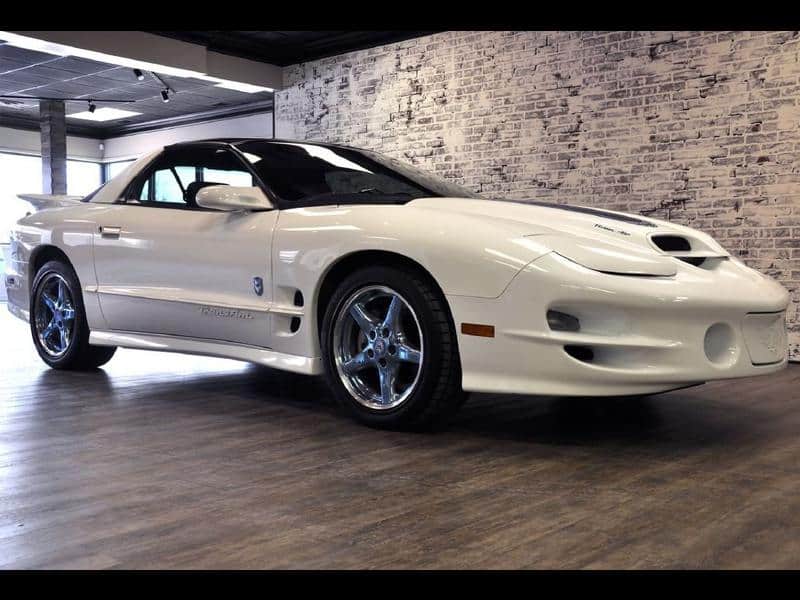 "Soul. You might not even know why you like it, but you do… It seems to have a life of its own. The muscle car lives." 1999 Firebird brochure
Electronic traction control is available as an option on all models.
A Torsen limited-slip differential is made standard on all V8 models and is available as an option on the base cars.
A Hurst shifter is offered as an option for V8 cars with a six-speed manual transmission.
Muscle Car Specifications
Performance Model
1999 Pontiac Firebird Trans Am
After a restyle in 1998, the looks of the all Firebirds held essentially constant from 1998 to 1999, though Pontiac did add a few new features and options to all models to try and keep things fresh. And there was a limited edition model that stood out from the rest of the pack.
As it had been doing every five years for decades, Pontiac issued a 30th Anniversary Trans Am for 1999. The most distinctive feature of these cars was a unique paint scheme that featured a blue stripe on a white paint body. Modeled after the 1969 Trans Am that it was celebrating, the paint scheme was very similar to the one that had been used on the 25th Anniversary Trans Am in 1994. Like that car, the interior of the car featured white leather with black accents. It also included unique blue-tinted alloy wheels.
Engine options remained the same this year as they had been the year before. Base models were equipped with a 3.8 litre 3800 V6 that was rated at 200 horsepower. When the Sport Appearance Package was added, the cars looked virtually just like their Formula and Trans Am counterparts. A Performance Package also was available that added the aforementioned Torsen limited-slip differential as well as alloy wheels, four-wheel disc brakes and dual exhaust.
Standard in both the Formula and Trans Am models was the all aluminum detuned Corvette V8 that had been introduced in 1998 and was one of the best engines ever put under the hood of a Firebird. The motor produced 305 horsepower and this rating was boosted to 320 with the addition of the WS6 package. This was a handling and performance package that added a functional Ram Air hood.
Lastly, convertibles were updated for the year with an eight-speaker Delco/Monsoon sound system that was needed to hear anything over the roar of the wind. Particularly when the convertible had a V8 engine.
Total production for the year was 32,209, which was almost exactly the same as it had been the year before.
Firebird
The base model had been the best selling Firebird throughout most of the fourth generation of the car. This held true in 1999, but it would be surpassed the following year by the continually well-selling Trans Am model. Throughout the production year, 18,415 base models were produced.
Firebird Formula
The Formula had long offered drivers a no frill performance alternative to the Trans Am, but sales continued in a downward direction. Only 1,602 were produced in 1999, and the production numbers would only continue to fall.
Trans Am
On the other hand, the Trans Am sales numbers continued to rise. 16,192 were produced during the 1999 model year, as opposed to 13,659 the year before.
Pony Car Competition
While total production numbers for the Firebird were holding steady, times weren't so good for the Camaro. Only 42,098 Camaros were produced in 1999, compared to 77,198 the year before. To make matters worse, the Mustang was still continuing to sell well, and 133,637 were produced throughout the model year. This number would rise drastically the following year to over 200,000, while the Camaro continue to fall and the Firebird stayed around the 30,000 mark.
Engine Specifications
| Type | Size | Carb | Horse Power | Tourqe |
| --- | --- | --- | --- | --- |
| Convertible | 3.8L V6 | Fuel Injection | 200 hp @ 5200 rpm | 225 lb-ft @ 4000 rpm |
| Coupe | 3.8L V6 | Fuel Injection | 200 hp @ 5200 rpm | 225 lb-ft @ 4000 rpm |
| Formula | 5.7L V8 | Fuel Injection | 305 hp @ 5200 rpm | 335 lb-ft @ 4000 rpm |
| Trans Am Convertible | 5.7L V8 | Fuel Injection | 305 hp @ 5200 rpm | 335 lb-ft @ 4000 rpm |
| Trans Am Coupe | 5.7L V8 | Fuel Injection | 305 hp @ 5200 rpm | 335 lb-ft @ 4000 rpm |
Performance Statistics
| 0 to 60 mph | Quarter Mile | Engine | Source |
| --- | --- | --- | --- |
| 5.3 sec | 13.5 sec | 350ci/320hp | Estimate |
Fast, Handle Good
I love driving this car. Really fun
Verdict
Pro
Handling and Performance
99 Ram Air
Great looking car, a lot power and aftermarket parts.