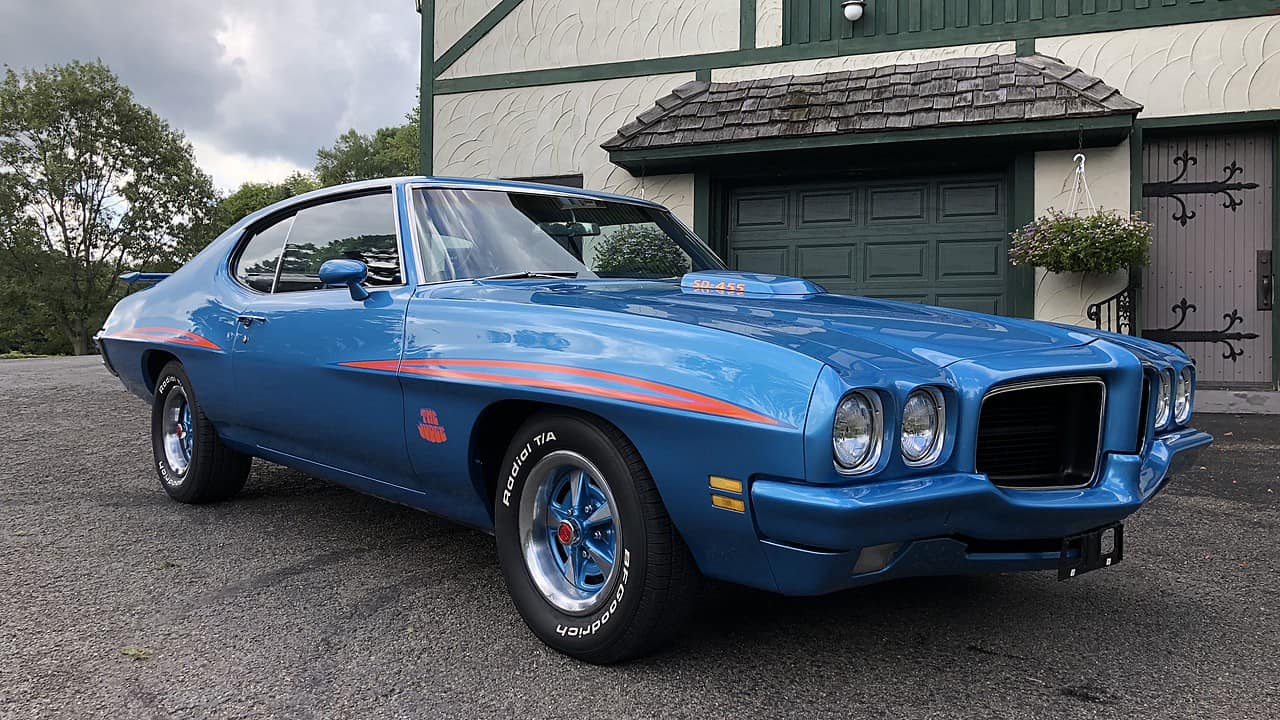 Last year of The Judge
Reduction in compression ratios of the Car Engine
Sales crashed as the golden muscle car era was drawing to an end
Muscle Car Specifications
Performance Model
1971 Pontiac GTO
Quarter Mile
13.4 sec @ 102.0 mph
The 1971 GTO is distinguished by a hood featuring two large forward air intakes. Compared to the 1970 GTO, the 1971 GTO had a pretty modest face list; it featured wire-mesh grilles accompanied with horizontal bumper bars on each side and the headlamps stacked more closely.
The standard GTO options were the same as the LeMans in 191 and included a 400-CID V8 with dual exhaust. It also had high-rate springs, thick front and rear stabilizer bars, firm shocks and Wide-Track. The addition options that were available were 2 new 455-CID V8s.
Buyers had the option to choose from four transmissions options that were:
the standard floor mounted 3-speed
4-speed (close ratio)
4-speed (wide ratio)
Turbo Hydra-matic.
The 1971 GTO could be ordered in two different body styles – the hardtop and the convertible.
Reduction in Compression Ratios
The Federal unleaded fuel requirement that was scheduled for 1972 meant that the car production in 1971 GM was forced to carry out an across-the-board reduction in compression ratios. This marked and end to the high compression motors which were one of the founding stones of the muscle car era.
As a result of this, the Ram Air engines could not return for 1971. The standard GTO engine was still the 400 CID V8, but now with a compression of 8.2:1. The power was rated at 300 HP, and the SAE gross at 4,800 rpm, with the torque being 400 lb•ft at 3,600 rpm.
Performance
A 1971 GTO with the 455 CID V8, four-speed transmission, could accelerate from 0 – 60 mph at a time of 6.1 seconds and had a quarter mile acceleration of 13.4 seconds at 102 mph.
Unfortunately, in 1971, GM has switched its advertised engine ratings from gross figures to the more-realistic net numbers. The result of this was that it added fuel to the fire and the power and torque losses figures ended up looking even worse on paper. Furthermore, the claim in the 1971 Pontiac brochure backfired which declared that the engine produced more net horsepower than any other engine in its history. This implied that the 400 CID V8 Ram Air engines had less than NET 310 HP, which further turned off the American muscle car enthusiasts.
Last year of The Judge
This was the least year of The Judge. The standard equipment which was the Mountain Performance package was 455 HO. Despite that, only 357 of The Judge were sold before it was finally decided to discontinue their production in February 1971.
This includes 17 convertibles which are regarded as the rarest of all GTOs today.
Sales
The fact that all engines would have to run on unleaded gas to meet new government regulations meant that the compression ratios and power ratings plummeted. This directly affected the sales and in 1971, Pontiac GTO sales which had been declining since the late sixties crashed. Only 10,532 GTOs were sold in 1971, 661 of which were non-Judge equipped convertibles. This was also to be the last year of the GTO as its own separate model.
GM restyled the car and tried to compensate for the drop in engine power by adjusting the axle ratio and carburetor, but it didn't helped. Road Runner met a similar fate and its overall sales were by this time in a free fall. The sales of Road Runner fell from being 43,404 in 1970 to a 14,218 in 1970. The American Muscle car bubble was coming to its end, as was apparent from the sales figure.
Engine Specifications
| Type | Size | Carb | Horse Power | Tourqe |
| --- | --- | --- | --- | --- |
| Base V8 | 400ci | 1x4bbl | 300 hp @ 4800 rpm | 400 lb-ft @ 3600 rpm |
| 455 HO | 455ci | 1x4bbl | 335 hp @ 4800 rpm | 480 lb-ft @ 3600 rpm |
| 455 HO | 455ci | 1x4bbl | 325 hp @ 4400 rpm | 455 lb-ft @ 3200 rpm |
Performance Statistics
| 0 to 60 mph | Quarter Mile | Engine | Source |
| --- | --- | --- | --- |
| n/a | 14.4 sec @ 98.0 mph | 400ci/300hp | Estimate |
| 6.1 sec | 13.4 sec @ 102.0 mph | 455ci/365hp | Motor Trend |
| 6.6 sec | 13.9 sec @ 100.0 mph | 455ci/335hp | MCR 6/95 |
last year of muscle car
71 convertible is a rare car that gets a lot of attention.
Verdict
Con
easy to clone lemans into a gto
Still has those classic looks after all these year
Although the classic muscle car era was coming to a quick end in 1972, the GTO was not going quietly into that gentle night. Power was down slightly because of the change mandated change from unleaded gas to leaded but there was plenty of performance available under the hood. Looks were just as good as performance. All in all, this is one of the most popular muscle cars of the era.
Verdict
Pro
Everyone will want to call you 'Judge'
Con
Parts are easily obtainable, especially when compared to some of the rarer muscle cars