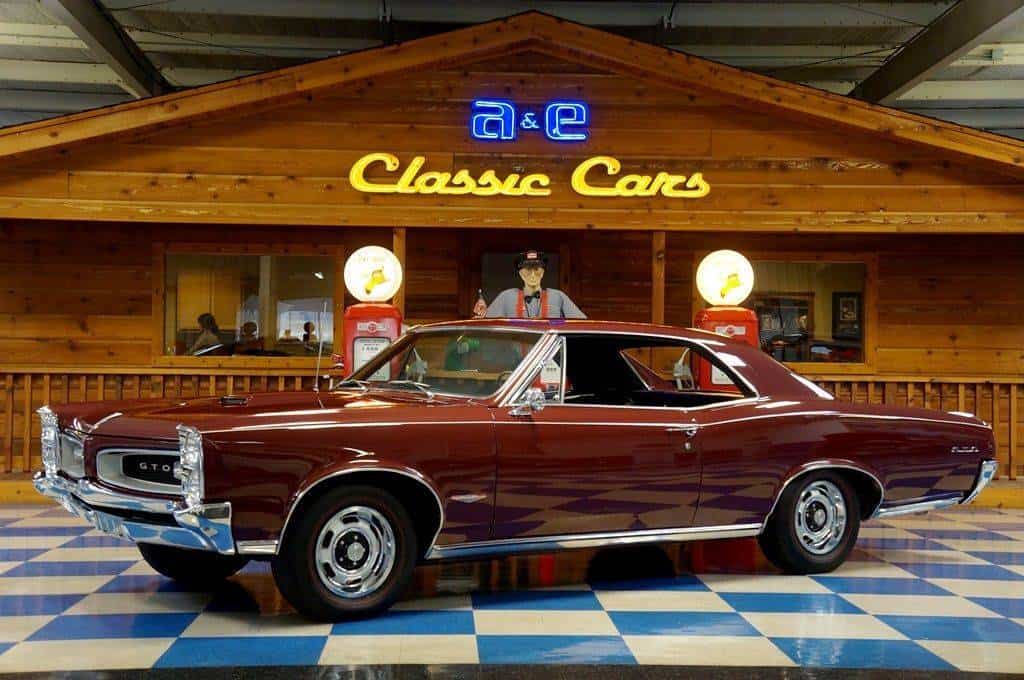 "GTO continues to be a pace-setter in the Supercar crowd." – Car Life, May 1966
Due to this model, the Pontiac division held the market share of more than 10% for the first time.
A total of 96,946 Pontiac GTO units were sold in 1966. This is the highest ever recorded for any 'true' muscle car.
After two successful years as a performance option for the Pontiac Tempest, Pontiac GTO was finally released as a separate model series.
Muscle Car Specifications
Performance Model
1966 Pontiac GTO Tri Power
Quarter Mile
14.1 sec @ 105.0 mph
The level of success achieved by the GTO in 1964 and 1965 was beyond imagination for GM and its rivals. 1966 had even better news for the Pontiac GTO. America's hot favorite muscle car was now a full-fledged model rather than an option. Some major styling changes were made. Instead of an angular look, the 1966 Pontiac GTO flaunted seductive contours. The body style was famously known as the coke bottle style.
Other than these curves, most of the changes were apparent on the rear end rather than the front. The tail-lights featured a louvered cover. This feature remains exclusive to the GTO. The 1966 Pontiac GTO was also the first car to replace the aluminum grille with plastic mesh-pattern inserts. Other dimensional factors such as the wheel base, curb weight and length were largely unchanged. The 1966 GTO was similar to the 1965 GTO in many ways, but it was a completely different car from the Tempest and LeMans.
The interior also received an overhaul. The new GTO came with comfortable Starto bucket seats with higher and thinner seat backs. Also available as an option were contoured cushions and adjustable headrests. The instrument panel was also redesigned to facilitate integration and ease of use.
Standard Specifications
Like its predecessors, the 1966 Pontiac GTO was offered in three different body types. Only this time, it also included the sports coupe. Other two were hardtop and convertible. Initially, the engine choices for 1966 GTO were same as the previous year. A three-speed manual transmission was again standard equipment. A 389 V8 with our barrel carburetor could churn out 335 hp @5,000 rpm. This was the same as that of 1965 GTO. By mid 1966, GM put a ban on multi-carburetor engine for all its cars except for the Corvette.
Tri Power
Carrying forward the tradition, Pontiac once again offered the tri power engine option for its new GTO. The engine was not much different than what was offered in 1965. The tri-power V8 was able to deliver 360 bhp @5,200 rpm. Only 19,045 of the total units were available with the Tri-power engine.
1965 Pontiac GTO XS and Other Options
Mid way through 1966, Pontiac introduced the XS option. The XS featured a new 744 high lift cam and RAM air take which considerably raised the performance of the 1966 Pontiac GTO. Due to a stiffer valve springs, hotter cam and a cold air induction system, the XS package boasted an unbeatable performance. While the official statistics claim the same 360 bhp, test drivers and critics believe that it could easily reach up to 380 bhp.
Other options, mostly in terms of transmission, included a four speed manual and the same two speed automatic as offered on 1965 GTO.
Competition
For two years, the Pontiac GTO remained in furious competition with the giants such as Ford Mustang, Chevrolet Chevelle and Oldsmobile 4-4-2. In 1966, Dodge Charger emerged as a strong new contender. Before anyone could judge it on its performance, the car mesmerized everyone with its look. As the battleground became shaky for Ford and Chevy, Pontiac GTO remained standing with its head held high. It remained more popular than the Dodge and set and undisputed sales record for a muscle car.
It took two years for Chevelle to realize that the popularity of GTO was about more than just the performance. In 1966, Chevrolet Chevelle Super Sport was introduced with breath taking styling an extremely powerful V8. It was a worthy competitor and bagged huge popularity. Yet, despite the competitive pricing, it failed to beat 1966 Pontiac GTO in terms of sale.
1966 turned out t be the golden year for Pontiac GTO. While it became a model series of its own, it managed to beat some of the best muscle cars ever made. With its unsurpassed popularity, everybody could now see the GTO's long-running success ahead.
Engine Specifications
| Type | Size | Carb | Horse Power | Tourqe |
| --- | --- | --- | --- | --- |
| Tri-Power | 389ci | 3x2bbl | 360 hp @ 5200 rpm | 424 lb-ft @ 3600 rpm |
| Base 8 | 389ci | 1x4bbl | 335 hp @ 5000 rpm | 431 lb-ft @ 3200 rpm |
Performance Statistics
| 0 to 60 mph | Quarter Mile | Engine | Source |
| --- | --- | --- | --- |
| n/a | 14.0 sec @ 102.5 mph | 389ci/360hp | MCR Feb/Mar 1996 |
| 6.5 sec | 14.1 sec @ 105.0 mph | 389ci/360hp | Car & Driver 3/66 |
| 6.8 sec | 15.4 sec @ 92.0 mph | 389ci/335hp | Car Life 5/66 |
| 6.8 sec | 15.5 sec @ 93.2 mph | 389ci/360hp | Motor Trend |
| 7.0 sec | 14.1 sec @ 98.4 mph | 389ci/360hp | MCR 6/95 |
| 7.5 sec | 15.6 sec @ 90.0 mph | 389ci/335hp | Motor Trend |
The Original Muscle Car Was Growing Up
The redesign in 1966 added weight and heft to the mighty GTO. Performance was still great but it was losing its edge. The new 1966 Chevelle SS was lighter and had a bigger engine. The result was better performance. The Mopars had the mighty and scary Hemi and they were untouchable. That is if the owner could keep it tuned. The GTO was still a great all around performer. It just wasn't a bare knuckles street fighter.