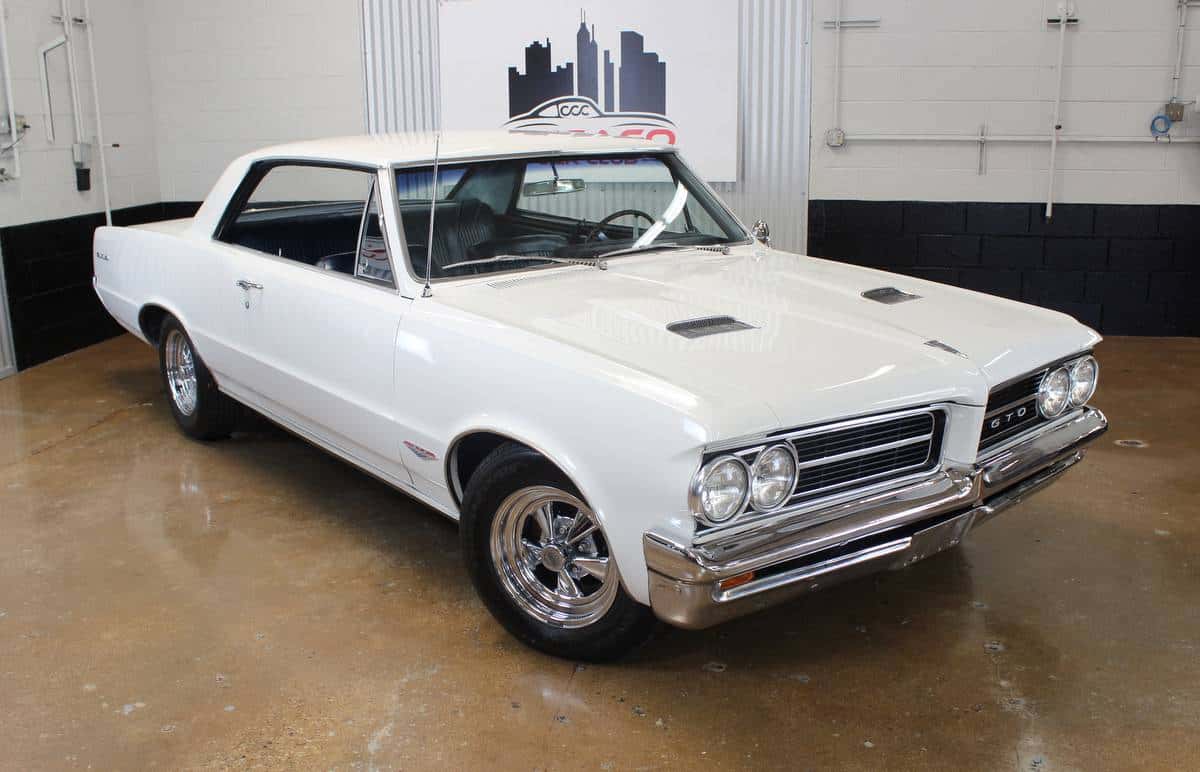 "The new GTO does what so many others only talk about – it really does combine brute, blasting performance with balance and stability of a superior nature" – Car and Driver, 1964
1964 Pontiac GTO was initially offered as an option package on Pontiac Tempest LeMans.
The car is considered as the very first muscle car. Essentially, it is the first one to coin the concept of high-performance, low –cost muscle cars.
While a maximum of 5000 sales were expected, total sales of 1964 Pontiac GTO summed up to 32,450 units. The car was a success beyond imagination and expectations.
Muscle Car Specifications
Performance Model
1964 Pontiac GTO
Quarter Mile
14.1 sec @ 104.2 mph
The 'GTO', 'the Goat', 'the Tiger' or 'the Great One', the 1964 Pontiac GTO is considered as the car which sparked a new era of American muscle cars around the world. The car gets it name from the famous Ferrari 250 GTO which stands for Gran Turismo Omologato.
During the 60s, GM was following a strict 'anti-performance' policy by prohibiting many of its divisions from participating in the development of race cars and limiting the size of the engine for a specific weight. Despite these restrictions, Pontiac managed to work on the idea of fitting a large 389-cubic-inch (6.3 L) V8 inside the mid-sized rear-wheeled car. As predicted, the idea did not only manage to attract the speed-minded youth but also inspired other automobile manufacturers working on their muscle cars at that time.
Standard Specifications
Since the 1964 Pontiac itself was an option package for Pontiac Tempest Lemans, it was available with the two-door coupe, hardtop coupe and convertible body style. Standard specifications included a 389 6.3 V8 churning out 325 hp at 4800 rpm of torque. Chrome valve covers, chrome air cleaner and carter AFB four barrel carburetor were also new under the hood of the Tempest. 1964 Pontiac GTO also offered a floor shifted three speed manual with a Hurst shifter.
Other notable differences which were quite apparent were the heavy-duty shocks, wider wheels and 7.50″ × 14″ redline tires. The exterior also featured stylish hood scoops and GTO badges. Overall, the 1964 Pontiac GTO was much more aggressive and powerful than the Tempest.
Tri-Power and Other Options
Other than the high performance standard specifications, an even more powerful 389 tri-power engine was also offered as an option for the 1964 Pontiac GTO. The tri-power produced an output of 348 bhp at 4900 rpm. 389 Tri power featured three two-barrel Rochester carburetors. Four-speed manual and two-speed automatic transmission were also among the options.
At the time of its introduction, the Ford was the highest performance car in its price category. This became the major reason for its success. While the car was marketed as a street performance car, it proved equally excellent on tracks.
Performance
On standard equipment the 1964 Pontiac GTO was able to run 0-60 in 7.5 seconds. The tri-power option was able to beat almost every car in its price range with its 6.6 sec record. The Car and Driver magazine literally shocked automobile enthusiasts around the world by tagging 1946 Pontiac GTO as fast as the Ferrari GTO. The magazine claimed that the Pontiac was able to accelerate 0-100 in just 11.8 sec. The claim, however, forever remained controversial.
Competition
Although the1964 Pontiac GTO started a new era of affordable yet powerful muscles, the very first contender appeared soon after – the Oldsmobile 4-4-2. Bearing its name from its 4 barrel carburetor, 4 speed manual tranny and 2 exhausts, Oldsmobile handled way better than the Pontiac GTO. However, it failed badly in popularity probably due to poor marketing.
The real contender which really managed to stand neck to neck with the 1964 Pontiac GTO was the legendary Ford Mustang which also included a V8 in its 1965 model.
By the start of 1965, the muscle car war was already fueling up between the industry giants. The performance and styling for the Tempest GTO was further enhanced in every aspect. Finally, in 1966, the Pontiac GTO was made a model of its own. In the same year, Pontiac GTO set a highest ever sales record for a true muscle car.
Engine Specifications
| Type | Size | Carb | Horse Power | Tourqe |
| --- | --- | --- | --- | --- |
| Tri-Power | 389ci | 3x2bbl | 348 hp @ 4900 rpm | 428 lb-ft @ 3600 rpm |
| Base V8 | 389ci | 1x4bbl | 325 hp @ 4800 rpm | 428 lb-ft @ 3200 rpm |
Performance Statistics
| 0 to 60 mph | Quarter Mile | Engine | Source |
| --- | --- | --- | --- |
| n/a | 15.0 sec @ 91.5 mph | 389ci/335hp | Road & Track 3/64 |
| 4.6 sec | 13.1 sec @ 115.0 mph | 389ci/348hp | Car and Driver 3/1964 |
| 5.7 sec | 14.1 sec @ 104.2 mph | 389ci/348hp | Road & Track 3/64 |
| 6.6 sec | 14.8 sec @ 99.0 mph | 389ci/348hp | Car Life 6/1964 |
| 7.7 sec | 15.8 sec @ 93.0 mph | 389ci/325hp | Motor Trend |
Was it really the first muscle car?
I do not think it was, but that's not that important. This car changed everything. Midsized cars with powerful engines became all the rage ant the 1964 Tempest GTO was the first. It was affordable, practical for a young family man and it even had cool hood scoops. Soon everybody and their brother were following the same model of large engine and smaller car. After all, if the mew 1964 Mustang was too small, the GTO was the only option available for the enthusiast in 1964.