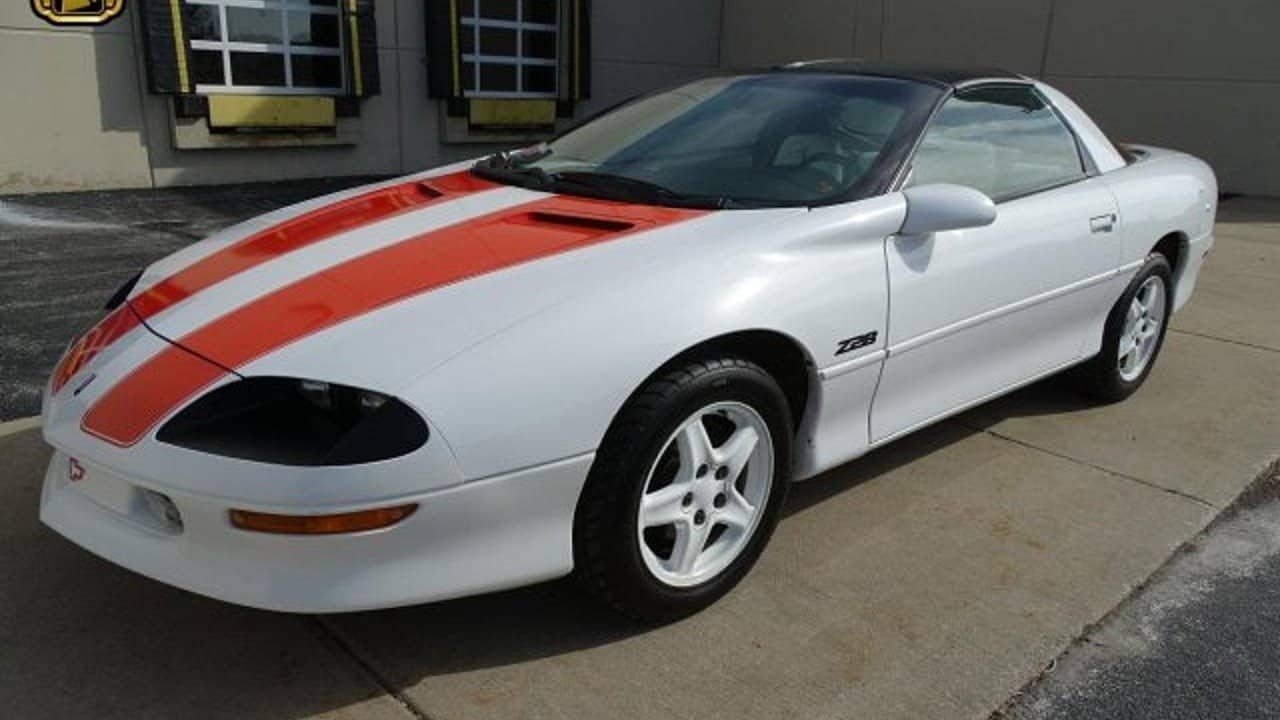 "It's not rocket science – just cubic inches." 1997 Motor Trend review of the Camaro.
The Camaro's 30th anniversary is celebrated with a special edition modeled after the 1969 Indy 500 pace car.
The interior of the car is slightly updated for a fresher look.
Daytime running lights become a standard feature.
Muscle Car Specifications
Performance Model
1997 Chevrolet Camaro
Quarter Mile
14.5 sec @ 96.6 mph
From an exterior, visual perspective, little had changed on the Camaro since the introduction of its fourth generation in 1993. And though the car would get a mild update the following year, the only easy way to distinguish a 1997 Camaro from its predecessors from the previous few years was the inclusion of new tri-colored taillights. But there were changes that were slightly improving the car year-by-year.
The aforementioned new interior styling updated the seats, dashboard and console, anticipating the exterior update coming the following year. And the minor changes apparently were helping the cars, as sales were up nearly 30,000 from the previous year and would not be higher through any subsequent Camaro year's models. One contributing factor was the base motor, which was phased in for the 1995 year model and standard on all cars since 1996.
The engine was a Buick 3800 Series II V6 that produced 200 horsepower, which was substantially more than direct competitor Mustang's base engine. Because of this relatively high performance and the availability of a performance handling package, many buyers chose the base engine over the V8 that was standard in the Z28 and SS models and optional for all other Camaros. That engine was a 5.7 litre motor producing 285 horsepower.
Total production was 95,812 units, a peak that has yet to be reached again for Camaro production to date. This is despite the fact that the base price for a coupe increased from $14,990 in 1996 to $16,215 in 1997.
Coupe
As it was every year, the coupe was the best-selling Camaro of 1997, and in fact its production of 51,553 was well over twice as much as the next closest model. For a convertible, the price started at $21,770, and 8,647 of these were made.
Rally Sport
The RS appearance package was back as an option in 1997, though this would be the last year it was available. It came in both coupe and convertible models, and a total of 9,458 were produced. The base coupe cost $17,970.
Z28
The second best-selling car in the Camaro line up, total Z28 production was 21,292 and included both Z28 coupes and Z28 convertibles. Coupes started at $20,115, while convertibles ran at least $25,520.
Super Sport
Like the Z28, the SS came standard with the V8 engine and was basically both an appearance and performance package for the car. 2,381 SS models were produced, and the package added about $4,000 to the total price of the car.
1997 Camaro 30th Anniversary Coupe
The 30th Anniversary coupe was very distinctive in that it was arctic white with orange hugger stripes. It was available in both a coupe and a convertible, and 4,533 were manufactured. The special edition added $575 to the price of the car.
Pony Car Competition
By 1997, the Camaro's most direct competition was the Mustang, the only other pony car still on the road other than fellow GM brand the Pontiac Firebird. For 1997, production numbers between Mustang and Camaro were fairly similar, with just over 10,000 more Mustangs being produced than Camaros. This would be the last year, however, that sales figures would be so close, as Camaro was about to go into a sales decline while sales of Mustangs were rising.
Neither car was selling as many models as they had as recently as the mid-80s, due in part to the influx of competition. Though there were no other pony cars, foreign car companies were producing many sporty, small cars that were taking more and more share of the market.
Engine Specifications
| Type | Size | Carb | Horse Power | Tourqe |
| --- | --- | --- | --- | --- |
| Convertible | 3.8L V6 | Fuel Injection | 200 hp @ 5200 rpm | 225 lb-ft @ 4000 rpm |
| Coupe | 3.8L V6 | Fuel Injection | 200 hp @ 5200 rpm | 225 lb-ft @ 4000 rpm |
| RS convertible | 3.8L V6 | Fuel Injection | 200 hp @ 5200 rpm | 225 lb-ft @ 4000 rpm |
| RS coupe | 3.8L V6 | Fuel Injection | 200 hp @ 5200 rpm | 225 lb-ft @ 4000 rpm |
| Z28 convertible | 5.7L V8 | Fuel Injection | 285 hp @ 5000 rpm | 325 lb-ft @ 2400 rpm |
| Z28 coupe | 5.7L V8 | Fuel Injection | 285 hp @ 5000 rpm | 325 lb-ft @ 2400 rpm |
Performance Statistics
| 0 to 60 mph | Quarter Mile | Engine | Source |
| --- | --- | --- | --- |
| 4.9 sec | 13.3 sec @ 107.0 mph | 350ci/330hp | Car Craft 3/97 |
| 5.0 sec | 13.7 sec @ 105.0 mph | 350ci/330hp | Hot Rod 3/97 |
| 5.2 sec | 13.7 sec @ 102.3 mph | 350ci/305hp | Car Craft 1/97 |
| 5.3 sec | 13.6 sec @ 105.0 mph | 350ci/330hp | Car & Driver 3/97 |
| 5.9 sec | 14.5 sec @ 96.6 mph | 5.0L/285hp | Road & Track 1997 Sp & GT |
amazing buy
I bought my camaro coupe with less then 10000 miles on it. This was like 3 months ago. This car doesnt have a scratch on it and it prs like a kitten. i love it. Its only a v6 3.8 but it gets the job done. U bought it from a dealer and it was worth ever penny. I keep looking for more stuff to do to her. i always find more i want. this car now has 16000 miles on it. Its a gorgous car and i have lots of plans for her
1997 Camaro Z28 30th Anniversary Edtion Convertibl
I'm going to start out with saying I love this car. I found this gem sitting in the used car lot on base in a corner with a for sale sign on it and I fell in love with it as soon as I saw it. I love the body style, because I think it looks like a evil shark. Black with black 30th edition leather without a scratch in the interior. The Positives are its fast (mustang killer), looks mean, lots of parts for mods, reliable, no major problems at 160,000 miles. The Negatives are the window motor has gone out 3 times on the driver's side, windshield wiper motor stays in the up position, engine gets hot, and I think that's it. Beautiful car and I think in a few more years it will be a good collector's car. I've put on a set of Torq Thrust II's on it and they look great, and the Borla cat back I installed sounds amazing. You will not be disappointed.
30th Z28
The 97 Camaro Z28 is a letter mark year for performance, attitude, and capabilities.
Unlike the early 90s Z28s the 96-97 had an upgraded exhaused system added 10hp. The 97 feature upgraded tires from 8in to 9in thick. Delivering better handling and braking. The interior was changed in 97 and stayed the same until 02. This is the first year for daytime running lights, and the last year of no speed limiter.
The stats on the car are incredible and unrivialed for the price. The handling is rated at .95g and with a special steering option brings it to 1g. If motified the car will easly exceed the stock standard. The engine is fitted as far back as possible in the bay; to the point that is half under the dash. Four wheel vented disc brakes bring the car to a stop in a second. "It stops on a dime, and handles like its on rails."
The engine brings 285hp, reality it is around 290; and 325 pounds of torque, at a low 2400rpm. All this makes the automatic alittle quicker than the 6sp. Infact the car was made for auto. The 0-60 of auto is 5.5 and manual is 5.8 both can cover the 1/4mile in 13.9 and 14. Both top out over 165mph+, thanks to the rocket style front bumper and no speed limiter.
Now the bad… No car is without its down falls. This car has a small oil leak from the manifold, because of pressure from downshifting. Its small and does not effect the car, and burns on the engine when driven regularly. The refinement is lacking because of the new interior. Electronic issues are routine every so many years. Mostly the powerwindows. I replaced the 3times and finially I stopped changing the motor and did the assembly.(only $50 more, and highly recomended) The tires, headlights, and engine parts are expencive for the price of the car.
Even with these problems this car is a amazing performance deal, and there are fewer and fewer out there. The only thing keeping it from getting all 5s from me, is that the car is still to new for it to be rare. However, for every camaro there are 5 mustangs out there. Something to think about. This car is a rush from the first thrust of torque, and one apex will make you a junky. This is the car that got me into modifing and performance tuning. Even after 5 years of owning it, it still puts a fiendish grin on my face when I get to a light. My car is 415 hp and will cover the quarter in 12.5sec, est 185-190mph top end. What car for under 4000 inversted and 7250 to own can claim such a thing? This car is a great performer, but a cumbersom unruley everyday driver. Remember this is a poor mans Vette and should be driven with the same repect. I know to many guys and girls that have total these cars. So not a good driver in winter or for the new drivers. But for someone who wants a second car, I would strongly recommend it. I own four cars and this one is my favorite.
To quote my mechanic after a test drive, "The whole time I was on the gas I thought the landing gear was going to go up!"