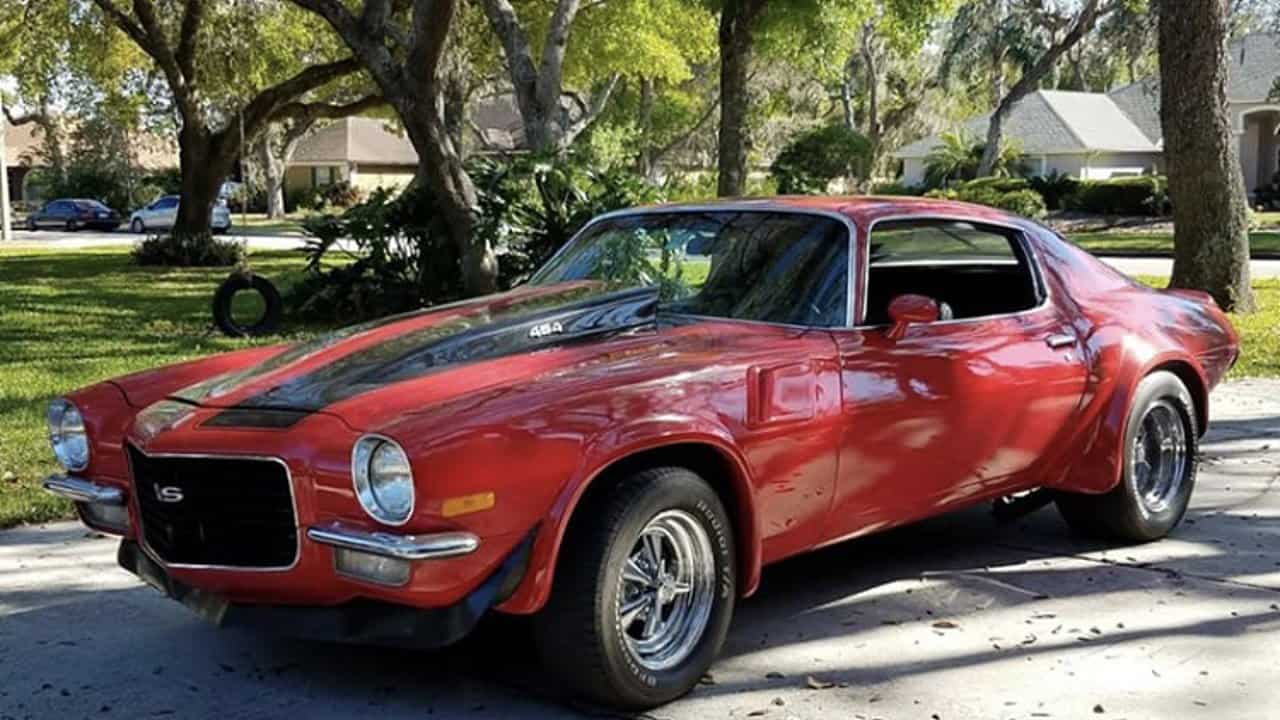 "The closest thing to a Vette yet." 1971 Camaro sales brochure
To comply with new federal standards, engine compression ratios were reduced to allow for use of low-lead or unleaded gasoline.
Also to comply with new standards, GM began to report all horsepower ratings as net horsepower rather than gross horsepower, which had been used up to that point.
Production of six-cylinder Camaros dropped below 10 percent of total production for the first time.
Muscle Car Specifications
Performance Model
1971 Chevrolet Camaro Z28
Quarter Mile
14.8 sec @ 96.35 mph
While 1971 seemed essentially like a carryover from the newly restyled 1970 models, there were a few distinguishing features that make it easier to tell the two year models apart, in addition to the new engine calculations. Most noticeable is the addition of new high-backed seats borrowed from the Chevy Vega that were installed in all models. While a few emblems were updated, the most distinctive is that the "Camaro by Chevrolet" emblem on the trunk lid was shortened to just "Camaro." Additionally, a new three-piece spoiler was offered, and side marker lights now blinked along with other turn signals.
With the new net horsepower ratings, the base six-cylinder remained a 250 CID engine, but was down to 110 horsepower as compared to 155 from the year before. Because of the engine compression ration reduction, this also represented a slight reduction in gross horsepower, as well. The base V8 was a 307 CID engine that was rated at 140 horsepower. While there were six additional engine options for different models in 1970, only four more options were available in 1971—three 350 CID engines and a 396.
Total production was down about 10,000 units to 114,630, with the majority of those coming from the base model coupes. As with the previous year, other models offered were the Rally Sport (RS) package, along with the Super Sport (SS) and the Z28. The RS could be applied to the SS and Z28 models, as well as the base Camaros.
Coupe
Other than the aforementioned changes, the base Camaro offered hardly any new standard features or options than it did in 1970. Still, its sales were high, and a respectable 91,481 models were built. The base price was $2,758, which was only a $9 increase from the previous year. An extra $90 purchased the base V8 engine.
Rally Sport
Though sold as a distinct model, the RS was really just an upgraded trim package for the Camaro. Most distinctive was its front-end, which had two separate bumpers on the left and right of the car rather than the full-length bumpers that were standard. The package added $179.05 to the base price of the car, and also included such features as hidden wiper blades and an RS emblem on the steering wheel.
Super Sport
The Super Sport came standard with a 350 CID engine that produced 210 horsepower, and could be upgraded to the 396 CID engine rated at 260 horsepower. The car also included distinctive trim including a black grille with the SS emblem. The SS model sold nearly as well as the RS for the first time in a couple years, and had a total production run of 18,287.
Z28
The Z28 model came with a special 350 CID engine that produced 275 horsepower under the new "Net" ratings, which was still a drop in overall power from the previous year because of the lowered engine compression ratio. Adding $786.75 to the base Camaro price, the Z28 was the lowest-selling model and had a total production run of 4,862.
1971 Pony Car Competition
The decrease in production this year was not unique to the Camaro. In fact, every pony car saw production decreases except the Camaro's doppelganger Firebird. Camaro held on to its number two spot behind the Mustang, with the Firebird, AMC Javelin, Plymouth Barracuda and Dodge Challenger bringing up the bottom end of pony car sales. Though they were still selling relatively well, the pony car heyday of the late 1960s already appeared to be diminishing, as many car enthusiasts were heading toward the exploding muscle car scene. Both the muscle car and pony car subgenres would see more woes as the 1970s progressed and brought about oil crises and ever-higher emissions standards.
Engine Specifications
| Type | Size | Carb | Horse Power | Tourqe |
| --- | --- | --- | --- | --- |
| L22 I6 | 250ci | 1x1bbl | 145 hp @ 4200 rpm | 230 lb-ft @ 1600 rpm |
| STD V8 | 307ci | 1x2bbl | 200 hp @ 4600 rpm | 300 lb-ft @ 2400 rpm |
| Z28 | 350ci | 1x4bbl | 330 hp @ 5600 rpm | 360 lb-ft @ 4000 rpm |
| L48 | 350ci | 1x4bbl | 270 hp @ 4800 rpm | 360 lb-ft @ 3200 rpm |
| L65 | 350ci | 1x2bbl | 245 hp @ 4800 rpm | 350 lb-ft @ 2400 rpm |
| LS3 | 396ci | 1x4bbl | 300 hp @ 4800 rpm | 400 lb-ft @ 3200 rpm |
Performance Statistics
| 0 to 60 mph | Quarter Mile | Engine | Source |
| --- | --- | --- | --- |
| 7.0 sec | 14.8 sec @ 96.35 mph | 350ci/330hp | PopularHot Rod 8/71 |
II Gen Styling
This body style was a big change from the classic look if the 67-69 models, but let me tell you, these cars dress up well. Leaf springs in the back and good front suspension makes for great handling. The front disc brakes are nice too. Put a strong motor in one of these and there will be no disappointments.