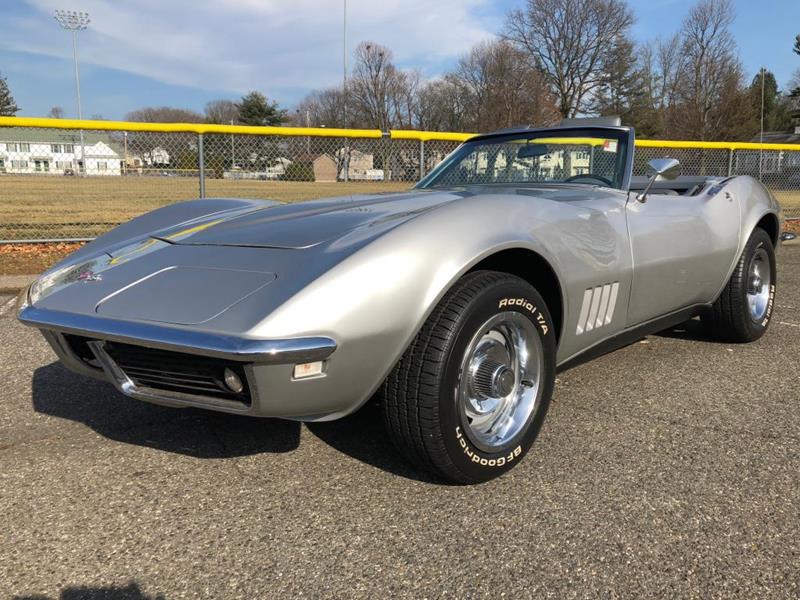 "For those who appreciate the true sports kind of car – and even for those who don't right now." 1968 Corvette sales brochure
Sometimes known as the "shark" generation of Corvettes, the third generation of the car was introduced in 1968.
Coupes now came with the first T-tops.
General Motor's new three-speed Turbo HydraMatic automatic transmission replaced the former two-speed Powerglide automatic.
The styling for the third generation Corvette was based on the Mako Shark II show car designed by GM designer Larry Shinoda in 1965, hence the "shark" label on this generation. Like the Mako Shark, the Corvette was seen, at least at the time, to be flamboyantly styled, and therefore met with decidedly mixed reviews when it was released. Over the years, the body style never surpassed the reverence of the second-generation cars by most critics, though it is one of the most recognized Corvette body styles, perhaps because the body style was so modern for its time that the third generation would continue until 1982.
One complaint was that the new body style added 150 pounds to the Corvette, and some critics said this went against the label that Corvette was a true sports car. The removable roof panels that would soon be known as T-tops and eventually replace the convertible Corvette altogether also were met with mixed reviews at the time. Side vent windows were eliminated in favor of Chevy's new Astro Ventilation system.
Standard 15-inch tires grew an inch in width over the previous year to seven inches. With these tires and lower rear roll center, the car hugged turns very nicely, though the ride was reported as significantly harsher than previous Corvettes.
The inside of the car was completely redesigned as well, and featured new features like standard shoulder belts for coupes, electric rear-window defroster, and AM/FM stereo radio and fiber-optic light monitoring system.
With all the change, however, engine options were essentially carried over from the year before, though this wasn't a bad thing. Base models came standard with a 327 CID V8 rated at 300 horsepower, and a modified version of this engine was available for the first time this year and was rated at 350 horsepower.
Three versions of the 427 CID big-block V8 were available, and horsepower for these ranged from 390 to 435, depending on carburetor setup and compression ratios. One, officially rated at 430 horsepower, was built especially for racing, and critics estimated the official horsepower rating is significantly lower than actual output. This engine added $1,032 to the base price, and only 115 were sold.
Despite the mixed reviews, production was up nearly 25 percent to 28,556. In 1967, production dropped for the first time in nearly a decade, so it was nice to see the car-buying public reacting positively to the new generation. Production would continue to climb in the year's ahead.
1968 Corvette 2-Door Coupe
The Corvette coupe had never outsold the convertible model, and this year would be no different. Coupe production for the year was at 9,936, which represented a 16.84 percent increase from the year before. The base price for the car was $4,663, which was 7.12 percent higher than the year before.
1968 Corvette 2-Door Convertible
Convertible production was up even further. With 18,630 convertible Corvettes produced throughout the model year, production was up 29.05 percent from the year before. The base price for the car increased 4.32 percent over its 1967 counterpart to $4,320.
Comparison to the 1967 and 1969 Corvette Models
Other than engine options, the 1968 Corvette was substantially different from the 1967 Corvette. As would be expected with a newly introduced style, very little was changed for the 1969 Corvettes.
Engine Specifications
Type
Size
Carb
Horse Power
Tourqe
L79
327ci
1x4bbl
350 hp @ 5800 rpm
360 lb-ft @ 3600 rpm
Base
327ci
1x4bbl
300 hp @ 5000 rpm
360 lb-ft @ 3200 rpm
L88
427ci
1x4bbl
560 hp @ 6400 rpm
L71
427ci
3x2bbl
435 hp @ 5800 rpm
460 lb-ft @ 4000 rpm
L89
427ci
3x2bbl
435 hp @ 5800 rpm
460 lb-ft @ 4000 rpm
L36
427ci
1x4bbl
390 hp @ 5400 rpm
460 lb-ft @ 3600 rpm
Performance Statistics
| 0 to 60 mph | Quarter Mile | Engine | Source |
| --- | --- | --- | --- |
| n/a | 13.3 sec @ 108.0 mph | 427ci/435hp | HC |
| 6.5 sec | 13.4 sec @ 109.5 mph | 427ci/435hp | Car Life |
| 7.1 sec | 15.0 sec @ 92.0 mph | 327ci/350hp | Car & Driver |
1968 corvette
I love it I will give 3 stars for it.