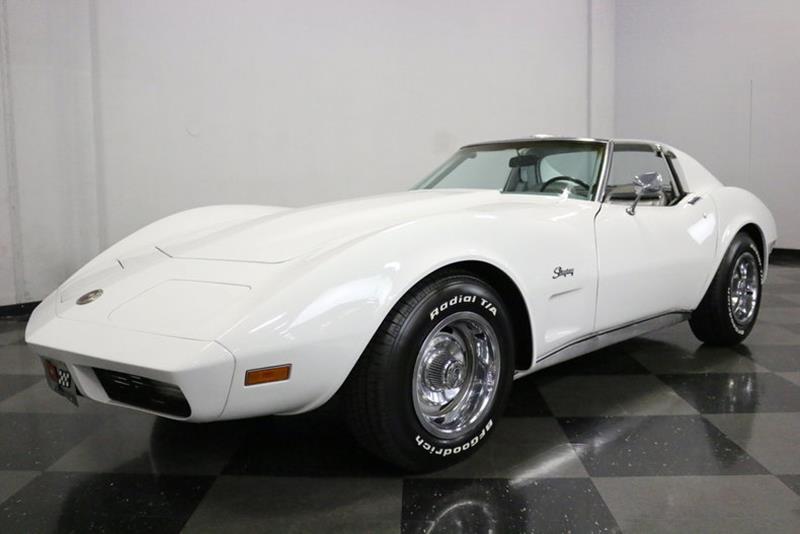 "It's a great trip. Getting to know a Corvette has got to be one of the great pleasures in life." 1974 Corvette sales brochure
A new body colored rear bumper matched the front end and met federal regulations.
A new automatic transmission, the Turbo-Hydramatic, was introduced in 1974.
Shoulder and lap belts were combined for the first time to form a single, three-point harness.
The styling changes that had been enacted last year for the 1973 Corvette were brought about in large part because of the new federal safety regulations that were forcing the auto industry to change every year. Most of the changes for the 1974 Corvette were made for this same reason.
Regulations in 1973 required a 2.5 MPH bumper, which resulted in the body colored front bumper that also contributed to the new style of the Corvette, though that year's model used a chrome bumper in the back. Regulations pushed the bumper requirement up to 5 MPH for 1974, resulting in the body colored rear bumper, which fit better with the front, anyway. For 1974, the back bumper consisted of two pieces and had a visible seam in the middle. Fortunately this would be fixed the following year. Elsewhere, the styling of the car was largely exactly the same as it had been in 1973.
Engine options for 1974 also were exactly the same as they had been the previous year. Base models came with a 350 CID small-block V8 rated at 190 horsepower, and a modified version of this engine could be included as an option and was rated at 250 horsepower. At the top of the performance heap was the one big-block V8 left, a 454 CID motor that produced 270 horsepower.
Perhaps the most notable aspect of the 1974 Corvettes was that they were in many ways the last of their kind. Power had been continually diminishing already throughout the decade as more and more emissions regulations were enacted, and even more were on the way. The oil crisis of 1973 led to powerful, fuel-guzzling sports cars falling out of fashion with the public, and rising insurance prices were part of the problem, as well. All of these had already essentially claimed both the muscle and the pony car classes by this time, so it's a good thing that Corvette was in a class all its own. But that doesn't mean that hard times wouldn't take their toll on performance.
1974 would be the last year the Corvette was available with a big-block V8, and it also would be the last year of genuine dual exhaust. These were the result of the forced switch to unleaded fuel as well as the widespread use of catalytic converters.
But somehow the 1974 Corvette managed to go against the trends of other powerful cars at the time and actually saw a sales increase. Production increased from 30,464 the year before to 36,657 in 1974. Even better, this upward trend would continue until 1976.
1974 Corvette Coupe
Though the coupe saw its base price break the $6,000 price tag for the first time, sales soared and production was up to 32,028.
1974 Corvette Convertible
Even the long-failing convertible model showed a production gain in 1974, though it was very slight. 5,474 convertible models were produced, compared to 4,943 the year before. The base price for the model was $5,766.
Comparison to the 1973 and 1975 Corvette Models
Other than the new rear bumpers, 1974 Corvettes were nearly carbon copies of the 1973 models. But another engine shake up was just around the corner for the 1975 Corvette, and the results of this weren't good for the Corvettes power. Fortunately it wouldn't hurt the sales numbers of the car.
Engine Specifications
| Type | Size | Carb | Horse Power | Tourqe |
| --- | --- | --- | --- | --- |
| L82 | 350ci | 1x4bbl | 250 hp @ 5200 rpm | 285 lb-ft @ 4000 rpm |
| Base | 350ci | 1x4bbl | 195 hp @ 4400 rpm | 275 lb-ft @ 2800 rpm |
| LS4 | 454ci | 1x4bbl | 270 hp @ 4400 rpm | 380 lb-ft @ 2800 rpm |
Performance Statistics
| 0 to 60 mph | Quarter Mile | Engine | Source |
| --- | --- | --- | --- |
| 8.9 sec | 15.6 sec @ 92.3 mph | 350ci/250hp | Road Test Feb 74 |
1974 Corvette Stingray Convertible 454
Owned mine 27 years …. AC and M21 . I started looking for a 74 equipped like this in the early 80's , no internet . I was about to give up…..I never even heard of one existing. ……now with the net ….you may find one easier.
I've owned a pair of C2 and many C3 ….this is hands down the best all around corvette . The 454 is bullet proof ……, it's way faster than people who have never driven one might think.
No wonder it was Zora Duntovs personal choice of corvette.
Verdict
Pro
Awesome torque and beauty
Con
Gas mileage , but you didn't expect that to begin with ..LOL
1974 Corvette 454 4-speed convertible
These are the bargain cars right now. People don't realize because of the millions of "shark-bodied" cars out there, these are the VERY LAST big block Corvettes EVER to be built!! Look at the price of a 1965-67 big block Corvette…..doesn't take a rocket scientist to see where these are headed, and with a very limited number remaining (only around 60 big block, 4 speed, convertibles, registered)…you won't see one very often. It is a joy to drive with power steering, 4 wheel disc brakes, 4 speed close ratio, and 400 ft/lbs of torque….you can be lazy and skip shift or push yourself back in the seat with an all out blast! I agree with the other reviews…park it in your garage and look at the work of art….or row them gears and listen to that big block growl….FANTASTIC!!!
Verdict
Pro
Big Block Torque & Style
1974 Chevrolet Corvette Convertible 454 big block
No question about it. My 454 Convertible Corvette is the best car I have ever driven. I have driven Corvette ZR-1, Porsche, Ferrari, and other vehicles that have been blessed by the high priests. This is the only car that combines incredible power, beauty, and elegance in 1 vehicle. Just turning the key and starting the car gives me goose bumps. It is an automatic and an unrestored original vehicle. The sound that it makes is just like race car. Don't let the advertised 270 net hp fool you–in reality it is 325 hp. Torque is 395! My wife has driven it only once in the 20 years I have owned it–the power scares her. it will crush the Mustangs and the Rice boxes with ease. The handling is not the best but it is right up there for 70's vehicles. It is easy to work on and it is a sure collectable. The last year of the big block, dual exhaust, unleaded gas, no catalytic converter, no computer, and a real convertible, no bumper guards on the urethane bumpers. American hardware and European style–yes Corvettes have always tried to emulate Pininfarina. There were only 310 of these built and imagine how many few are left.
RE: 1974 Corvette LS4 454 Big Block 4sp CR
I live in Australia & also own this exact model Corvette (matching numbers).
However it is far from standard with many engine mods. Bored to 468 cubic inches running hi comp pistons, roller cam, Scorpion roller rockers,MSD ignition, Edelbrock torquer2 manifold topped with a 870 street/strip holley.
Runs a massive set hooker headers into 4″ side pipes.
Full Bilstein race suspension keeps this beast on the road but I must agree with Gary….. it is a handful to drive & you need nerves of steel. Sinking the pedal on bends is fraught with danger as the torque & power can be unforgiving should you not show it the utmost respect. Give it some straight open road & this monster chews up the bitumen with mind blowing acceleration.
Its not hard to get loose in all gears.
Fuel economy is terrible running on 98 octane but who cares. It is a small price to pay for so much fun & enjoyment the car brings.
The alloy muncie 4 speed box handles all the punishment you can throw at it.
I have owned many cranky small block engined cars from 351's, to 400 chevs but they dont compare to the ground pounding power & torque of a big block.
As the car is over 30 years old (pre 1980),there is no legal requirement to convert it to right hand drive. The car is fully restored inside & out rolling on a brand new set of Cragars.
Overall assessment: Not the most practical car I have owned being a 2 seater but definitely the best performing, toughest & most beautiful curvaciously designed cars ever built.
1974 Corvette LS4 454 Big Block 4sp CR
I have owned a very Rare LS4 4 sp Close Ratio for over 15 years now. This car is very fast, very powerful, and can be very scary. This is not a kiddy car. Since I live at altitude "6000-9000 feet and up here in Colorado " the humidity has an extreme effect on power. Typically humidity here is 5-12 percent. The 454 Big block stuffed into a corvette is rare. It weighs more than the small block, but, what it lacks in the turns because of the added weight, it more than makes up for in the straights with its awesomely powerful big block. I have grown up racing dirt bikes, and riding street bikes to include turbos. I must say.. This is the only car I have ever owned or driven that makes me smile, and… Makes me nervous with apprehension. Not knowing if I will be grown up and mature and not put my foot into it.. or not? To put your foot down is to light a cannon for sure !! It is a rush. IT handles well in the turns and can scrub tires with the best of them. IT is a blast to drive. Just be careful as it is not an easy car to drive fast. You have to be in control of both power and torque. Rated at 270 and 395 may not seem like much.. But.. To have 395 pound feet of axle twisting torque at the rear wheels is a thrill like no other. The LS4 motor shares a lot of part with the small block 350. A lot of the Tune up parts. They are inexpensive and can be found most anywhere. LS4 454 motor is bullet proof. Car is electronic free and never causes any problems. Engine and car can be fixed with Kitchen tools if something does go wrong. That is one of the many beauties of these old Big Block Corvettes. The cost of admission is not cheap being that LS4 Corvettes are rare and expensive. But..Once in, you will not regret it. Low Maintenance fun for sure !! There is just something that attracts me to the simplicity of the Cars of 1975 and older… They were so simple back then.. The only things that have been a problem for me have been the clock.. IT has never kept time since I have owned the car. And.. I had a serious problem with the Motor wanting to lay down when the ambient temperature got over 70 degrees. After much tinkering, testing and jetting with the carb, problem was solved completely by adding an electric pusher fuel pump near the tank. IT now can get to over 100 degrees outside and it no longer will lay down. Obviously a Fuel vapor locking problem with these new fuels. Also.. I can get away with burning mid grade fuel and I only hear some slight knocking on only the hottest of summer days.. There were not many LS4's made. Only 1,200 or so. Of which only 150 were 4 sp CR's and 2 were WR's or wide ratios. Must have shipped those to Europe for Auto Bhann runs.. So.. Out of the 150 Standards, and the others were autos.. No telling how many are left… IT would be safe to assume,, Not many.. Rare to be sure.. If you have a line on one and it is a stick, you have found a rare bird for sure. Enjoy the ride.. !!!