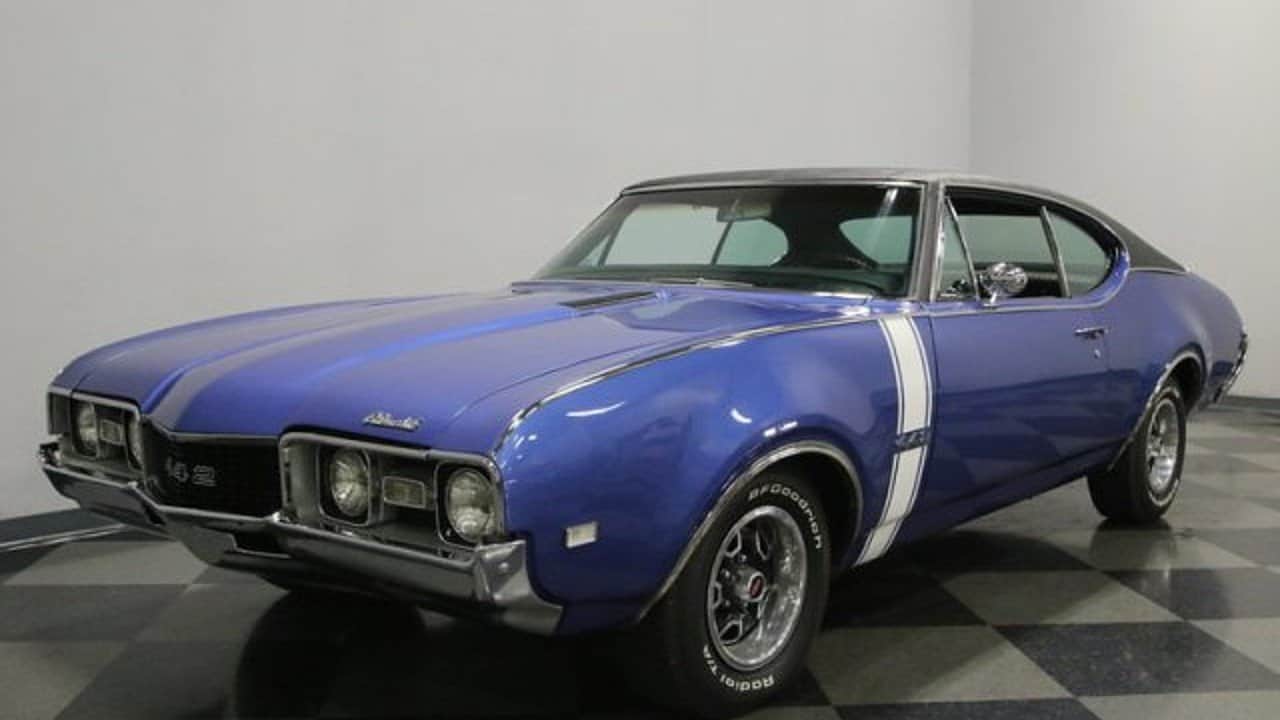 "Evolution of a winner… The ultimate expression of the American Supercar is now available in Oldsmobile showrooms around the country. Seeing is believing… owning is unreal." 1968 Hurst/Olds pamphlet
The 442 was officially made its own model in 1968.
The special limited edition Hurst/Olds was introduced and produced nearly 400 horsepower.
Completely redesigned from the previous year, the 442 sported the then-popular fastback design for the first time ever.
1968 was a very big year for the 442, starting with the fact that it was finally made into its very own model. From the time that the first 442 was released in 1964 up until 1967, it had been purely a performance package that could be added to the F-85 or Cutlass midsized Oldsmobile lines. With stellar sales and growing interest in the muscle car class as a while, Olds wisely decided to put the 442 out on its own.
Also wise, if the sales numbers from the year are any indication, was the new restyle of the vehicle. The new fastback put the 442 in line with most of the other popular muscle cars of the day. It was available in three different models: Sport Coupe, Hardtop Coupe and Convertible. Though the parking lights/turn signals had split up each pair of headlights starting the year before, this was exaggerated in 1968, giving the front of the car a more aggressive look.
But it wasn't just about looks, as 442 models that came equipped with the W-30 Force-Air induction system took in cold air from around these lights. The W-30 package, which had been first introduced at the end of the 1966 model year, had unique internal engine modifications that included special heads and a high output cam. All of this added up to the package producing 10 more horsepower than the base engine.
And that base engine, as it had been since 1965, was a 400 CID V8 that was rated at 350 horsepower. However, if the engine was coupled with the optional three-speed Turbo Hydra Matic automatic transmission, that horsepower rating was reduced to 325.
Oldsmobile also offered a Turnpike Cruising 442 option, as it had the previous year. As it's name would suggest, this car was designed for those with long commutes, and featured a detuned, 2-barrel carb version of the 440 engine. It also had a lower compression (9:1) so it could run on regular gas. This model lowered horsepower to 290.
But for those who demanded more horsepower, there was the Hurst/Olds model, designed specifically for George Hurst, the man whose name is now (and was then) synonymous with the world's best transmissions. The special design that included a 455 CID V8 rated at 390 horsepower was so intriguing that Oldsmobile ordered a limited edition run of the car. 515 were made during the year.
1968 Oldsmobile 442
Total production for the year stood at 33,607, which was around 9,000 more than had been produced the year before. This number included 4,282 sport coupes, 24,183 hardtop coupes and 5,142 convertibles. Every model was offered with the same standard features and options.
Competition
With the muscle car era at its peak in 1968, the Olds 442 was sometimes overlooked just because there weren't as many on the road as some of the more popular muscle cars of the time. But it was never overlooked as far as performance and handling were concern.
The handling of the car had been given considerable praise when the 442 was introduced in 1964, and this had only increased as the years would go by. The car was commonly known as the best balance of drive and performance of any muscle car, and this continued into 1968. However, it also was being seen as more or a pure performance machine than ever with CARS magazine rating it the "Top Performance Car of the Year."
Engine Specifications
| Type | Size | Carb | Horse Power | Tourqe |
| --- | --- | --- | --- | --- |
| W-30 | 400ci | 1x4bbl | 360 hp @ 5000 rpm | 440 lb-ft @ 3600 rpm |
| V8 | 400ci | 1x4bbl | 350 hp @ 5000 rpm | 440 lb-ft @ 3600 rpm |
| V8 | 400ci | 1x4bbl | 330 hp @ 4800 rpm | 440 lb-ft @ 3600 rpm |
| L66 | 400ci | 1x4bbl | 290 hp @ 4600 rpm | 425 lb-ft @ 2600 rpm |
| Hurst/Olds | 455ci | 1x4bbl | 390 hp @ 5000 rpm | 500 lb-ft @ 3200 rpm |
Performance Statistics
| 0 to 60 mph | Quarter Mile | Engine | Source |
| --- | --- | --- | --- |
| n/a | 14.0 sec @ 99.0 mph | 400ci/360hp | Popular Hot Rod |
| n/a | 14.5 sec @ 99.0 mph | 350ci/325hp | Car Craft |
| 5.4 sec | 13.9 sec @ 103.0 mph | 455ci/390hp | Estimate |
| 6.3 sec | 13.3 sec @ 103.6 mph | 400ci/360hp | Car Craft |
| 6.7 sec | 15.3 sec @ 95.0 mph | 400ci/350hp | Motor Trend |
| 7.0 sec | 15.1 sec @ 92.2 mph | 400ci/350hp | Car Life |
442 The smoothest brawler around
Had a '68 as my first car. As my mom took it off the lot for a test drive she burned rubber across 4 lanes (1984). I think she peed herself. I lived in Wyoming at the time and it NEVER left me stranded, NEVER! As a typicle 15 year old I did not care for it the way I should have. I plan on getting one more to tour the country for Vet's awarness! I know that you should not love a car but if it's not love it's infatuation!
Verdict
Pro
Very smooth cars to drive
Con
Gas mpg with the air on??
Olds best performance car in three letters.
I got the pleasure to drive a Hurst 442. It was black with gold racing stripes with a tall spoiler. I havn't seen any with the wing like that, and it looked odd but cool. It worked though, the car itself looked alittle odd but cool. The interior of these cars are well, not sporty at all. It was comfortable, but seemed like it should be in the Cutless, but not the 455 442. This cars personality is so different from that.
So the engine started right up, and was loud enough to get any bodies attention. The torque is fierce. Simple as that, but I didn't push this thing or anything like that. It wasn't my car. But let me say its quick as hell. My mechanic worked in a Olds dealer in the late 60s and would tell me stories of how bad these cars are. Well, he was right. The handling is nothing to really talk about, and the breaking is poor in todays standards. Though average in 68. But the acceleration is hardcore for the late 60s. This car would stand up to anything of the day. To give an idea of how fast this was is, if you put a 78-82 Porsche 911 Turbo next to this car at a strip they would be head to head the whole race. If that doesn't impress you, well… Then you don't know much about cars. Or how about this, a 03 Boxter S would have no chance at a light.
The other models may not be "as" cool, but still any 442 is pretty awsome. Its kind of like the Buick GSX in that only car guys know about the importants of these cars. If you get a chance try to drive one, one shift and you get that aww yeah feeling.
More incorrect info
The Turnpike Cruiser 290 HP engine specs are also incorrect. That was a 2bbl carb, not a 4bbl.
Incorrect info
There was no 330 hp engine. The standard engine with auto tranny was 325 hp.