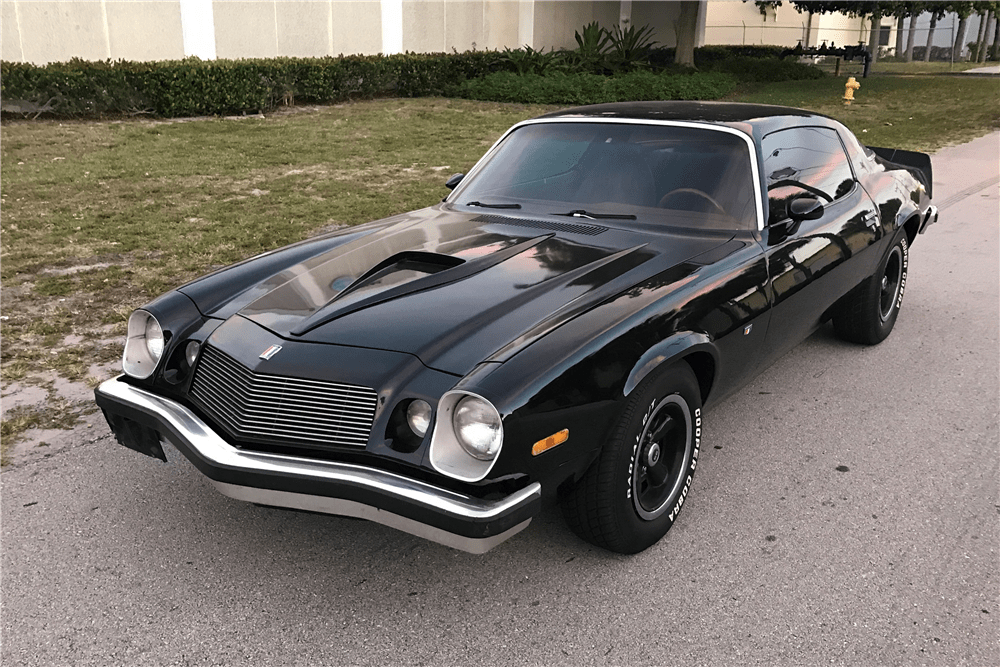 "Camaro is one of America's beautiful automobiles. And if we're talking looks only, that statement is so obvious that it requires no elaboration." 1976 Camaro sales brochure
A new standard V8 appeared that was a 305 CID engine producing 140 horsepower.
Power breaks became standard on all models.
The Landau roof debuted.
Muscle Car Specifications
Performance Model
1976 Chevrolet Camaro Z28
Quarter Mile
16.8 sec @ 82.0 mph
With Camaros selling well in 1975 and better in 1976, Chevy saw little need to change very much at all about the 1976 model. In fact, on the exterior there were hardly any features to tell the two year models apart, aside from the new brushed aluminum panel that appeared between the taillights on Type LT models. Most changes were under the hood, even though with the continued absence of the Z28 (it would return the following year), the engine choices were still held to three.
The new 305 engine saw a horsepower decrease of 5 from the previous year's standard 2 barrel 350 that was discontinued. The good news was that the highest performing engine, a 4 barrel 350, did see a horsepower increase of 10 to 165 for this year. The six-cylinder held steady with 105 horsepower being produced out of the 250 CID engine.
Once again, the Rally Sport, or RS package was back again after a year absence in 1974 and was still selling well, with more than twice as many of these cars produced in 1976 than 1975. In addition to the aforementioned brushed aluminum panel, the Type LT luxury Camaro saw the most change of any model this year with a textured vinyl instrument panel replacing the former wood grain, and also included new seat designs.
Total production continued on an upward trek it had been on since 1973, and would continue to climb, year-to-year, until 1980. 182,959 total Camaros were produced throughout the 1976 model year.
Coupe
As it had been every year since the introduction of the Camaro back in 1967, the coupe was the best-selling Camaro, and had a production run of 130,538 throughout the 1976 model year. The base price was $3,76.35 for a six-cylinder model, or $3,927.35 for a V8.
Type LT
Also on the upswing, production for the Type LT, or Luxury Touring, model was 52,421, over 12,000 units more than the previous year. Upgrading to this package added about $350 to the standard V8 coupe.
Rally Sport
As mentioned before, more than twice the amount of 1975 RS models were produced in 1976, with a total production run of 15,855. The car added $260 to the base V8 price, which was $22 more than it had cost the previous year. For 1976, the RS was available in five colors: white, silver, light blue metallic, Firethorn metallic or bright yellow.
Pony Car Competition
Other than the Pontiac Firebird, Camaro had no real competition in the pony car class. And that was because there were no other cars in the pony car class. Former contenders the AMC Javelin, Dodge Challenger and Plymouth Barracuda were all extinct by 1976, and the Mustang had been reduced to a compact car when Ford released the redesigned and small Mustang II in 1974. As other cars were going smaller and reducing engine power in the mid-1970s in response to a tough economy and the oil crisis of 1973, Chevy actually made the Camaros bigger.
And the strategy worked. With no other direct competition, sales of the Camaro began to skyrocket. As mentioned before, production increased for every subsequent year of the 1970s as American car-buyers who still wanted a pony car came to Chevy.
Engine Specifications
| Type | Size | Carb | Horse Power | Tourqe |
| --- | --- | --- | --- | --- |
| L22 I6 | 250ci | 1x1bbl | 105 hp @ 3800 rpm | 185 lb-ft @ 1200 rpm |
| LG3 | 305ci | 1x2bbl | 140 hp @ 3800 rpm | 245 lb-ft @ 2000 rpm |
| LM1 | 350ci | 1x4bbl | 165 hp @ 3800 rpm | 260 lb-ft @ 2400 rpm |
Performance Statistics
| 0 to 60 mph | Quarter Mile | Engine | Source |
| --- | --- | --- | --- |
| 8.0 sec | 16.8 sec @ 82.0 mph | 350ci/165bhp | Estimate |
No Such Thing As '76 Camaro Z-28
This was my first new car. Got it without bells and whistles since I was mostly interested in performance. It was a pretty hot car in its day. Mine had the 350 cu in V8 with 4-speed. Went through 5 clutches in my day.
The Performance Statistics section of this web page lists numbers for a 1976 Camaro Z-28. No Z-28s were produced in 1975 or 1976.