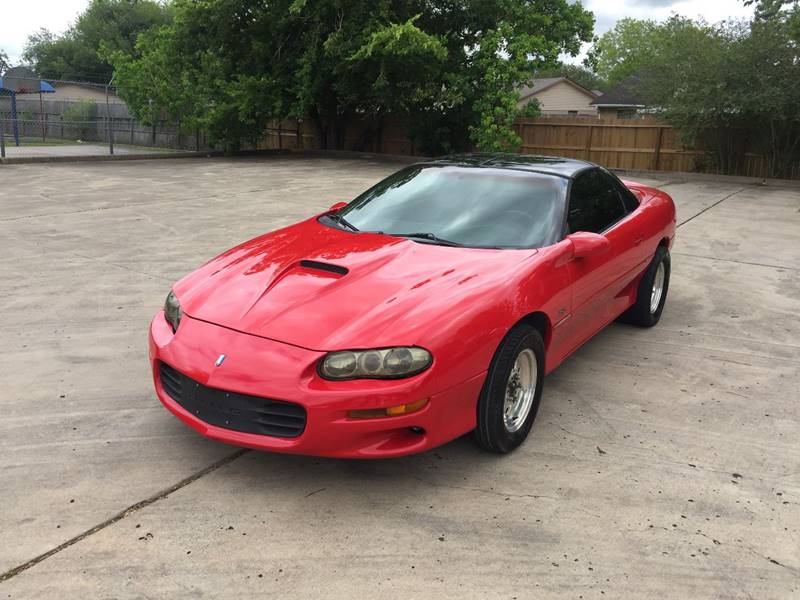 "Are you ready for a real ride?" 2001 Camaro sales brochure
The Z28 gets an increase of five horsepower this year.
Chrome 16-inch wheels are made available as an option for both the base and Z28 models.
Production of the 2001 models ended early to prepare for the 30th Anniversary models coming in 2002.
Muscle Car Specifications
Performance Model
2001 Chevrolet Camaro Z28
Quarter Mile
14.0 sec @ 101.3 mph
Chevrolet elected to change very few aspects of the interior or exterior of the Camaro from 1998 to 2002. Sales were steadily declining and it seemed the company didn't want to invest any more money in what appeared to be a dying breed. Rumors that production on the Camaro would cease after 2002 had been flying around for a couple of years in 2001, and that would turn out to be exactly what happened. After an eight-year hiatus, GM did bring back the Camaro when it introduced the fifth-generation cars in 2010.
In part because of the shortened production year, 2001 would prove to be the Camaro's lowest selling year of all time. Total production was at only 29,009, which was 16,408 cars less than the previous year. Though the Z28 had outsold the coupe in 2000, the first time any model other than the base coupe had been the best-selling Camaro, the coupe was once again back on top for 2001.
Engine options did not change for 2001, though the V8 did get the aforementioned horsepower boost. That motor was a 5.7 litre engine that had originally been released in 1998 as a Corvette engine. It was detuned and then used as a Camaro engine. The base engine was a 3800 Series II 3.8 litre V6 that produced 200 horsepower, unchanged from the previous year.
Coupe
As mentioned above, the coupe was the best-selling Camaro for 2001, and total production was at 10,741. This represented a 618 car increase in coupe production from the previous year.
Z28
While the Z28 traditionally was the second best-selling Camaro, this year it came in third behind the coupe and the SS model. Total production was 6,320 Z28 models, which was only 12 fewer than the SS models produced.
Super Sport
The SS models also came standard with the 5.7 litre V8, but a functional hood scoop increased horsepower on these models. Since the SS was a performance and appearance package that could be added to the Z28, it also came with distinctive trim styles, which were perhaps in part responsible for its relatively high sales in such a slow sales year. 6,332 Camaro SS models were produced in 2001.
Pony Car Competition
Other than its corporate cousin the Pontiac Firebird, Camaro and Mustang were the only two cars that could still be called Pony Cars that were being produced in 2001. They weren't each other's only competition, as the sports car market was flooded with cars from imports to other domestic makes. They were, however, the only two that could trace their lineage back to the pony car wars of the late 1960s and early 70s. And comparing the two head-to-head didn't turn out well for the Camaro.
As Camaro had it's bottoming out year, there were 163,818 Mustangs produced, nearly 135,000 more than the number of Camaros produced. Mustang would hang basically around that number for the next few years, until economic woes brought sales down in the late 2000s. By the time the fifth-generation Camaros were introduced in 2010, Ford and Chevy were ready once again for direct competition. Since that time, the companies have held around the same sales numbers, but it still remains to be seen if the Camaro will stick around this time.
Engine Specifications
| Type | Size | Carb | Horse Power | Tourqe |
| --- | --- | --- | --- | --- |
| Convertible | 3.8L V6 | Fuel Injection | 200 hp @ 5200 rpm | 225 lb-ft @ 4000 rpm |
| Coupe | 3.8L V6 | Fuel Injection | 200 hp @ 5200 rpm | 225 lb-ft @ 4000 rpm |
| Z28 Convertible | 5.7L V8 | Fuel Injection | 310 hp @ 5200 rpm | 340 lb-ft @ 4000 rpm |
| Z28 Coupe | 5.7L V8 | Fuel Injection | 310 hp @ 5200 rpm | 340 lb-ft @ 4000 rpm |
Performance Statistics
| 0 to 60 mph | Quarter Mile | Engine | Source |
| --- | --- | --- | --- |
| 5.5 sec | 14.0 sec @ 101.3 mph | 5L/310hp | Estimate |
2001 – The Year Before The End
The Camaro world was depressed in 2001. Chevy had announced the end of the Camaro. Fortunately, Chevrolet decided to go out with a bang. This car and the one that followed were some of the best Camaros ever produced. They were fast, they handled very well and they looked good. Today, they are relatively rare. If you are a long term collector or just want a nice pony car, a Super Sport version is definitely worth a look.