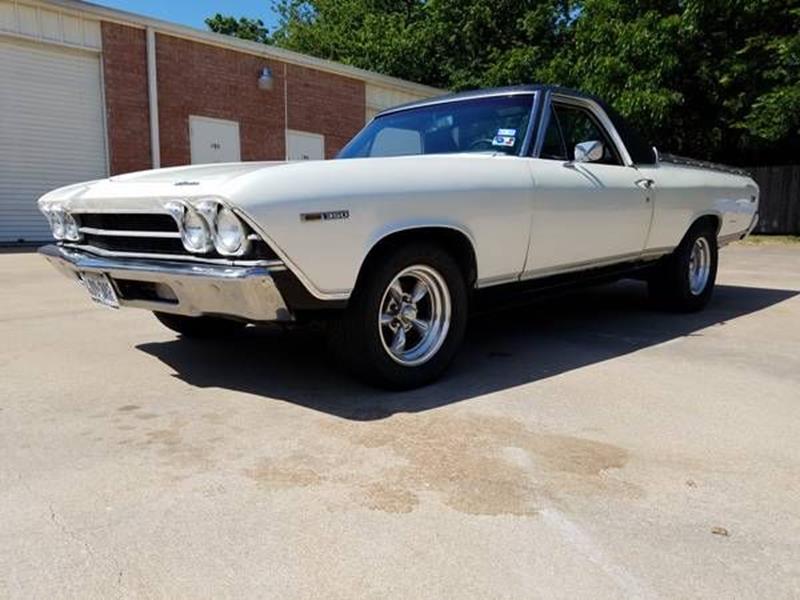 "Chevrolet introduces 1969 – the year of the Super Sports." 1969 Chevrolet brochure
The SS396 was changed from its own model to an upgrade package.
Two new colors, Monaco Orange and Daytona Yellow, were introduced and were exclusive to the SS package.
Chevy's 350 CID V8 was used in the El Camino for the first time.
The El Camino had received a significant restyle in 1968 when the third generation of the car was introduced – so very little was changed for the 1969 model, and the year was largely a carryover year. A new grille, front bumper and rear backup lights were introduced, but were still relatively similar to the models of the year before.
Since the El Camino was reintroduced for its second-generation in 1964 (it had been on hiatus from 1961 to 1963), it had been slowly growing more and more powerful. By the end of the second-generation models, the car had a lineup of optional 396 engines that gave the car its muscle car label it retains today. Chevy seemed to finally recognize that there were building a high performance machine that could also be used for practical hauling when they introduced the SS396 as its own model in 1968, which not only include one of three 396 V8s, but also distinctive styling.
For 1969, the SS package did not change (other than the two new colors), though it did become just an options package that could be added onto an El Camino Custom rather than its own model. In addition to the more powerful engines, the package also included simulated hood scoops, blacked out grille, power front disc brakes, dual exhaust and special wheel house moldings.
There were three different versions of the 396 engines available, with one producing 325 horsepower, the next producing 350 horsepower and the most powerful engine rated at 375 horsepower. Other engine options included the base 230 CID six-cylinder engine and an optional 250 CID six. For those El Camino-buyers that wanted V8 power but without the 396, they could choose from a 307 CID V8 or the newly introduced (to the El Camino line) 350 CID V8.
Almost every year since the second-generation El Camino had been introduced in 1964, sales had increased every year. This was the case in 1968 when production topped 40,000 for the first time, and sales continued to rise for 1969. Throughout the model year, 48,385 El Caminos were built.
1969 El Camino
With the elimination of the SS396 as its own model, the El Camino was back to having only one model available, though it came with a slew of options and upgrades that allowed buyers to customize their vehicles. In addition to the standard model, a Custom model was available that upgraded the interior trim of the car and made it more luxurious. The SS396 package could only be added to the Custom El Camino models.
As had been the case since 1964, El Camino Custom was the best-selling El Camino of the year, and around 39,000 were built. Not nearly as many buyers chose the six-cylinder option, and only around six percent of El Caminos had the smaller engines installed.
Competition
The only direct competition of the El Camino was the Ford Ranchero, which had been the first car/truck hybrid. Fortunately, the El Camino had outsold Ford's model every year since 1964, and 1969 would be no different. Though the Ranchero also saw a slight year-to-year sales increase, there were still nearly 30,000 more El Caminos produced than Rancheros.
Ford had also began to brand the Ranchero as a performance vehicle, and would continue this trend through the following year when it introduced a restyled car. But fortunately for Chevy, Ranchero's would never equal El Camino sales.
Engine Specifications
| Type | Size | Carb | Horse Power | Tourqe |
| --- | --- | --- | --- | --- |
| I6 | 230ci | 1x1bbl | 140 hp @ 4400 rpm | 220 lb-ft @ 1600 rpm |
| I6 | 250ci | 1x1bbl | 155 hp @ 4200 rpm | 235 lb-ft @ 1600 rpm |
| V8 | 307ci | 1x2bbl | 200 hp @ 4600 rpm | 300 lb-ft @ 2400 rpm |
| V8 | 350ci | 1x4bbl | 300 hp @ 4800 rpm | 380 lb-ft @ 3200 rpm |
| V8 | 350ci | 1x4bbl | 255 hp @ 4800 rpm | 365 lb-ft @ 3200 rpm |
| V8 | 396ci | 1x4bbl | 375 hp @ 5600 rpm | 415 lb-ft @ 3600 rpm |
| V8 | 396ci | 1x4bbl | 375 hp @ 5600 rpm | 415 lb-ft @ 3600 rpm |
| V8 | 396ci | 1x4bbl | 350 hp @ 5200 rpm | 415 lb-ft @ 3200 rpm |
| V8 | 396ci | 1x4bbl | 325 hp @ 4800 rpm | 410 lb-ft @ 3200 rpm |
Performance Statistics
Motor Trend
0 to 60 mph
Quarter Mile
Engine
Source
9.4 sec
16.8 sec @ 82.0 mph
1 fine '69
I love the looks of my 1969 El Camino Custom. She handles like a Chevelle and hauls like a half ton truck. Performance wise, it is a 350 small block factory rated at 300hp with a Muncie M21 close ratio 4 speed and has a factory 12 bolt positraction rear end wth 3.73 gearing. Not the fastest vehicle that I own, but is a pleasure to drive and gets a lot of attention going down the road. Parts are still easy to find at my local auto parts store and can be worked on with a basic set of hand tools.