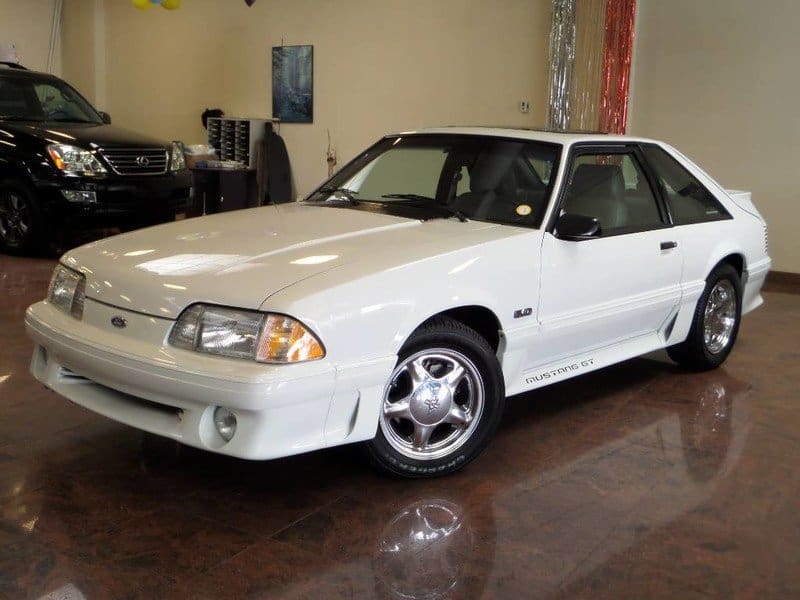 "No matter how good it is to look at, driving Mustang is the ultimate reward." 1989 sales brochure.
The LX 5.0 was introduced which, exactly as it sounds, was an LX model with the 5.0 V8 and also included the GT's suspension system.
Few changes appeared since the 1988 models, but included adjustable front seats for the LX and engine air sensors for all models.
A galloping pony badge was installed on the dash of all Mustangs built between April 17, 1989 and April 17, 1990 to celebrate the 25th anniversary of the Mustang.
Muscle Car Specifications
Performance Model
1989 Ford Mustang GT
Quarter Mile
15.8 sec @ 92.8 mph
As it had from 1987 to 1988, the Mustang underwent very few changes from 1988 to 1989. With production at almost exactly the same numbers as they had been in 1988, it shows that this strategy was a good one for Ford, taking advantage of the public's interest in the best model's so far of the third generation Mustang. Buyers for the previous two years had discovered the advantages (in both price and performance) of putting the now famous 5.0 L V8 in the LX models, which were about 200 pounds lighter than the GT. Taking full advantage of this, Ford marketed the aforementioned LX 5.0 in 1989, adding the GT's gas-pressurized front struts and rear Quadra-shock set-up suspension in addition to the engine upgrade.
Otherwise, the Mustang continued to revel (and be successful) in its simplicity. The LX and GT were the only models available for the third year in a row (a trend that would continue), with Ford opting to let buyer's add the options they wanted to the Mustang instead of offering any "luxury" trim option models. Also the same as the previous two years, only two engine options were available: the 88 horsepower 2.3 litre four-cylinder and the 5.0 litre V8 that produced 225 horsepower.
As mentioned before, total production held fairly constant from the year before at 209,769 (1988 production was at 211,225). Obviously the Mustang was generating positive word-of-mouth talk between car buyers, so the minimal styling changes continued to make sense. One of the only exterior differences from the previous year was that the T-top option had been discontinued.
1989 Mustang LX
The most noticeable interior change to the LX was the discontinuation of the 85 MPH maximum on the car's speedometer, upgraded to the GT model's 140 MPH maximum. This made sense particularly for the 5.0 LX, which did include the coveted "5.0" decal on the body.
With a base price over $9,000 for the first time at $9,050 (for the coupe), the LX models now included power locks, cassette deck and dual electric mirrors at no additional charge.
1989 Mustang GT
As with all 1989 Mustang models, the GT remained almost completely unchanged from the previous year. Still included were the improved sport suspension, Goodyear Eagle 15 inch performance tires and 16-spoke cast aluminum wheels. Additionally, the GT was distinguished from the LX by a front air dam and side air scoops.
Competition
Ford introduced the Probe in 1989 as a front-wheel drive sports coupe to directly compete with cars like the Toyota Celica and Acura Integra, both of which were gaining sales traction year after year in the United States. Three years earlier, the designs for the future Probe were considered as a replacement for the Mustang. Instead, Ford decided to introduce the restyled 1987 Mustang to keep a rear-wheel drive sports car in the line and have the Probe replace the Ford EXP.
For the first time ever, the best-selling car in America for 1989 was an import, the Honda Accord. As it had been for years, the Mustang had more indirect competitors than it did direct. And even then it depended on which engine the particular Mustang contained. Four-cylinder Mustangs were competing with compact and subcompact cars like the Toyota Corolla and Chevrolet Cavalier, both of which continued to produce high sales numbers each year. The V8 Mustangs, however, competed more with other high performance cars of the day like the Camaro, Firebird and Toyota Supra. In all cases, there are differences that keep Mustang from being compared apples to apples with any car. In this view, Mustang was similar to its original 1964 version, which was in a class of its own.
Engine Specifications
| Type | Size | Carb | Horse Power | Tourqe |
| --- | --- | --- | --- | --- |
| LX convertible | 2.3L I4 | Fuel Injection | 88 hp | 132 lb-ft |
| LX coupe | 2.3L I4 | Fuel Injection | 88 hp | 132 lb-ft |
| LX hatchback | 2.3L I4 | Fuel Injection | 88 hp | 132 lb-ft |
| GT convertible | 4.9L V8 | Fuel Injection | 225 hp @ 4200 rpm | 300 lb-ft @ 3200 rpm |
| GT hatchback | 4.9L V8 | Fuel Injection | 225 hp @ 4200 rpm | 300 lb-ft @ 3200 rpm |
| LX 5.0L convertible | 4.9L V8 | Fuel Injection | 225 hp @ 4200 rpm | 300 lb-ft @ 3200 rpm |
| LX 5.0L coupe | 4.9L V8 | Fuel Injection | 225 hp @ 4200 rpm | 300 lb-ft @ 3200 rpm |
| LX 5.0L hatchback | 4.9L V8 | Fuel Injection | 225 hp @ 4200 rpm | 300 lb-ft @ 3200 rpm |
Performance Statistics
| 0 to 60 mph | Quarter Mile | Engine | Source |
| --- | --- | --- | --- |
| 5.9 sec | 14.2 sec @ 98.0 mph | 302ci/292hp | Car & Driver 5/89 |
| 6.2 sec | 14.8 sec | 302ci/225hp | Motor Trend Jan 89 |
| 6.6 sec | 15.4 sec @ 91.5 mph | 302ci/225hp | Motor Trend 11/89 |
| 7.2 sec | 15.8 sec @ 92.8 mph | 302ci/225hp | Motor Trend 1/88 |
89 Lx 5.0 coupe
1989 was the 25th year of the mustang; and was celebrated with… A mass air flow meter? Well that was the only thing that was really different from 88, but don't say it wasn't a good thing. This is the best thing that happened to a fuile injected stang ever. This now ment that you could tune the car, where on 86-88 they had a speed density sensor. The old sensor could not alow for more air flow.(well it could, it would idle higher) So now manifolds could be ported or replaced, and superchargers could go on. However, my car was a stock Lx 5.0 5sp. No frills. I had to fix it up, and it was cheap. Really cheap. This is the cars strongest point.
The power was ok, but for the gas it ate I would desire more. The coupe was boaring and the performance just being slightly above average today. You can see what I am saying. Its cheap… Qucik… Thats it. The car can go any where. Perfect ground clearence, this is really easy to drive almost everyday, except snow. But I will tell you if this is your primary driver, invest in tires. Lots of them. Cause the torque really means you have to have good wheels. The handling is like mush. Bobbing, and feeling to soft. Leaning from side to side, in a attempt to not over or understeer. The braking is ok, but not great. Nothing like an Iroc or a Trans am with four wheel disc. The thing is its cheap. Reliable and kind of rugged. Unlike the convertable, which has a sporty feel, the Lx coupe is like a normal car, with a load torque engine. Though this is a great car for hot rodding.