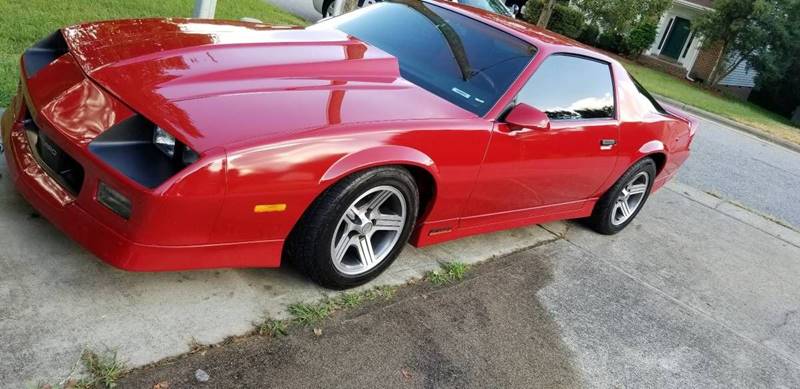 "Visually stunning, physically exhilarating, artfully balanced. New refinements, new options and four distinct flavors of driving excitement. This is Camaro for 1987." 1987 Camaro sales brochure
A convertible was offered as a Camaro option for the first time since 1969.
The four-cylinder engine was removed as an option, moving the base engine up to a V6.
A 5.7 liter, 225 horsepower engine was available in IROC models.
Muscle Car Specifications
Performance Model
1987 Chevrolet Camaro IROC Z28
Quarter Mile
15.2 sec @ 91.2 mph
Since the third-generation Camaros were introduced in 1982, sales numbers had slowly proven, year after year, that Camaro car-buyers were becoming once again interested in power and performance. Sales of the luxury model Berlinetta had declined to the point that it was discontinued in 1986, and low sales of the four-cylinder base models caused its demise for these 1987 models. The introduction of the larger engine available for the IROC models was further proof.
The 5.7 litre V8 was a Tuned Port Injection (TPI) engine just like the other high-performance V8 options available for the IROC. The larger engine only came with a four-speed automatic transmission, however. The 5.0 TPI engine (which also was available as an option on the Z28) was finally made available with a five-speed manual transmission for this model year.
Convertibles were not offered with the 5.7 litre engines, but were otherwise offered as an option for every model. Only 1,007 convertibles were produced in 1987, and added about $4,000 to the regular price. Since the Berlinetta had been dropped in 1986, the 1987 Camaros offered an LT upgrade package for the sport coupes models that added luxury interior and exterior trim. Additionally, the formerly great RS models made a comeback this year as a limited edition, late year run available only in California. These models included the base V6 engine, which produced 135 horsepower and had distinctive exterior trim.
Total production fell over 50,000, with 137,760 Camaros being produced throughout the model year. The downward trend would continue for one more year before sales saw a year-to-year increase.
Coupe
As it had been since the introduction of the Camaro 20 years before, the 1987 coupe was the best-selling Camaro model. Total production for the year was 83,890, which included 794 LT upgrade packages. The coupe received restyled rally wheels that would only be used during 1987.
Z28
Sales of the Z28 dropped along with every other Camaro model, but still had a respectable production run of 52,863 for the year. Like all other Camaro models with spoilers, the center rear taillight that had become a government requirement in 1986 moved to be integrated with the spoiler. By 1988, every Camaro would include a spoiler with this integrated light.
IROC-Z
Little changed on the IROC this year other than the bigger engine option, and while sales did fall, the decrease was not as drastic as other models. The IROC had a total production run of 38,889. Because of cam differences, horsepower in the base IROC V8s varied from 170 to 190, depending on if the car had an automatic or manual transmission. This was also the case for Z28s.
Pony Car Competition
Though former rival the Mustang had been gaining increased power options throughout the 1980s (including its signature 5.0 V8), it was still too small to be considered a direct pony car competitor with the Camaro. However, by 1987 Ford had released the pinnacle of the third-generation Mustang that would last until the fourth-generation Mustang was introduced in 1994. Mustang produced about 20,000 more cars than Camaro in 1987, but that number would drastically increase by the following year. Camaro helped itself in the power category with the new larger engine option, but Mustang was setting itself up to be a true pony car competitor once again in just a few years.
Engine Specifications
| Type | Size | Carb | Horse Power | Tourqe |
| --- | --- | --- | --- | --- |
| LB8 V6 | 173ci | MFI | 135 hp @ 5100 rpm | 160 lb-ft @ 3900 rpm |
| LB9 TPI | 305ci | Tuned Port Injection | 190 hp @ 4000 rpm | 285 lb-ft @ 2800 rpm |
| LG4 | 305ci | 1x4bbl | 165 hp @ 4400 rpm | 250 lb-ft @ 2000 rpm |
| L98 TPI | 350ci | Tuned Port Injection | 225 hp @ 4400 rpm | 330 lb-ft @ 2800 rpm |
Performance Statistics
| 0 to 60 mph | Quarter Mile | Engine | Source |
| --- | --- | --- | --- |
| 6.6 sec | 15.2 sec @ 91.2 mph | 350ci/230hp | Motor Trend 11/89 |
| 6.6 sec | 14.9 sec @ 95.0 mph | 305ci/215hp | Road & Track 4/87 |
| 8.1 sec | 16.5 sec @ 85.1 mph | 305ci/190hp | Motor Trend 11/86 |
1987 IROC 5.7 review
I have a 1987 IROC Camaro with the TPI 5.7, I Love driving this car, handles great! with nice power. I really love the sound of the exhaust (Flowmaster 80 series) it's a beautiful red with T-tops and has never seen any rain or snow. These are becoming increasingly rare, especially in Mint condition, so if you can find a clean one purchase it and you'll really enjoy it!
1987 Camaro
This body style is the hotttest body style Chevy had. Its quick but still has that bulky feeling to it. Its got so much potential and the parts are all their.
awsome car
i love this car bcuz of the horse power it has itz really fast my brother owens on his is black n convertable it gots everything it needs n it gots a really good system itz really loud u could hear it when itz coming but i would like to owen one i love muscle cars n im also a chevy gurl=)
red roc
I own a red IROC with a 350 TPI, This is the second one I've owned. The first was a black 1986 back in 1987. I missed that car since the day i traded it due to lack of points on my license. The performance on stock IROC camaro's between the 305 and the 350 are not much different thru the gears until you reach top end, then the 350 will edge the 305. All said the third gen camaro is a great affordable muscle car that will continue to climb in value, get one while you can!!!!
Beautiful car
I own a black with gold 1987 Iroc-z28 with the 305tpi engine. Awsome car for someone who wants above average performance with a sleek sporty look. love this car!!